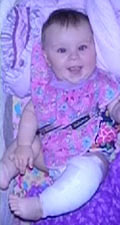 June 2010 -Lynn MA-Over Memorial Day weekend Brian and Leah Antaya were walking along Broadway with their 6 mo old daughter, Eva, in a papoose pack asleep on her Daddy's chest. They saw a couple coming toward them with a dog on a leash. Munnyhkkie Moutino, 23 yr old 5'1" tall and 100 lbs, and her companion, Rodolpho Ribas, were walking her 2 yr old 61 pound neutered Pit Bull named McLovvin. As they neared only feet from the family, the Pit Bull broke free from its young owner.
Brian Antaya told police it happened so fast he had no time to react. The dog suddenly pulled away from its owner and lunged for the baby's body. It got a hold on the baby's left leg and tore into the calf. The infant was taken to North Shore Children's Hospital in Salem and transferred to Massachusetts General Hospital in Boston where she was treated for multiple bite wounds. Animal Control Officer Kevin Farnsworth said," It's a miracle the dog didn't take that kid's leg off. The way I see it, the doctors at Mass General saved that little girl's life. But there will be many more trips back and forth to the hospital."
The President of Lynn City Council, Timothy Phelan, says it's time to require muzzles on pit bulls in public after the breed was involved in several unprovoked attacks in the city. There was another attack over Memorial Day weekend where an 11 yr old boy was bitten on the arms and chest by a Pit Bull, named Champion Fufy Perez owned by Michael Perez, a suspected breeder. The dog escaped Perez' basement. Both the Pit Bulls that attacked the 6 mo old and the 11 yr old were euthanized. Then last March a 76 yr old woman was attacked by her grandson's Pit Bull. There have been other earlier attacks. Animal Control Officer Farnsworth said both of the Pit Bulls in these last incidents were "as aggressive as Hell," "We had to double pole the last one to get him in the truck."
http://blog.dogsbite.org/2010/06/leashed-pit-bull-bites-through-chest.html
http://blog.dogsbite.org/2010/03/editorial-lynn-journal-writes-pit-bulls.html
After the mauling in March of 76 yr old Margaret Murphy by her Grandson's Pit Bull, the Lynn Journal Staff published an editorial - a vividly clear and Honest opinon article about Pit Bulls that included these words:
PIT BULLS LOVE VIOLENCE AND MAYHEM. THEY
ARE BY NATURE FEROCIOUS ANIMALS AND THEY
ENJOY MAULING PEOPLE THEY DO NOT KNOW.
THEY DO NO ONE ANY GOOD AND WHEREVER
THEY LIVE, THERE IS THE POTENTIAL FOR DISASTER!
Even after such a strong condemnation, Pit Bulls have gone on to attack and maul many more people in MA.