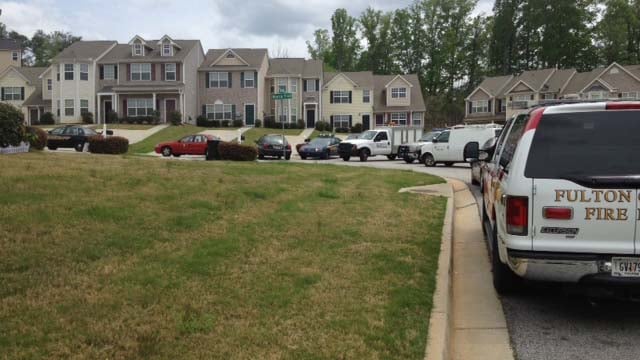 UPDATE: THE CHILD HAS BEEN IDENTIFIED AS BEAU RUTLEDGE
FATHER HAD TO BE TASE
D
DOES HE WANT KISSY FACE BACK?????
VIDEO
ANOTHER STORY
UPDATE: POLICE WERE ABLE TO CORRAL THE PIT BULL IN THE BATHROOM UNTIL ANIMAL CONTROL ARRIVED
Fulton County Police said a child is dead after being attacked by the family dog about 1:30pm Wednesday. The attack happened on Sierra Trail in the Wexford subdivision Wednesday afternoon. This is an unincorporated area in South Fulton County near Union City which is 20 miles southwest of Atlanta. According to police, the 2-year-old boy's mother went to the bathroom and returned to find her child dead. The mother called 911 and said her child had been attacked by their dog. The family had the dog for 8 years.
LINK
THE DOG WAS NAMED "KISSY FACE"
NANNY DOG?!? A CRUEL SALES PITCH OR SICK PRACTICAL JOKE?
2013-PIT BULL TYPE DOGS HAVE KILLED A PERSON IN U.S. EVERY 9.64 DAYS
1. 1-8 - Betty Todd - 65 -Greenwood SC - Family's Pit Bull
(11 day interval)
2. 1-19 - Christian Gormanous - 4 - Conroe TX - Neighbor's Pit Bull
(20 day interval)
3. 2-8 - Elsie Grace - 92 - Hemet CA - Son's 2 Pit Bulls
(8 day interval)
4. 2-16 - Isaiah Aguilar - 2 - Sabinal TX - Neighbor's Pit Bull
(14 day interval)
5. 3-2 - Ryan Maxwell Borchardt - 7 - Galesburg IL - Friend's Pit Bull
(4 day interval)
6. 3-6 - Daxton Borchardt - 14 Mos - Walworth WI - Babysitter's 2 Pit Bulls
(21 day interval)
7. 3-26 - Monica Renee Laminack - 21 Mos - Bryan Co GA - Family's 7 Pit Bulls
(12 day interval)
8. 4-7 - Tyler Jett - 7 - Callaway FL - Neighbor's 2 Bulldogs
(4 day interval)
9. 4-11 - Claudia Gallardo - 38 - Stockton CA - Acquaintance's Pit Bull
(12 day interval)
10. 4-23 - Jordyn Arndt - 4 - Prairie City IA - Babysitter's American Staffordshire Terrier
(1 day interval)
11. 4-24 - Beau Rutledge - 2 year old boy - Fulton County GA - Family's Pit Bull
NON BITE RELATED FATALITY
1. 2-22 - James Hardin, 62, Baltimore MD - was walking down the street when 2 PIT BULLS began chasing and attempting to attack him and he turned to flee and stepped into traffic and was killed