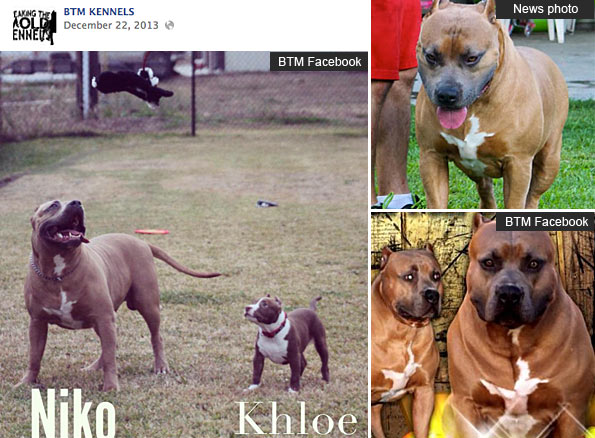 MY PERSONAL COMMENT TO THIS CHILD'S DEATH: Once again I find a mother's facebook page with a picture of this child on just about every day that she lived......A loving mother and a happy child. This appears to be a pattern lately....
AND THEN....THERE'S MONSTERS LIVING WITH THIS CHILD. HOW DID THIS HAPPEN?
http://thefirstchurchofpitbullscd.blogspot.com/2012/04/human-baby-sacrifice.html
MIA DEROUEN, 4, was mauled to death by a pit bull that officers categorized as "a monster," inside the family's home around 7pm Tuesday at an apartment complex. . The child had suffered facial and head injuries in the attack by the 130 pound dog.
Mia and her mother, Megan Touchet, 27, were watching television when the dog attacked the little girl.
The mother called for help and locked herself and her daughter in a room, handing the child out of the window to officers.
"The mother was able to barricade herself inside this bedroom," said Houma Police Chief Todd Duplantis. "Medical personnel arrived also, and the mother was able to hand the four year old child through the bedroom window."
Duplantis described the scene as "horrific" and said counseling was being offered to the officers who were on the scene.
Touchet was injured and taken to a hospital with moderate injuries but has since been released.
The dog, named Niko, was shot three times by officers, who then attempted to enter the apartment, according to Duplantis. "The dog was shot initially inside the residence," he said. "When the officers entered the residence to survey the situation, the dog attacked the officers."
Duplantis said that when officers tried to get inside, the dog charged them and was shot an additional 10 times, before he died.

Since the pit bull "was running loose inside the apartment acting in a very vicious manner," Duplantis said, officers used lethal force by shooting the dog to eliminate the threat of additional injuries.
But little Mia was severely bitten on the head and torso, and died at the hospital.
"It's a traumatic event," said Terrebonne Parish President Michel Claudet."
Claudet said the dog was one of two family pets. "They had two pit bulls, and one was over 100 pounds." The larger dog was the one that attacked four-year-old Derouen. A second pit bull found in the apartment, an uninjured six month old female that apparently was not part of the situation, is now at the animal shelter.
"Unfortunately, that's what happened and it's such a horrific event," Claudet said.
Mia would have celebrated her fifth birthday next week.
Now Houma police say their investigation into her death continues. "There are some questions and rumors about the dog possibly being trained to fight, and what have you," said Duplantis. "The detectives have been investigating this. However, I am here to report there have been no signs of abuse."
But Chief Duplantis says police and the Terrebonne District Attorney have a number of questions that still need to be answered.


2014 - 11 U.S. DOG BITE FATALITIES

PIT BULLS - 6
PIT BULL MIX - 1
BULLMASTIFF - 2
ROTTWEILER - 1
2 MIXED BREEDS ???: SHEPHERD MIX? AND LAB MIX? - 1


1. 1- 5 - CHRISTINA BURLESON BELL- 43 - HOUSTON TX - 3 LOOSE PIT BULLS
2. 1-17 - KARA ELIZABETH HARTRICH - 4 - BLOOMINGTON IL - FAMILY'S 3 PIT BULLS
3. 1-26 - ANNABELL MARTIN - 89 - CORONA CA - GRANDSON'S 3 ROTTWEILERS

4. 2- 7 - KLONDA S. RICHEY - 57- DAYTON OH - NEIGHBOR'S 2 PIT BULL MIXES
5. 2-17 - JE'VAEH MAYES - 2 - TEMPLE TX - PIT BULL HER PARENTS WERE WATCHING
(OR MORE LIKE BREEDING !!!!!)
6. 2-24 - BRAELYNN RAYNE COULTER - 3 - HIGHPOINT NC - FAMILY'S PIT BULL
7. 2-26 - SUMMER SEARS - 4 - TALLASSEE AL - 2 LOOSE "MIXED BREED" DOGS
8. 2 -28 - KENNETH SANTILLAN - 13 - PATERSON NJ - LOOSE BULLMASTIFF
9. 3 - 1 - RAYMANE CAMARI ROBINSON - 2 - KILLEEN TX - LOOSE BULLMASTIFF
10. 3-14 - NANCY NEWBERRY, 77, PHOENIX AZ - FAMILY/DAUGHTER'S PIT BULL
11. 3-25 - MIA DEROUEN - 4 - HOUMA LA - MOTHER'S XXL PIT BREEDER/BOYFRIEND'S MONSTER PIT

NON-BITE FATALITY
1-7 - CARLOS ELIGIO TREVINO, 54 - IDAHO FALLS ID - After breaking up a fight among his 7 pits, he complained of being tired and died a few minutes later.