https://www.facebook.com/jan.m.pacheco
https://myspace.com/jannmariez/mixes
AND NOW WE SEE THE NEXT PHASE BEGIN:
http://www.gofundme.com/ip9zd8
*******************************************************
NOT FOR MEDICAL BILLS...NO!....FOR CHRISTMAS TOYS FOR THIS CHILD WHO SEEMS TO HAVE EVERY TOY A 2 1/2 YEAR OLD COULD POSSIBLY NEED.
********************************************************
ANOTHER ARTICLE:
http://www.wjfw.com/stories.html?sku=20141212161132
- The grandmother was letting the dog out to use the bathroom and to eat and it "broke free from her hold" to attack the child.
Merrill police say a 2 ½-year-old girl suffered facial and head injuries after being attacked by the FAMILY'S PIT BULL.
The child will need some facial reconstruction, Capt. Carey Bennett said Friday. "It is just a horrible situation."
The girl's mother, Janabelle Pacheco, said her daughter, Liliahna, is expected to be hospitalized at least through the weekend.
The attack took place at the child's home Tuesday afternoon while she was being cared for by her grandmother, Pacheco said.
The girl was sitting on a foot stool, her grandmother was putting the dog in its kennel and suddenly the dog attacked the girl, BITING SO FIRMLY THAT HER JAW WAS BROKEN, the mother said.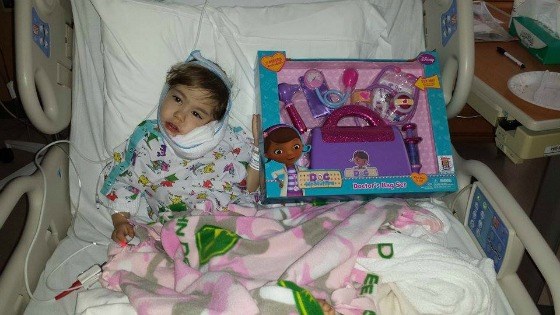 "
It is horrible. She is so tiny and so beautiful. It is so tragic," Pacheco said. "It can happen. Now I don't want another dog again."
The dog, named Ginger, was nine years old and had been with the family since her father died in 2012, Pacheco said.
"I got her from dad as a present when she was a puppy," the mother said. "MY DAUGHTER AND THE DOG WERE BEST FRIENDS. THEY SLEPT TOGETHER."
The dog has been euthanized at the request of the family, Bennett said.
http://www.myfoxwausau.com/story/27615278/2014/12/12/police-merrill-girl-attacked-by-familys-pit-bull
THIS DOG ALSO SHOWS UP ON THE MOTHER'S FACEBOOK PAGE. NOTE THE SPIKED COLLAR.
THE MOTHER OF THIS CHILD WAS APPARENTLY TRYING TO FIND ANOTHER HOME FOR THIS PIT BULL .....AND THE HOME MUST BE ANIMAL FREE AND NO CHILDREN UNDER 10.
https://www.facebook.com/groups/104455842989820/ - CHIPPEWA VALLEY WISCONSIN PIT BULL RESCUE
Janabelle Pacheco
It's a gamble with any pet my dear. It's about being a responsible pet owner. Get your mind right. If raised right and you teach your children right from wrong when dealing w pets you should have no problems w any breed dog. This pit was my fathers wh
o was tragically killed while walking. She had no where to go but to my house. Thankfully she was introduced to my daughter since birth. They both are very much in love & both very loved.