UPDATE:

Brad Powers, a spokesman for the Commission on Animal Care and Control,

told the Chicago Tribune

the dog was "large and muscular," with "features consistent with the Dogo Argentino breed."
A 5-year-old boy was killed by a dog on Chicago's South Side Monday night. Several witnesses intervened, eventually killing the PIT BULL that just wouldn't let go of the child.
The Cook County medical examiner identified the victim as James W. Nevils III, of the 8000-block of South Escabana Avenue. James was visiting the Gresham home in the 8900-block of South Carpenter Street Monday when he was mauled. The dog lived at the home, neighbors said.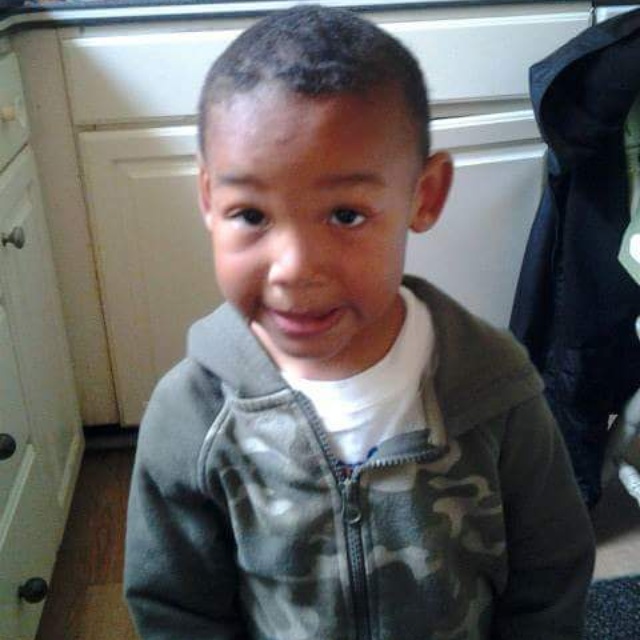 "I can't get past that thought. My grandson suffering. That hurts me more than anything else," James Nevils, the boy's grandfather, said.
The boy, affectionately called "Pudgy" by his family, was a "very outgoing little boy. Very loving and kind. He's a real character. A lot like his father. A lot like myself," Nevils said.
Neighbors said they heard the screaming for help around 9:30 p.m. Monday.
"I hear someone yelling, 'He has my baby! Somebody please help me!' When I looked, I thought someone was fighting. When I looked closer, the dog had the child by the neck and shoulder," said Bianca White, who lives nearby.
Two men ran over and started beating the dog in an attempt to get it to let go of the boy, neighbors said. It worked, briefly, but the dog then went after the child again.
"They started stabbing it. They threw rocks at it. They dropped this big rock on it. They didn't wait for the dog to turn around and attack them. They just started attacking it," White said.
"I don't know, I wasn't really thinking about nothing but getting the dog off the baby," saidMarquis Lewis, 16. "We grabbed a brick from over there by the tracks and started hitting the dog with the brick. Then my brother grabbed the pole, started hitting the dog with the pole until the dog died."
James was unresponsive when the ambulance arrived. Emergency responders rushed him to Advocate Christ Medical Center in Oak Lawn, where he later died. An autopsy determined the boy died of multiple sharp and blunt force injuries to the head and neck. His death was ruled an accident.
"Their animal took my young grandson's life. And that's something I can never get back," Nevils said.
Lemar Lewis, 19, and Marquis, 16
Lewis' brother, Lamar, 19, said the dog's owner was not there when the attack occurred and returned only after the dog was dead and James was on his way to the hospital.
"All I heard was, 'Why y'all let the dog out?' Because he knew what kind of dog he had. So them letting the dog out, he knew what was possible to happen," Lamar Lewis said.
http://abc11.com/news/five-year-old-boy-killed-by-dog/743365/
http://www.dailymail.co.uk/news/article-3097618/Boy-5-mauled-death-pit-bull-despite-onlookers-beating-dog-brick-chair-try-stop-deadly-attack.html
http://www.chicagotribune.com/news/local/breaking/ct-dog-kills-boy-20150526-story.html
http://www.gofundme.com/vf7h3gh9
https://www.dnainfo.com/chicago/20150526/auburn-gresham/child-mauled-death-by-dog-auburn-gresham
http://www.fox28.com/story/29162569/2015/05/26/child-mauled-to-death-by-pit-bull-in-chicago
2015 - U.S. DOG BITE FATALITIES - 14
PIT BULL - 6
FREDERICK MD
WEST MIFFLIN PA
WHEELING WV
JEFFERSON COUNTY AR
PAHRUMP NV
DALLAS TX
CHICAGO IL
PIT BULL MIXES - 2
BROOKSVILLE FL
COLLEGE SPRINGS PAGE COUNTY IA -
ROTTWEILER - 1
SULPHUR SPRINGS TX

UNKNOWN BREED DOGS - 5
COAL HILL JOHNSON COUNTY AR
ROSEBUD INDIAN RESERVATION SD
WASHINGTON GA
CANYON LAKE TX
(PACK OF DOGS - NATIVE AMERICAN - GALLUP NM - PENDING - 1)
1. 1-7 - EUGENE WESLEY SMITH - 87- FREDERICK MD - ATTACKED AND KILLED BY A 4-YEAR-OLD NEUTERED PIT BULL WEIGHING ABOUT 84 POUNDS THAT HAD BEEN RESCUED/ADOPTED AND LIVED IN THE HOME WITH SMITH, HIS SON AND HIS SON'S FIANCE SINCE MAY.
2. 1-19 - DECLIN MOSS - 18 MONTHS - ISTACHATTA NORTH OF BROOKSVILLE FL - ATTACKED AND KILLED BY 2 OF THE FAMILY'S PIT BULL MIXES WHILE IN THE CARE OF HIS GRANDFATHER.

3. 1-22 - MALAKI MILDWARD - 7 - COLLEGE SPRINGS, PAGE COUNTY IA - KILLED BY THE FAMILY'S TWO 8 OR 9 -MONTH-OLD PIT BULL MIXES.

4. 2-4 - FREDERICK GLENN CRUTCHFIELD- 63- COAL HILL, JOHNSON COUNTY AR - FOUND DEAD NEAR WOODED AREA OUTSIDE HIS HOME - AUTOPSY REVEALED HE DIED FROM BLOOD LOSS DUE TO MULTIPLE DOG BITES - THE DOGS, BREED UNKNOWN AT THIS TIME, BELONGED TO A RELATIVE.

5. 2-22 - TAY'LYNN DEVAUGHN, 2 - WEST MIFFLIN PA - MAULED TO DEATH BY HER AUNT'S BOYFRIEND'S PIT BULL INSIDE THE HOME WHERE SHE AND HER FATHER HAD BEEN STAYING FOR SEVERAL DAYS - SHE HAD BEEN AROUND THE PIT BULL PREVIOUSLY.
6. 3-8 - ROY HIGGINBOTHAM JR - 62 - WHEELING WV - AUTOPSY PENDING - A 3-YEAR-OLD FEMALE PIT BULL OWNED BY DAVID WALLACE, 63, POSSIBLY A ROOMMATE OF HIGGINBOTHAM, ATTACKED HIM WHEN HE TRIED TO GIVE AID TO WALLACE WHO MAY HAVE HAD A HEART ATTACK. WALLACE HAD OWNED THE MOTHER OF THIS PIT BULL SO HE HAD THIS DOG SINCE IT WAS BORN. AUTOPSY RESULTS SHOW THE VICTIM DIED FROM A SEVERED RADIAL ARTERY NEAR HIS LEFT WRIST.

7. 3-12- BETTY WOOD - 78 - SULPHUR SPRINGS TX - MAULED TO DEATH INSIDE HER HOME BY HER 5-YEAR-OLD ROTTWEILER
8. 3-14- JULIA CHARGING WHIRLWIND - 49 - WHITE RIVER SD - ROSEBUD RESERVATION - MAULED TO DEATH BY AT LEAST 2 AND PROBABLY MORE STRAY DOGS - BREED UNKNOWN.

9. 3-21- DE'TRICK JOHNSON- 36 - JEFFERSON COUNTY AR - ATTACKED AND MAULED TO DEATH BY 7 PIT BULLS AS HE GOT OUT OF HIS CAR AT C.J.'S GARAGE JUST OUTSIDE THE CITY LIMITS OF PINE BLUFF. HE WAS WAITING FOR THE OWNER TO ARRIVE TO OPEN THE GATES SO HE WAS STILL OUTSIDE THE GATES IN A PUBLIC STREET AREA.

10. 3-31 - NETA LEE ADAMS - 81 - WASHINGTON GA - FOUND DEAD IN A DITCH - THE CORONER RULED SHE HAD DIED FROM MULTIPLE DOG BITES - BREED UNKNOWN.

11. 4-14 - KENNETH LAWRENCE FORD - 79 - PAHRUMP NV - ATTACKED BY 3 PIT BULLS ON MARCH 13, HE DIED ON APRIL 14 FROM HIS SEVERE INJURIES.

12. 4-19 - BRAYDEN WILSON - 2-MONTH-OLD INFANT BOY - THE BABY WAS IN HIS BOUNCY SEAT. HIS FATHER WAS WITH HIM AND HIS MOTHER WAS NOT HOME - THE FATHER WENT OUTSIDE TO TURN ON A SPRINKLER AND WHEN HE CAME BACK IN, THE FAMILY PIT BULL WAS MAULING THE BOY WHILE HE SAT IN THE BOUNCY CHAIR.

13. 5-2 - GAEGE ANTHONY RAMIREZ - 7 - CANYON LAKE TX - MAULED BY AS MANY AS 5 UNKNOWN BREED DOGS AT A HOUSE IN CANYON LAKE TEXAS WHERE HIS MOTHER HAD TAKEN HIM TO VISIT.
14. 5-25 - JAMES W. NEVELS III - 5 - CHICAGO IL - THE BOY WAS VISITING IN A HOME WITH HIS MOTHER - A PIT BULL (OWNER NOT KNOWN AT THIS TIME) WAS AT THE RESIDENCE AND WAS BEING KEPT IN A BEDROOM BUT IT "SOMEHOW" GOT TO THE BOY AND GRIPPED DOWN ON HIS NECK AND SHOULDER - HEROS - 2 TEENAGE BROTHERS CAME WITH EVERY OBJECT THEY COULD FIND AND BEGAN BEATING THE PIT BULL - A CHAIR, A KNIFE, A ROCK, A POLE, A BRICK UNTIL THEY BEAT THE MUTANT TO DEATH....BUT IT WAS TOO LATE!!!
(1-2 - PENDING - UNIDENTIFIED NATIVE AMERICAN - GALLUP NM - FOUND DEAD NEAR A FAST FOOD RESTAURANT ON U.S. 491 - POSSIBLY MAULED BY A PACK OF DOGS.)