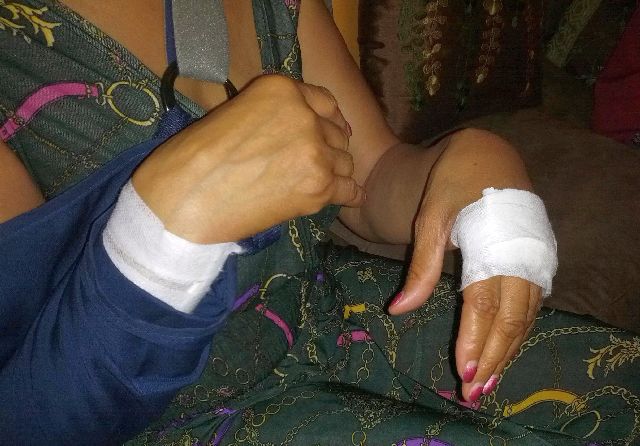 "Horrifying" and "terrifying"... Those are two
words used by a south side woman to describe her encounter with a dog while exercising at a city park.
21 News spoke with June Calhoun who is at home recovering from injuries sustained when she was attacked by what police reports describe as a MEDIUM SIZED BLUE PIT BULL.
Calhoun says she was on her second lap around Jackson Park at Lennox and Windsor Avenues on Wednesday morning when the dog came out of nowhere.
She says the dog jumped at her, knocking her down and biting her on the wrist and knee.
Believing the dog was trying to bite her throat, Calhoun was bitten on the hand when she raised her arm to protect herself.
When the dog retreated to another part of the park, she hailed a passing truck that stopped for her.
As she ran for the truck, the dog ran after her. Calhoun says she was able to get into the truck before the animal could catch up with her.
A witness tells police that the attack lasted for approximately two minutes.
Calhoun was treated at Saint Elizabeth Hospital, needing stitches in her hand and wrist.
Police later spoke with the owner of the dog who arrived on the scene and took it back to its home on nearby Tangent Street.
The owner claims that the dog, which does not have a current license, had jumped over the backyard fence.
No charges have been filed. The Dog Warden is investigating.
Calhoun says for now, she's afraid to go out of her home. She wonders out loud, "What if it had been a child in the park that morning?"