Mother Asks For Help After Dog Bites 14-Month-Old Son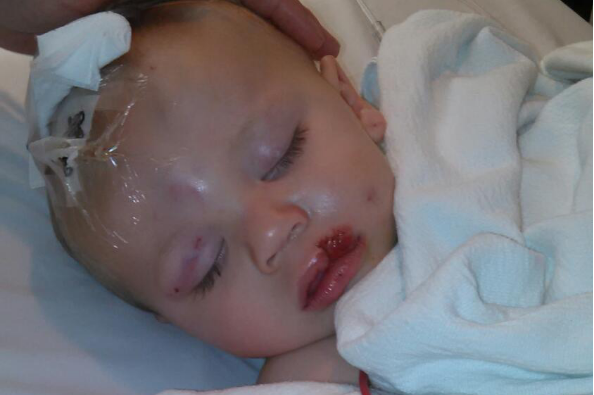 A mother is asking for help after a dog bit her son in the face.
The mother of the 14-month-old boy says the neighbor's dog came over to visit last week and ended up attacking her son.
Ashley Hickman will never forget the day she says her 14-month-old son, Aiden was bitten by this dog.
"I watched her throw a Dr. Pepper bottle at the dog then all I heard was the loudest scream in the world," said Hickman.
This is what Aiden looked like shortly after the incident.
"He was in Aiden's face and he had attacked his face. We got the dog off of him and we realized Aiden's lip was completely torn in half and his eye had been punctured," said Hickman.
Since the dog bite, the wounds near his eye have healed.
But Aiden had plastic surgery on his lip last week.
Hickman says it's going to cost her about $17,000--- a procedure she says her insurance will not cover.
She has put buckets like this one around several businesses in Traverse City asking for help.
"If people do donate--- I really appreciate it and I want people to know that is it going for a good cause." said Hickman.
Hickman says she is keeping Aiden away from dogs, so something like this doesn't happen again.
"It could happen again and I want to take every precaution so it doesn't," said Hickman.
The Grand Traverse County Animal Control says the PIT BULL is currently being quarantined at a house in Antrim County and they are investigating the case.