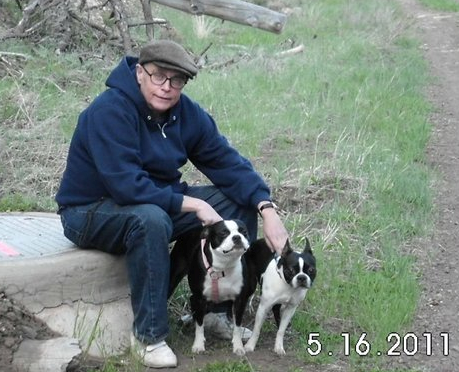 The Boston terrier that survived a pit bull attack in Flagstaff last Wednesday remains in serious condition at Canyon Pet Hospital.
One dog was injured and another was killed when
A PAIR OF LOOSE PIT BULLS
attacked Flagstaff resident Mark Nelson as he walked his two Boston terriers in the 4000 block of Lake Mary Road. A bystander ended up shooting the attacking pit bulls after he was unable to stop the dog fight. They were later euthanized.
Nelson and his wife Candy said Monday their dog Spencer was still receiving medical treatment for liver and pancreatic damage he sustained during the attack. Their other dog, Maggie, was killed trying to pull the much larger dogs away from Nelson.
"I never even had a chance to say goodbye," Nelson said in a letter he wrote to Maggie, who he credits with saving his life. "It's not fair at all."
An account has been set up at Wells Fargo to help the Nelsons pay for Spencer's veterinarian bills and Maggie's cremation. So far, the couple said they have spent around $3,000 on Spencer's medical care. Anyone who wants to contribute can go into any Wells Fargo branch and make a donation to the Spencer and Maggie Memorial Fund.