A RESIDENT TOOK THESE PICTURES OUTSIDE THEIR HOME
STANFORD, Ky. (WKYT) -
The Lincoln County Sheriff's Department is investigating after a woman was attacked Monday by a pack of dogs.
Lincoln County Sheriff Curt Folger confirms a pack of dogs attacked a woman Monday morning in a rural area of the county, near the Boyle County line.
A neighbor says the woman, Loretta Stevens, called her and said she had been attacked by a pack of dogs. The neighbor said Stevens had severe injuries to her arm.
Folger says the dogs belong to a neighbor, Chris Pope, who will face charges of harboring a vicious animal once he's located. The sheriff said no one was living at the home where the dogs were caged. The sheriff said those dogs were recently returned to Pope by a Boyle County judge after they had been seized because of animal cruelty charges.
The sheriff says a pack of seven dogs attacked the woman in the Julian Lane area. He says deputies rounded up five of the dogs, but could not find the last two. Deputies later found one of the dogs, but the second dog was still on the loose as of noon.
Folger would not elaborate on the extent of the victim's injuries. He said his deputies had to carry her to the ambulance because those dogs were still on the property and had surrounded paramedics.
The sheriff also said if anyone sees that last dog to call 911. Do not try to catch it.
http://www.wkyt.com/home/headlines/Woman-seriously-injured-in-Lincoln-Co-dog-attack-318654931.html
GoFundMe page
VICTIM - LORETTA STEVENS
Dogs' Owner Speaks Out From Jail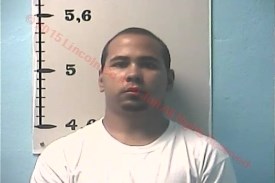 CHRIS POPE
STANFORD – Only five days after Christopher Pope moved his aggressive and previously impounded dogs from Boyle to Lincoln County, they escaped their kennel and viciously attacked a woman.
According to Lincoln County Sheriff Curt Folger, seven Presa Canarios owned by Pope were able to escape their kennel Monday morning on Tom Hackley Road
BY CHEWING THROUGH THE BOTTOM OF THE FENCE.
Loretta Stevens, 46, a resident of nearby Julian Lane was attacked and severely injured by the large dogs on her property, though the number of dogs involved in the attack is still unknown.


"From my understanding, I haven't gotten to talk to the victim, but our information was there was more than one dog involved," Folger said. "Knowing the breeding of that type of dog I'd say all of the dogs were probably involved."


Folger said he believes Pope's dogs had attacked Stevens' dogs and she was attempting to "shoo them away" when they turned their attention on her and attacked.


Stevens was airlifted to University of Kentucky Chandler Medical Center with severe injuries but is listed in fair condition at this time.


"Right now the lady that was bit is in very bad condition.
SHE HAS THE POSSIBILITY OF LOSING BOTH ARMS AND HALF OF HER BUTTOCKS IS MISSING.
This is a very very bad situation," Folger said.
All seven dogs were accounted for by 2:18 p.m., one of which was shot and killed after aggressively charging Lincoln Animal Control Officer David Snyder.


The remaining six canines are now being housed at the Lincoln County Animal Shelter, which has been closed for the remainder of the day. Folger said he's not yet sure what will be done with the dogs but its possible they will be euthanized.
Animal shelter volunteer Kisha Buis said as long as Pope's dogs remain in the county shelter, other dogs there will be "at risk" due to the lack of space. The shelter is asking for any and all donations at this time but dog food specifically would be the most helpful, she said.


Folger said he hadn't made contact with Pope as of 12 p.m. Monday but he plans to charge him with harboring vicious animals.


"He doesn't live where the dogs were located. I think it was just basically a place for him to put his dogs."


The dogs were originally raised in Boyle County but on April 21 animal control removed 12 of them after determining they were a threat to neighbors. Five were released back into Pope's custody and the other seven were kept at the humane society facility in Danville until Wednesday of last week.


The Danville home where Pope originally raised the dogs caught fire June 20 and inside, three other Presa Canarios were found dead.


Pope pleaded guilty July 2 to 12 reduced counts of mistreatment of a dog or cat under a county ordinance and agreed to pay $100 per count in fines, but that $1,200 will be probated for one year, meaning he won't have to pay it if he stays out of trouble.


Pope also pleaded guilty to 24 violations for not having the dogs licensed or vaccinated, for which he was fined $360 plus court costs for a total of $543.


Pope agreed to pay $5,810 in restitution to animal control and the humane society for picking up the dogs, housing them, vaccinating them and other related expenses. He paid half the amount July 9 per Dotson's ruling and has six months to pay the remainder.


The dogs were released to Pope July 22 and moved to Lincoln County kennels on Tom Hackley Road, about 13 miles north of Stanford.


More information will be provided as it becomes available.
2 OF THE DOGS RELEASED BACK TO POPE
http://m.centralkynews.com/theinteriorjournal/news/local/stanford/updated-pope-dogs-attack-woman-in-lincoln-five-days-after/article_a622f6c6-3472-11e5-bdb5-0bcb15c0d5b3.html?mode=jqm