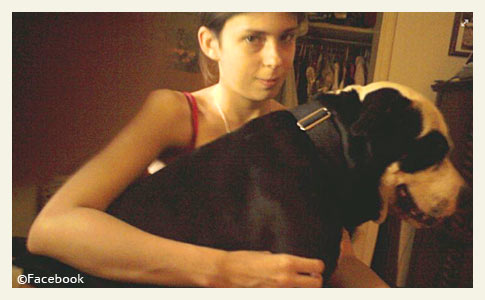 Spike, which has since been euthanized, had been the Cartee family's pet for more than a decade.
Authorities say the pit bull "just snapped" when it began attacking the mother. Cartee's sister was also injured. Her mother was hospitalized and her injuries may require surgery, while Cartee's sister received treatment on scene, said Jamie Nelson, the director of Spartanburg County's Office of Environmental Enforcement.
Those close to the 25-year-old described her as selfless.
Patrick Powell, Cartee's boyfriend of nearly 10 years, said the two had just separated about a month ago but were planning on getting back together.
THINCIDENT WAS NEVER REPORTED TO AUTHORITIES, POWELL SAID.
No other case involving Spike had been reported, Nelson confirmed. The environmental enforcement office is continuing to look at records from previous addresses to ensure there were no prior cases, he added.
An autopsy is being performed on the dog to determine if it had rabies, he said.
"The biggest thing apart from it being a fatality is that it was three victims at one time, and it was a family pet," Nelson said. "It's just a huge tragedy here for this family."
Coroner Rusty Clevenger said Sunday night that an autopsy on Cartee showed she died directly from the dog bites to her head and body.
"It appears the dog just snapped," Nelson said.
The Spartanburg County Coroner's Office and the Spartanburg County Sheriff's Office assisted animal control on scene at the Beverly Hills Drive home around 5:40 p.m. Saturday.
BEVERLY POWELL, PATRICK POWELL'S MOTHER, SAID SHE ADVISED THE F
Patrick Powell, 24, said Cartee will be remembered for her selflessness. She always looked out for her family, he said.
"She was the only woman I ever truly loved," he said. "I can honestly say I wanted to marry that girl one day."
He said he is struggling to cope with the loss.
He was traveling Sunday night from Florida, where he was visiting relatives, back to Spartanburg to help with planning memorial services.
"I'm trying," he said. "I'm so hurt and angry."
Follow Daniel J. Gross on Twitter @danieljgross
http://www.goupstate.com/article/20150823/ARTICLES/150829852?p=1&tc=pg
_______________________________________________________________________
UPDATE:
Spartanburg County Coroner's Office is investigating an attack where a dog killed one of its owners and injured two others.
Investigators say the incident happened in a home along Beverly Hills Drive around 6 p.m. Saturday.
The coroner said Porsche Cartee, 25, of Spartanburg died from dog bites to the head and body. J
amie Nelson, director of Spartanburg County Environmental Enforcement, said a
7 TO 10-YEAR-OLD MALE PIT BULL
attacked Cartee and two other women who lived in the house.
"It's such a horrible situation and our thoughts need to go out with the family, as well as the first responders that responded to the scene because any time they're dealing with situations like this it's something that they have to deal with as well," Nelson said.
Nelson said the dog was unneutered and weighed 85 pounds. He said the family had the animal since it was a puppy. Investigators aren't sure why the dog turned on its owners.
Nelson said it attacked the older woman first and that's when Cartee stepped in to help before the dog killed her. A third woman was able to get the animal off of Cartee and put the dog in a secure location until authorities arrived. Nelson said the third victim was also injured during the attack and has to undergo surgery.
There have been four fatal dog attacks in the county over the past 20 years, including Saturday's attack, according to Nelson.
In three of those incidents the victims were children.
Two involved pit bulls, one was a Great Dane and the other was a rottweiler.
Nelson said children were in the home during the attack Saturday, but were not injured.
Lab results have been sent to Columbia to determine whether the dog had rabies.
_______________________________________________________________________
The Spartanburg County Coroner's Office was on scene of a dog attack Saturday night. Jamie Nelson, director of Spartanburg County Environmental Enforcement, said a dog attack occurred at a residence on Beverly Hills Drive.
Nelson said three individuals were attacked during the incident.
Spartanburg County Coroner Rusty Clevenger said 25-year-old Porsche Nicole Cartee was pronounced dead at the scene. Clevenger said statements from witnesses indicate Cartee suffered trauma to her body during the attack.
He said a physical examination will have to be conducted to confirm cause of death.
Clevenger identified the dog as a PIT BULL and said two other family members were injured in the incident.
Nelson said the dog was euthanized and will be tested for rabies on Monday.
Stay with foxcarolina.com for details on this developing story.
http://www.foxcarolina.com/story/29858312/coroner-on-scene-of-dog-attack-in-spartanburg
http://www.goupstate.com/article/20150822/ARTICLES/150829862?Title=Coroner-Spartanburg-woman-killed-in-dog-attack

2015 - U.S. DOG BITE RELATED FATALITIES - 20 (8 CHILDREN - 12 ADULTS)

PIT BULL - 13
FREDERICK MD -
WEST MIFFLIN PA
WHEELING WV
JEFFERSON COUNTY AR
PAHRUMP NV
DALLAS TX
CHICAGO IL
LAWTON OK
PECOS TX
HENDERSON COUNTY NC
SHAKER HEIGHTS OH
REDBIRD OK (4 dogs-3 pit bulls and 1 rottweiler)
SPARTANBURG SC
PIT BULL MIXES - 2
BROOKSVILLE FL
COLLEGE SPRINGS PAGE COUNTY IA -

ROTTWEILER - 1
SULPHUR SPRINGS TX

UNKNOWN BREED DOGS - 4
COAL HILL JOHNSON COUNTY AR
ROSEBUD INDIAN RESERVATION SD
WASHINGTON GA
CANYON LAKE TX
(1-2- PACK OF FERAL DOGS - UNIDENTIFIED NATIVE AMERICAN MALE ABOUT 40- GALLUP NM - PENDING - 1)



1. 1-7 - EUGENE WESLEY SMITH - 87- FREDERICK MD - ATTACKED AND KILLED BY A 4-YEAR-OLD NEUTERED PIT BULL WEIGHING ABOUT 84 POUNDS THAT HAD BEEN RESCUED/ADOPTED AND LIVED IN THE HOME WITH SMITH, HIS SON AND HIS SON'S FIANCE SINCE MAY.

2. 1-19 - DECLIN MOSS - 18 MONTHS - ISTACHATTA NORTH OF BROOKSVILLE FL - ATTACKED AND KILLED BY 2 OF THE FAMILY'S PIT BULL MIXES WHILE IN THE CARE OF HIS GRANDFATHER.

3. 1-22 - MALAKI MILDWARD - 7 - COLLEGE SPRINGS, PAGE COUNTY IA - KILLED BY THE FAMILY'S TWO 8 OR 9 -MONTH-OLD PIT BULL MIXES.

4. 2-4 - FREDERICK GLENN CRUTCHFIELD- 63- COAL HILL, JOHNSON COUNTY AR - FOUND DEAD NEAR WOODED AREA OUTSIDE HIS HOME - AUTOPSY REVEALED HE DIED FROM BLOOD LOSS DUE TO MULTIPLE DOG BITES - THE DOGS, BREED UNKNOWN AT THIS TIME, BELONGED TO A RELATIVE.

5. 2-22 - TAY'LYNN DEVAUGHN, 2 - WEST MIFFLIN PA - MAULED TO DEATH BY HER AUNT'S BOYFRIEND'S PIT BULL INSIDE THE HOME WHERE SHE AND HER FATHER HAD BEEN STAYING FOR SEVERAL DAYS - SHE HAD BEEN AROUND THE PIT BULL PREVIOUSLY.
6. 3-8 - ROY HIGGINBOTHAM JR - 62 - WHEELING WV - AUTOPSY PENDING - A 3-YEAR-OLD FEMALE PIT BULL OWNED BY DAVID WALLACE, 63, POSSIBLY A ROOMMATE OF HIGGINBOTHAM, ATTACKED HIM WHEN HE TRIED TO GIVE AID TO WALLACE WHO MAY HAVE HAD A HEART ATTACK. WALLACE HAD OWNED THE MOTHER OF THIS PIT BULL SO HE HAD THIS DOG SINCE IT WAS BORN. AUTOPSY RESULTS SHOW THE VICTIM DIED FROM A SEVERED RADIAL ARTERY NEAR HIS LEFT WRIST.

7. 3-12- BETTY WOOD - 78 - SULPHUR SPRINGS TX - MAULED TO DEATH INSIDE HER HOME BY HER 5-YEAR-OLD ROTTWEILER
8. 3-14- JULIA CHARGING WHIRLWIND - 49 - WHITE RIVER SD - ROSEBUD RESERVATION - MAULED TO DEATH BY AT LEAST 2 AND PROBABLY MORE STRAY DOGS - BREED UNKNOWN.

9. 3-21- DE'TRICK JOHNSON- 36 - JEFFERSON COUNTY AR - ATTACKED AND MAULED TO DEATH BY 7 PIT BULLS AS HE GOT OUT OF HIS CAR AT C.J.'S GARAGE JUST OUTSIDE THE CITY LIMITS OF PINE BLUFF. HE WAS WAITING FOR THE OWNER TO ARRIVE TO OPEN THE GATES SO HE WAS STILL OUTSIDE THE GATES IN A PUBLIC STREET AREA.

10. 3-31 - NETA LEE ADAMS - 81 - WASHINGTON GA - FOUND DEAD IN A DITCH - THE CORONER RULED SHE HAD DIED FROM MULTIPLE DOG BITES - BREED UNKNOWN.

11. 4-14 - KENNETH LAWRENCE FORD - 79 - PAHRUMP NV - ATTACKED BY 3 PIT BULLS ON MARCH 13, HE DIED ON APRIL 14 FROM HIS SEVERE INJURIES.

12. 4-19 - BRAYDEN WILSON - 2-MONTH-OLD INFANT BOY - THE BABY WAS IN HIS BOUNCY SEAT. HIS FATHER WAS WITH HIM AND HIS MOTHER WAS NOT HOME - THE FATHER WENT OUTSIDE TO TURN ON A SPRINKLER AND WHEN HE CAME BACK IN, THE FAMILY PIT BULL WAS MAULING THE BOY WHILE HE SAT IN THE BOUNCY CHAIR.

13. 5-2 - GAEGE ANTHONY RAMIREZ - 7 - CANYON LAKE TX - MAULED BY AS MANY AS 5 UNKNOWN BREED DOGS AT A HOUSE IN CANYON LAKE TEXAS WHERE HIS MOTHER HAD TAKEN HIM TO VISIT.

14. 5-25 - JAMES W. NEVELS III - 5 - CHICAGO IL - THE BOY WAS VISITING IN A HOME WITH HIS MOTHER - A PIT BULL (OWNER NOT KNOWN AT THIS TIME) WAS AT THE RESIDENCE AND WAS BEING KEPT IN A BEDROOM BUT IT "SOMEHOW" GOT TO THE BOY AND GRIPPED DOWN ON HIS NECK AND SHOULDER - HEROS - 2 TEENAGE BROTHERS CAME WITH EVERY OBJECT THEY COULD FIND AND BEGAN BEATING THE PIT BULL - A CHAIR, A KNIFE, A ROCK, A POLE, A BRICK UNTIL THEY BEAT THE MUTANT TO DEATH....BUT IT WAS TOO LATE!!!

15. 6-28 - JORDON TYSON 'JO JO' COLLINS - 3 - THE CHILD WAS BEING RAISED BY HIS GRANDFATHER AND THEY WERE AT HIS GREAT GRANDMOTHER'S HOUSE. IT WAS REPORTED THAT THE GRANDFATHER WAS WORKING ON A CAR THERE. SOMEONE NOT NAMED WAS WATCHING AFTER THE CHILD BY LOOKING THROUGH A WINDOW AS HE PLAYED IN THE YARD. WHEN THEY LOOKED AGAIN, THE BOY WAS BEING MAULED. TWO DOGS WERE ON THE PROPERTY AND EXACTLY WHO OWNED THIS DOG HAS NOT BEEN NAMED YET.

16. 7-2 - NORBERTO LEGARDA- 83 - PECOS TX - THE ELDERLY MAN WAS FEEDING A RELATIVE'S PET DOG IN THEIR BACKYARD WHILE THEY WERE OUT OF TOWN WHEN 3 PIT BULLS ENTERED THE YARD AND BEGAN ATTACKING THE RELATIVE'S PET AND THEN TURNED ON THE MAN. BY THE TIME POLICE GOT THERE AND SUBDUED THE PIT BULLS, HE WAS ALREADY DEAD.

17. 7-7 - JOSHUA PHILLIP STROTHER - 6 - HENDERSON NC - NEIGHBORS ADOPTED A NEUTERED MALE PIT BULL ABOUT 1-YEAR-OLD FROM A SHELTER IN A NEARBY COUNTY AND THEY ALLOWED JOSHUA AS WELL AS THEIR GIRL ABOUT THE SAME AGE AS JOSHUA TO PLAY WITH IT - IT APPEARS THAT JOSHUA CLIMBED THE FENCE OF THE NEIGHBOR TO PLAY AND WHEN HIS MOTHER DISCOVERED HIM A FEW MINUTES LATER HE WAS COVERED IN BLOOD AND APPEARED TO BE DEAD.

18. 7-12 - ANNIE WILLIAMS - 71 - SHAKER HEIGHTS OH - SHE WAS PICKING UP HER 2 GRANDDAUGHTERS FROM THEIR FATHER'S HOUSE AND HAD A 13-YEAR-OLD RELATIVE IN THE CAR WITH HER. SHE EXITED THE CAR AND WAS ATTACKED IMMEDIATELY BY A PIT BULL WHO BELONGED TO SOMEONE WHO ALSO LIVED IN THE HOUSE. tWO MEN CAME AND TRIED TO PRY THE PIT OFF HER BUT COULD NOT AND ONE OF THEM GOT A GUN AND FIRED. THE DOG WAS POSSIBLY WOUNDED AT THIS TIME AND IT RAN INTO THE BACK YARD. OFFICERS SHOT THE DOG DEAD WHEN THEY ARRIVED. ANNIE WAS TRANSPORTED TO A HOSPITAL WHERE SHE DIED.
19. 7-24 - CAROLYN SUE LAMP - 68 - REDBIRD OK - SHE WAS FROM COWETA OK AND WAS WALKING ALONG PICKING UP CANS WHEN SHE WAS ATTACKED BY 4 DOGS - 3 PIT BULLS AND 1 ROTTWEILER.

20. 8-22 - PORSCHE NICOLE CARTEE - 25 - KILLED BY THE FAMILY PIT BULL THEY HAD OWNED SINCE IT WAS A BABY - IT WAS SAID TO BE AN UNNEUTERED MALE ABOUT 10-YEARS-OLD - A FRIEND HAS REPORTED THAT THE PIT BULL HAD ATTACKED THE MOTHER BEFORE PUTTING HER IN THE HOSPITAL BUT THEY NEVER REPORTED THE ATTACK TO OFFICIALS - THIS TIME IT BEGAN BY ATTACKING THE MOTHER AND NICOLE WENT TO HER AID AND IT TURNED ON HER - ANOTHER WOMAN IN THE HOME FINALLY GOT THE PIT OFF HER AND CALLED FOR HELP BUT SHE WAS FATALLY INJURED.
(1-2 - PENDING - UNIDENTIFIED NATIVE AMERICAN - GALLUP NM - FOUND DEAD NEAR A FAST FOOD RESTAURANT ON U.S. 491 - POSSIBLY MAULED BY A PACK OF DOGS.)