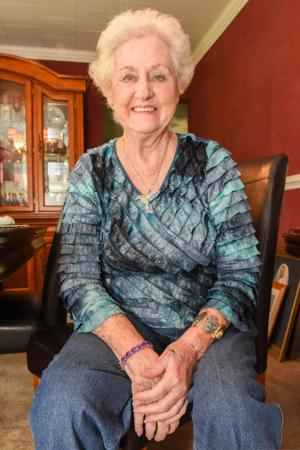 CASCADE — Eleanor Robertson's attempt to do a good deed nearly killed her.
Robertson stopped by the side of a road on Aug. 4 to feed what she thought were two hungry dogs curled up. As soon as she stepped out of her car, they pounced.
"The second I opened my door, they attacked me," Robertson, 78, said during an interview at her Pittsylvania County home on Wednesday .
To her horror, Robertson immediately realized they were
PIT BULLS.
She bruised her back bumping up against her car to get away from them as they ascended, clawing and biting their way up her body.
The attack was fast and furious.
"They were climbing up me," she said. "I knew they were going to kill me if they could."
She managed to escape. Robertson was close to her car, so she opened her door with her right hand while the other was clamped in a dog's mouth.
"I opened my car door and just pulled my hand out from them, squeezed into my car and just barely got into my car, closed the door and got myself some help," she said. "The Lord helped me to get me away from them."
Her left hand was ripped open, her thumb nearly torn away. Her left leg was torn, her foot knotted from the dogs' pounding.
"My pants were an inch deep with blood," Robertson said. "It was all over the car. It had splattered to the ceiling of my car."
She drove herself away and sought help at a relative's home. She had her arm wrapped in a towel that filled with blood by the time paramedics arrived, Robertson said.
She was treated at Morehead Memorial Hospital in Eden, North Carolina, and was then taken to the trauma center at Wake Forest Baptist Medical Center in Winston-Salem.
She had to get three stitches in her left hand and had
injuries to her left leg, which is still sore. It will take four months for her hand to heal, Robertson said.
The dogs were killed and tested for rabies. The results were negative.
Medicare won't pay for someone to take care of her because her treatment was not considered surgery, she said. Robertson's son has hired a caregiver to help her at home.
The incident left Robertson traumatized.
"I've been having nightmares," she said. One bad dream included a large figure that turned into a pit bull's face.
Her fellow parishioners at Willis Memorial Baptist Church in Cascade have brought her food because she cannot cook.
An artist, Robertson has painted oils and watercolors in her spare time since retiring. She owned two businesses and used to teach ceramics at Rockingham Community College in Wentworth, North Carolina.
She's still weak.
"I have not given up, but I am weak," she said. "I'm not going to let it get me down."
Robertson hasn't started receiving medical bills from the incident yet.
She has looked back on the incident and asked questions. She recalled a black vehicle that stopped while the dogs attacked her, but the driver slowly went on their way without helping Robertson.
She has also tried to find out who owned the dogs. No one in the area will admit to owning them, she said.
"I've been through a terrible thing," she said. "I won't ever feed another dog on the side of the road."