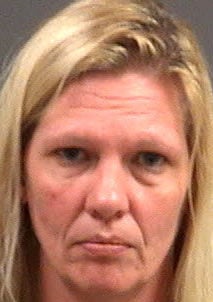 PIT BULL OWNER - REBECCA LYNN POOLE - 45
When Zeus, a 68-pound PIT BULL, was viciously mauling 9-year-old Zora Marion last fall, tearing into the girl's flesh, she at one point looked back at her mother and said, "I'm going to die."
Her mother, Amy, said "No you're not!" as she tried to distract the dog to allow her daughter to escape. "She told me to run," Zora wrote in a letter about her ordeal to Chesterfield County Circuit Court.
As her mother got the dog's attention, incurring an attack on herself, the
Chesterfield girl ran to a nearby office and pleaded for help.
"Then I lay on the sidewalk waiting for
the ambulance to get there," Zora wrote. "I saw a piece of skin flopping out of my mom's leg. I accidentally saw my arm and it looked awful. I was terrified I wasn't going to see my family again."
A little more than 10 months after the Oct. 23 attack and a half-dozen surgeries to repair Zora's "horrific" wounds, the dog's owner, Rebecca Lynn Poole, 45, was sentenced Thursday to five years in prison with all but six months suspended for wantonly failing to control her dog in a reckless disregard for human life. She pleaded no contest to the offense in May.
Poole's conviction for a Class 6 felony under Virginia's vicious dog statute is believed to be one of the few statewide since the General Assembly in March 2006 passed legislation that makes dog attacks resulting in serious injury a felony punishable by up to five years in prison and a $2,500 fine.
The law was enacted in response to the March 8, 2005, death of an 82-year-old Spotsylvania County woman who was attacked and killed by her neighbor's three pit bulls.
Chesterfield Circuit Judge David E. Johnson, who viewed photos of the victims' wounds, compared their severity to wounds suffered by a shooting victim. "These wounds could have come from a gunshot," he said at one point.
"The defendant knew that this dog was dangerous," Johnson said, noting the animal had previously attacked two of the defendant's family members but she still kept the dog."This defendant knew the dog might attack."
The judge also remarked on the so-called leash to which the dog was attached while in Poole's care — a frayed and worn 36-foot long contraption of rope and three dog leashes tied together. The dog broke free and attacked the girl as Poole apparently tried to hold down the end of the leash with her foot. The leash was not anchored or tethered.
"This is no leash by any reasonable standard," the judge declared.
Chesterfield prosecutor Robert J. Fierro Jr. provided this summary of attack:
Poole and the two victims, who once lived in the same household, drove to the Ample Storage Center at 4000 Hamlin Creek Parkway in Chester. Amy Marion needed a ride to pick up her daughter from school, and Poole obliged. "But she indicated she had to make a stop at the storage unit."
While mother and daughter stayed in Poole's vehicle, Poole got out with the dog and walked to the storage area.
Defense attorney Alex Taylor said Poole, as a "matter of precaution," intentionally parked 350-400 feet away from where she would be working should the dog become "unpredictable."
But at one point, Fierro said, Zora had to use the restroom and got out of the vehicle to walk to the storage center office. The dog broke free from the leash and immediately attacked the girl, and as her mother "attempted to remove the dog from her daughter, the dog attacked her as well."
Terri Martin, the storage center manager, testified she grabbed hold of Zeus and screamed his name, and he let go. She said she was surprised by the attack, because she regarded Zeus as a "very loving dog."
Bleeding profusely, Zora and her mother were brought into the storage center's office until paramedics arrived.
The leash "looked like it would come apart at any minute, and it did," Fierro said. "When Ms. Poole was interviewed later, she indicated that she was controlling the dog by simply stepping on the leash."
Fierro said the dog attacked Poole's daughter in March 2013 and an adult family member in May of that year. Chesterfield animal control quarantined the dog for 10 days after both attacks.
"Ms. Poole had been put on notice that this animal was dangerous," Fierro said, although it had not been formally adjudicated as a dangerous animal.
After the attack, Zora was hospitalized five days and her mother six, and both have undergone numerous surgical procedures. Zora suffered bites to her arm, leg, right side, back side and buttocks and received over 50 stitches. Her mother suffered bites to he right side, arm, legs, hip and thigh, Fierro said.
Drainage tubes had to be installed in both victims "for the wounds that couldn't be closed up," and both suffered permanent scarring, Fierro said.
Zora "went through months of having the wounds cleaned and preparing for additional procedures," the prosecutor said.
"When I look at my scars, I think to myself, why?" Zora wrote in her victim impact statement. Neither mother or daughter attended Thursday's sentencing hearing.
Poole, sometimes breaking into tears, repeatedly apologized for her dog's attack, insisting that she "took precautions" so it wouldn't harm anyone.
She immediately turned the dog over to animal control and it was euthanized.