Boy Attacked By Pitbull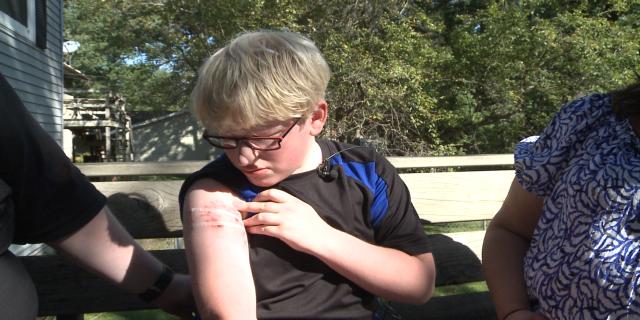 (KWWL) -
An 11-year-old boy is recovering after being attacked by a
PIT BULL.
.
Nate Smith says he was walking to the bus stop Friday morning, when a neighbor's dog attacked him, sending him to the hospital.
The family is very emotional right now. The parents say they are recovering from the initial scare of the incident and also overwhelmed by the support they have received from neighbors and people on Facebook.The family told me they have several dogs and are very much animal lovers. That's what makes this attack so upsetting.
"I was just scared . . ."
Shaken by the attack,, Nate tries to take his mind off the dog bites from Friday morning, but the incident is fresh on his mind.
"bit my arm right here. . .like bit it right here. Then once it stopped biting my arm. It jumped up and nipped me right here," explained Nate.
On a normal day, Nate walks four blocks to the bus stop, but on Friday he was just a few houses from home when the attack happened.
"I just dropped everything and ran," said Nate.
Nate's mom says she thought she was imagining things when she first heard the screams.
"I said do you need help and I could hear a yes, but his tone of voice is gut wrenching as a mom you don't ever here that from your child unless it's an. . .emergency," explained Nate's mom, Shelly Smith.
The Smiths say their neighborhood is quite close; knowing most the dogs and their owners in the area. But they were unaware a new neighbor on Nate's walk had two pit bulls. Regardless of the breed, Nate's mom says he's respectful of everyone's pets.
"I found his trapper keeper in the middle of the road," said Shelly. "I know that Nate takes the road when he walks there. He has great respect for our neighbors. Nate wasn't taunting, wasn't teasing, He was just walking to the bus stop."
Meanwhile, Nate is trying to recover from his injuries. "I really didn't want to hurt the dog," said Nate. And the Smiths say they are sad to see the dog put down.
"That is the owner's decision and he made that decision right away. He is in full support of making sure Nate feels safe," said Shelly.
Evansdale police are investigating the incident. They did confirm the owner of the dog was very cooperative and planned to put the dog down. KWWL tried contacting the owner, but was unable to reach him. For now, the Smiths say they plan to drive Nate to school. They said they were working with the school to get the bus stop relocated.