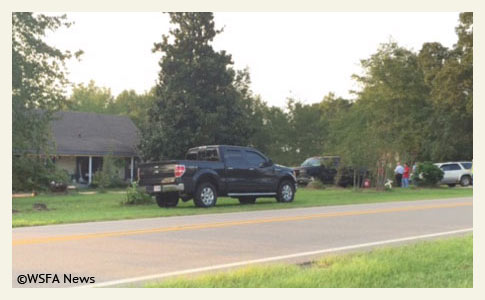 PIT BULL MIX OMITTED IN INFORMATION AT THE TIME OF THE MAULING DEATH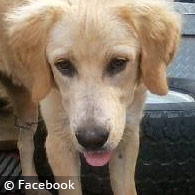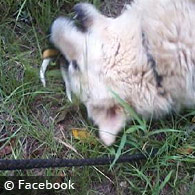 Retriever Mix as younger pup? Shepherd Mix playing on ground?
More information has been obtained on the breed of dogs the McCormick family had on their property the day of the attack- September 4. The only picture made available in news articles at the time of the attack was one of the Retriever Mix showing it being older and it was tied up presumably at the time of the attack. On September 12, the couple's son - William Mmccormick on Facebook - published photographs of three family dogs: the 2 dogs in the pictures above appear to be a retriever mix and perhaps a shepherd mix ??.....The third picture above shows a pit bull type dog with a very wide mouth and head like a "Bully Breed". It must be noted that his father holding the pit bull died shortly after the tragic death of his mother. So this son has lost both his mother and father in a short period of time. Very few details were released by the Autauga County Sheriff's office about this dog mauling death and nowhere in any of the articles did it ever mention a pit bull or pit bull mix.
http://blog.dogsbite.org/2015/09/2015-dog-bite-fatality-autauga-county.html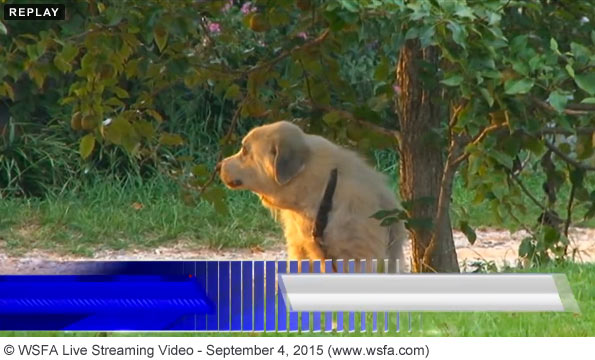 Is this the Retriever that is older or another dog altogether? It appears to be tied to a tree.
COMMENTS HERE GIVE MORE INFORMATION:
The Autauga County Sheriff's Office is conducting a death investigation after a 65-year-old Autauga County woman was found dead in her yard Friday afternoon with injuries consistent with a dog attack.
Barbara McCormick was found dead by a friend who went to check on her, Autauga County Sheriff Joe Sedinger said.
McCormick's body will be sent to the Alabama Department of Forensic Sciences for an autopsy. Sedinger said her body had received injuries consistent with an apparent dog attack.
"She had medical problems and right now we don't know the cause of death," Sedinger said. "We don't know if the injuries were received after death or if she was attacked by the dogs."
At McCormick's home off of County Road 1, south of Billingsley, several large dogs were chained or tied in the yard. Three of the dogs owned by the family have been quarantined, according to Sedinger. He doesn't know if the animals will be destroyed in the future.
Family members said the dogs had never acted aggressively toward McCormick before, the sheriff said.
http://www.montgomeryadvertiser.com/story/news/2015/09/04/autauga-woman-may-died-dog-attack/71730290/
2015 - U.S. DOG BITE RELATED FATALITIES - 25 (9 CHILDREN - 16 ADULTS)

PIT BULL - 16
FREDERICK MD -
WEST MIFFLIN PA
WHEELING WV
JEFFERSON COUNTY AR
PAHRUMP NV
DALLAS TX
CHICAGO IL
LAWTON OK
PECOS TX
HENDERSON COUNTY NC
SHAKER HEIGHTS OH
REDBIRD OK (4 dogs-3 pit bulls and 1 rottweiler)
SPARTANBURG SC
MOCKSVILLE DAVIE COUNTY NC
NORTHSHORE RIVERSIDE COUNTY CA
BAKER HEIGHTS WV
PIT BULL MIXES - 2
BROOKSVILLE FL
COLLEGE SPRINGS PAGE COUNTY IA

3 DOGS: PIT BULL, SHEPHERD MIX, RETRIEVER MIX - 1 ATTACK
AUTAUGA CO AL

3 DOGS: AMERICAN BULLDOG, RHODESIAN RIDGEBACK, LAB MIX??? - 1 ATTACK
MIAMI DADE FL

ROTTWEILER - 1
SULPHUR SPRINGS TX

UNKNOWN BREED DOGS - 4
COAL HILL JOHNSON COUNTY AR (RUMORED TO BE HIS SON'S PIT BULL MIXES)
ROSEBUD INDIAN RESERVATION SD
WASHINGTON GA (RUMORED TO BE PIT BULLS)
CANYON LAKE TX

(1-2- PACK OF FERAL DOGS - UNIDENTIFIED NATIVE AMERICAN MALE ABOUT 40- GALLUP NM - PENDING - FOUND NEAR A FAST FOOD RESTAURANT ON U.S. 491 - POSSIBLY MAULED BY A PACK OF DOGS)


1. 1-7 - EUGENE WESLEY SMITH - 87- FREDERICK MD - ATTACKED AND KILLED BY A 4-YEAR-OLD NEUTERED PIT BULL WEIGHING ABOUT 84 POUNDS THAT HAD BEEN RESCUED/ADOPTED AND LIVED IN THE HOME WITH SMITH, HIS SON AND HIS SON'S FIANCE SINCE MAY.

2. 1-19 - DECLIN MOSS - 18 MONTHS - ISTACHATTA NORTH OF BROOKSVILLE FL - ATTACKED AND KILLED BY 2 OF THE FAMILY'S PIT BULL MIXES WHILE IN THE CARE OF HIS GRANDFATHER.

3. 1-22 - MALAKI MILDWARD - 7 - COLLEGE SPRINGS, PAGE COUNTY IA - KILLED BY THE FAMILY'S TWO 8 OR 9 -MONTH-OLD PIT BULL MIXES.

4. 2-4 - FREDERICK GLENN CRUTCHFIELD- 63- COAL HILL, JOHNSON COUNTY AR - FOUND DEAD NEAR WOODED AREA OUTSIDE HIS HOME - AUTOPSY REVEALED HE DIED FROM BLOOD LOSS DUE TO MULTIPLE DOG BITES - THE DOGS, BREED UNKNOWN AT THIS TIME, BELONGED TO A RELATIVE.

5. 2-22 - TAY'LYNN DEVAUGHN, 2 - WEST MIFFLIN PA - MAULED TO DEATH BY HER AUNT'S BOYFRIEND'S PIT BULL INSIDE THE HOME WHERE SHE AND HER FATHER HAD BEEN STAYING FOR SEVERAL DAYS - SHE HAD BEEN AROUND THE PIT BULL PREVIOUSLY.
6. 3-8 - ROY HIGGINBOTHAM JR - 62 - WHEELING WV - AUTOPSY PENDING - A 3-YEAR-OLD FEMALE PIT BULL OWNED BY DAVID WALLACE, 63, POSSIBLY A ROOMMATE OF HIGGINBOTHAM, ATTACKED HIM WHEN HE TRIED TO GIVE AID TO WALLACE WHO MAY HAVE HAD A HEART ATTACK. WALLACE HAD OWNED THE MOTHER OF THIS PIT BULL SO HE HAD THIS DOG SINCE IT WAS BORN. AUTOPSY RESULTS SHOW THE VICTIM DIED FROM A SEVERED RADIAL ARTERY NEAR HIS LEFT WRIST.

7. 3-12- BETTY WOOD - 78 - SULPHUR SPRINGS TX - MAULED TO DEATH INSIDE HER HOME BY HER 5-YEAR-OLD ROTTWEILER
8. 3-14- JULIA CHARGING WHIRLWIND - 49 - WHITE RIVER SD - ROSEBUD RESERVATION - MAULED TO DEATH BY AT LEAST 2 AND PROBABLY MORE STRAY DOGS - BREED UNKNOWN.

9. 3-21- DE'TRICK JOHNSON- 36 - JEFFERSON COUNTY AR - ATTACKED AND MAULED TO DEATH BY 7 PIT BULLS AS HE GOT OUT OF HIS CAR AT C.J.'S GARAGE JUST OUTSIDE THE CITY LIMITS OF PINE BLUFF. HE WAS WAITING FOR THE OWNER TO ARRIVE TO OPEN THE GATES SO HE WAS STILL OUTSIDE THE GATES IN A PUBLIC STREET AREA.

10. 3-31 - NETA LEE ADAMS - 81 - WASHINGTON GA - FOUND DEAD IN A DITCH - THE CORONER RULED SHE HAD DIED FROM MULTIPLE DOG BITES - BREED UNKNOWN.

11. 4-14 - KENNETH LAWRENCE FORD - 79 - PAHRUMP NV - ATTACKED BY 3 PIT BULLS ON MARCH 13, HE DIED ON APRIL 14 FROM HIS SEVERE INJURIES.

12. 4-19 - BRAYDEN WILSON - 2-MONTH-OLD INFANT BOY - THE BABY WAS IN HIS BOUNCY SEAT. HIS FATHER WAS WITH HIM AND HIS MOTHER WAS NOT HOME - THE FATHER WENT OUTSIDE TO TURN ON A SPRINKLER AND WHEN HE CAME BACK IN, THE FAMILY PIT BULL WAS MAULING THE BOY WHILE HE SAT IN THE BOUNCY CHAIR.

13. 5-2 - GAEGE ANTHONY RAMIREZ - 7 - CANYON LAKE TX - MAULED BY AS MANY AS 5 UNKNOWN BREED DOGS AT A HOUSE IN CANYON LAKE TEXAS WHERE HIS MOTHER HAD TAKEN HIM TO VISIT.

14. 5-25 - JAMES W. NEVELS III - 5 - CHICAGO IL - THE BOY WAS VISITING IN A HOME WITH HIS MOTHER - A PIT BULL (OWNER NOT KNOWN AT THIS TIME) WAS AT THE RESIDENCE AND WAS BEING KEPT IN A BEDROOM BUT IT "SOMEHOW" GOT TO THE BOY AND GRIPPED DOWN ON HIS NECK AND SHOULDER - HEROS - 2 TEENAGE BROTHERS CAME WITH EVERY OBJECT THEY COULD FIND AND BEGAN BEATING THE PIT BULL - A CHAIR, A KNIFE, A ROCK, A POLE, A BRICK UNTIL THEY BEAT THE MUTANT TO DEATH....BUT IT WAS TOO LATE!!!

15. 6-28 - JORDON TYSON 'JO JO' COLLINS - 3 - THE CHILD WAS BEING RAISED BY HIS GRANDFATHER AND THEY WERE AT HIS GREAT GRANDMOTHER'S HOUSE. IT WAS REPORTED THAT THE GRANDFATHER WAS WORKING ON A CAR THERE. SOMEONE NOT NAMED WAS WATCHING AFTER THE CHILD BY LOOKING THROUGH A WINDOW AS HE PLAYED IN THE YARD. WHEN THEY LOOKED AGAIN, THE BOY WAS BEING MAULED. TWO DOGS WERE ON THE PROPERTY AND EXACTLY WHO OWNED THIS DOG HAS NOT BEEN NAMED YET.

16. 7-2 - NORBERTO LEGARDA- 83 - PECOS TX - THE ELDERLY MAN WAS FEEDING A RELATIVE'S PET DOG IN THEIR BACKYARD WHILE THEY WERE OUT OF TOWN WHEN 3 PIT BULLS ENTERED THE YARD AND BEGAN ATTACKING THE RELATIVE'S PET AND THEN TURNED ON THE MAN. BY THE TIME POLICE GOT THERE AND SUBDUED THE PIT BULLS, HE WAS ALREADY DEAD.

17. 7-7 - JOSHUA PHILLIP STROTHER - 6 - HENDERSON NC - NEIGHBORS ADOPTED A NEUTERED MALE PIT BULL ABOUT 1-YEAR-OLD FROM A SHELTER IN A NEARBY COUNTY AND THEY ALLOWED JOSHUA AS WELL AS THEIR GIRL ABOUT THE SAME AGE AS JOSHUA TO PLAY WITH IT - IT APPEARS THAT JOSHUA CLIMBED THE FENCE OF THE NEIGHBOR TO PLAY AND WHEN HIS MOTHER DISCOVERED HIM A FEW MINUTES LATER HE WAS COVERED IN BLOOD AND APPEARED TO BE DEAD.

18. 7-12 - ANNIE WILLIAMS - 71 - SHAKER HEIGHTS OH - SHE WAS PICKING UP HER 2 GRANDDAUGHTERS FROM THEIR FATHER'S HOUSE AND HAD A 13-YEAR-OLD RELATIVE IN THE CAR WITH HER. SHE EXITED THE CAR AND WAS ATTACKED IMMEDIATELY BY A PIT BULL WHO BELONGED TO SOMEONE WHO ALSO LIVED IN THE HOUSE. tWO MEN CAME AND TRIED TO PRY THE PIT OFF HER BUT COULD NOT AND ONE OF THEM GOT A GUN AND FIRED. THE DOG WAS POSSIBLY WOUNDED AT THIS TIME AND IT RAN INTO THE BACK YARD. OFFICERS SHOT THE DOG DEAD WHEN THEY ARRIVED. ANNIE WAS TRANSPORTED TO A HOSPITAL WHERE SHE DIED.
19. 7-24 - CAROLYN SUE LAMP - 68 - REDBIRD OK - SHE WAS FROM COWETA OK AND WAS WALKING ALONG PICKING UP CANS WHEN SHE WAS ATTACKED BY 4 DOGS - 3 PIT BULLS AND 1 ROTTWEILER.

20. 8-22 - PORSCHE NICOLE CARTEE - 25 - KILLED BY THE FAMILY PIT BULL THEY HAD OWNED SINCE IT WAS A BABY - IT WAS SAID TO BE AN UNNEUTERED MALE ABOUT 10-YEARS-OLD - A FRIEND HAS REPORTED THAT THE PIT BULL HAD ATTACKED THE MOTHER BEFORE PUTTING HER IN THE HOSPITAL BUT THEY NEVER REPORTED THE ATTACK TO OFFICIALS - THIS TIME IT BEGAN BY ATTACKING THE MOTHER AND NICOLE WENT TO HER AID AND IT TURNED ON HER - ANOTHER WOMAN IN THE HOME FINALLY GOT THE PIT OFF HER AND CALLED FOR HELP BUT SHE WAS FATALLY INJURED.

21. 8-24 - CATHY WHEATCRAFT - 48 - MOCKSVILLE DAVIE COUNTY NC - THE WOMAN WALKED OUT TO HER MAILBOX SOMETIME BEFORE 7PM ON MONDAY EVENING AND THE NEIGHBOR'S PIT BULL ATTACKED AND KILLED HER - ANOTHER NEIGHBOR WAS INJURED COMING TO HER AID - IT WAS REPORTED THAT THE PIT BULL JUMPED OUT OF THE WINDOW OF ITS OWNER'S HOME - THE OWNER WAS NOT AT HOME AT THE TIME - THE PIT BULL HAD PREVIOUSLY BEEN DECLARED "A NUISANCE" FOR ESCAPING ITS HOME AND ATTACKING ANOTHER DOG.

22. 9-4 - BARBARA MCCORMICK - 65 - BILLINGSLY AUTAUGA COUNTY AL - CORONER'S REPORT STATES CAUSE OF DEATH WAS FROM DOG ATTACK FROM THE FAMILY PETS. FIRST REPORTS DESCRIBED DOGS AS SHEPHERD MIX AND OR RETRIEVER MIX - THERE ARE NO WITNESSES BUT THE SHERIFF SPECULATES THAT THE SMALL, ELDERLY WOMAN WAS IN POOR HEALTH AND MAY HAVE BEEN FEEDING THE DOGS WHEN THEY GOT INTO A FIGHT OVER FOOD AND TURNED ON HER. COMMENTS TO THE NEWS ARTICLES SAID THEY HAD PIT BULLS - THEIR SON POSTED ON FACEBOOK ON SEPT 12 PICTURES OF 3 DOGS - A RETRIVER MIX, A SHEPHERD MIX AND A LARGE PIT BULL IN A CAR WITH HIS FATHER'S ARMS AROUND IT. THE FATHER WHO WAS ALSO ILL AT THE TIME OF THE ATTACK DIED WITHIN DAYS AFTER HIS WIFE'S DEATH. AT THIS TIME NO INFORMATION HAS BEEN GIVEN AS TO WHICH DOGS MAULED THE WIFE AND MOTHER OR AS TO WHAT HAPPENED TO THE DOGS.

23. 9-8 - EMILIO RIOS SR - 65 - NORTH SHORE RIVERSIDE COUNTY CA - 2 PIT BULLS ATTACKED AND KILLED HIM AS HE WAS WATERING HIS FLOWERS IN HIS YARD AND LEFT A WOMAN WHO TRIED TO HELP HIM SERIOUSLY INJURED AND IN THE HOSPITAL.

24. 9-22 - CARMEN REIGADA - 91 - MIAMI DADE FL - NEIGHBORS SAY THE 3 DOGS - AN AMERICAN BULLDOG, A RHODESIAN RIDGEBACK, A LAB MIX - BELONGED TO HER GRANDSON -SHE WAS ATTACKED AT HER HOME AROUND 4PM IN THE AFTERNOON ON TUESDAY.

25. 9-29 - LAMARKUS HAKEEM HICKS - 2 - BAKER HEIGHTS WV - IT APPEARS AT THIS TIME THE CHILD WANDERED INTO A NEIGHBOR'S YARD WHERE A DOG WAS KEPT AND THE OWNER OF THE DOG FOUND THE CHILD AFTER HE WAS MAULED - THE VICTIM WAS TAKEN TO A LOCAL HOSPITAL THEN LIFE FLIGHTED TO WASHINGTON D.C. CHILDRENS WHERE HE DIED. ONE WOMAN COMMENTING ON THESE STORIES SAYS HER MOTHER LIVES IN THE HOUSE IN BETWEEN WHERE THE CHILD LIVED AND WHERE THE ATTACK OCCURRED AND THAT THE CHILD PLAYED OFTEN WITH ALL THE CHILDREN IN THE AREA. SHE SAYS THE DOG WAS A PIT BULL.