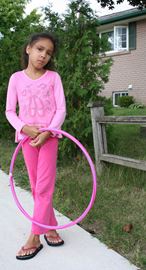 Independent Free Press
Some children on Weber Dr. in Georgetown are afraid to go outside after a 9-year-old girl was attacked by a neighbour's dog while playing hula hoop in front of her home.
Tea Izquierdo's mom Dona is going public with the story because, "we are trying to avoid another family going through something awful like this. The investigation can be quite a slow process. In the meantime that dog poses a danger to the community."
The incident happened on July 8 around 3 p.m. Tea said she was outside her home playing hula hoop while her mom was inside settling her 17-month-old brother for a nap.
Children in a home across the street asked her to play with them, but Tea had said no because their dog is "scary." Next thing she knows, one of the children opened the door and the dog came charging at her, she said.
Tea said she doesn't remember much of what happened next, only that she was able to get up the stairs to the safety of her mother's arms. Blood was seeping through Tea's clothing over her right hip and thigh, recalls mom Dona.
Tea's dad, Alfredo, immediately took his daughter to Georgetown Hospital.
Although she didn't need stitches Tea said her right leg still hurts. Her mom said that Tea has had nightmares since the incident and has trouble sleeping alone now too.
"I want them to give away the dog," Tea said.
Marina Booton, Supervisor of Enforcement Services Town of Halton Hills, confirmed Tuesday (Sept. 29) that an investigation into this incident is ongoing and that charges are pending. She says the dog in question is licensed with the Town as a
BOXER/BULLDOG CROSS.
Booton says the municipality has up to six months to conduct its investigation into such incidents. She explains the process that takes place after a reported dog attack:
"A canine officer will respond to do a preliminary report. This gets forwarded to the Town enforcement officers who then gather information by doing a neighbourhood canvas to find out about other occurrences that we might not know about, gather witness statements. Sometimes people refuse to speak to us because they decide they don't want to go to court. This can take months. We review files with prosecutors that are contracted by the town, charges may be laid under the Dog Owners Liability Act."
In Halton Region, any time there is a report of a dog biting a human the dog automatically receives a 10-day quarantine. It can be at a kennel or at the dog's home. This is enforced at the regional level. The health department must always be notified in these instances, Booton says. But if it is a dog-on-dog attack, no quarantine is mandated.
"If it's necessary, we lay charges and dog owners are compelled to go to court. We can ask for controls on the dog such as muzzle or dog behaviour course, or that owners put a Beware of Dog sign out front the house," Booton said.
Only under severe conditions would euthanasia be considered.
Under the Responsible Pet Owners bylaw, Booton says her officers may ask that the offending dog be muzzled in public at all times. She says if the owners do not agree to muzzle the dog or comply with the law, the case may go to Provincial Court.
"If it is a severe case and we've heard of other incidents with same dog the court will decide. We don't decide," said Booton.
A neighbour, who did not want to be identified, said that he/she is not comfortable letting his/her children outdoors to play, "until I know that dog is not there."
"The neighbourhood is a beautiful neighbourhood. We shouldn't have to be looking over our shoulder," Dona said. "It's a danger not just to kids but to the seniors who live in the area."
"People around here are talking about it. But nobody is willing to do anything about it (until now)," Dona said, adding that she has also filed a police report.
The dog's owners did not respond to The Independent and Free Press's requests for comment.
http://www.theifp.ca/news-story/5938877-town-of-halton-hills-investigating-after-dog-bites-child/