(KTRK) --
Eighteen-month-old Kinley Golden, her father says, had never been sick a day in her life. Six days ago, that changed in an instant.
The bubbly toddler is now in PICU at Texas Children's Hospital in the Texas Medical Center, recovering from a dog bite that compressed her skull and caused a stroke.
It happened not as the result of a stray animal that targeted Kinley, but at her grandparent's home in Louisiana. The dog was the grandparent's pet
SPRINGER SPANIEL
, who was calm, well-trained.
"I'd never seen a better dog," said her father, Jeremy Golden.
His daughter was playing with the dog last Saturday night, her grandfather with her, when Golden said he heard his father scream. He rushed outside, saw the dog biting his daughter's head. He tried to pull him off the child, but when that didn't work, he bit the dog.
Kinley was bleeding badly. Golden is an ICU nurse at a Houston-area hospital. He instinctively did what any emergency responder would do, kept pressure on the wound. He and his father drove to a nearby town where an ambulance crew was waiting. She was given a blood transfusion and airlifted to a Shreveport hospital.
During the first 72 hours, the girl suffered a stroke. Eventually she was stabilized and able to be transferred to Texas Children's Hospital.
"She's improving bit by bit," her dad said. "Her face wasn't injured, but she had to have part of her skull removed for brain swelling."
Kinley's mother is a nurse as well, and co-workers have been donating their paid time off to allow the parents to spend time with their daughter. There are also fundraising efforts to help them cope with enormous medical bills.
Golden is a stoic father, who's seen a lot of trauma patients on the job.
"Nothing prepares you for when it's your own child, " he said.
He also has a message for other families. "This was a great dog, but he wasn't raised around children. If your kids are around a dog, you need to be very cautious before you let them anywhere near an animal."
For now, the Goldens are staying by their daughter's bedside, praying for a complete recovery.
"She's a fighter," her dad says. "We know she'll make it."
A
GoFundMe account
under the name "Kinley Golden" has been set up to help with medical bills.
http://abc13.com/news/dog-viciously-attacks-baby-girl-from-houston/1036803/
Gun Dog, AKC Sporting
Height: Males 19 - 21 inches (48 - 56 cm) Females 18 - 20 inches (46 - 51 cm)
Weight: Males 45 - 55 pounds (20 - 25 kg) Females 40 - 50 pounds (18 - 23 kg)
The English Springer Spaniel is the founder of all the English hunting spaniels. During the Renaissance, it was considered the ideal companion for the European hunter. Its popularity in America began in 1700. The
Clumber
, the
Sussex
, the
Welsh Springer
, the
Field
, the
Irish Water
, and the
Cocker Spaniel
all developed out of the English Springer Spaniel. Once considered the same breed as the
Cocker Spaniel
, the dogs were born in the same litter. The smaller dogs were the Cockers and were used to hunt woodcock. The larger dogs in the litter, the English Springers, were used to flush out and spring on the game, hence where the dog gets its name. Both size dogs were and still are good at hunting on land and water and good at work in brush, also making a fine retriever. It was not until 1902 that the Kennel Club of England recognized the English Setter as a separate breed from the Cocker Spaniel. The English Springer Spaniel was recognized by the AKC in 1910. The English Springer Spaniel Field Trial Association was formed in 1924 and field trials were held for the first time. Their talents include hunting, tracking, retrieving, watchdog, agility, competitive obedience and performing tricks.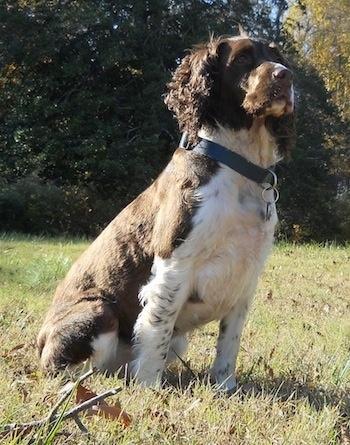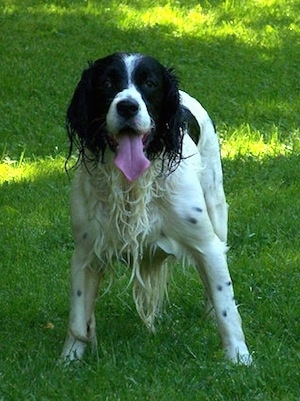 http://www.dogbreedinfo.com/englishspringerspaniel.htm