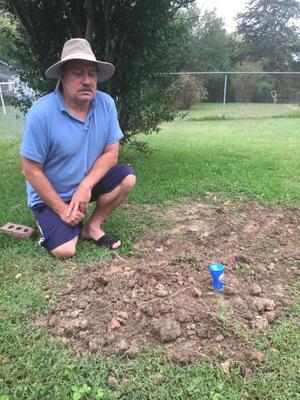 For Roger Stansberry, his cats were his babies. Two of his neighbors' dogs fatally injured one of them after they broke into his enclosed porch early Friday morning and attacked him and his cats.
"He's my buddy," Stansberry, a disabled veteran who lives on Ferry Road in Pittsylvania County, said during an interview at his home Saturday morning. The cat, a 5-year-old named "Freddy," died at a veterinary care center Friday, he said. Stansberry buried his beloved pet in his backyard.
The Pittsylvania County Animal Control Office — following a call from Stansberry — is investigating the incident after animal control ordered the dogs quarantined by its Ferry Road owners following the attack.
Chief Animal Control Officer Pete Boswell said he hopes to go to Pittsylvania County General District and have a judge declare the dogs — A PIT BULL AND A LABRADOR RETRIEVER - dangerous. Under the declaration, an owner must have the dog microchipped and kept in an enclosure to prevent it from running loose. An insurance policy covering animal bites would also be required, Boswell said.
In the meantime, the dogs must be kept confined by its owners until the judge makes a decision, he said.
Pittsylvania County has no leash laws.
Jean Cosner, owner of the Labrador retriever, said she felt bad about what happened to Stansberry's cat.
"I feel terrible," Cosner said during an interview at her home Wednesday. "It's sad."
She said her Labrador was "an excellent dog in every way," hunting raccoons, possums and skunks. Cosner, who said Stansberry hasn't talked to her since the incident, said she wants to go talk to him but wants to take her husband with her.
Cosner dreads what could be next for "Duke."
"We've had Duke seven years," she said. "I know what's going to happen."
"There's nothing I can do," she added. "It is what it is."
No one answered the front door of the pit bull owners' home Wednesday afternoon. A pit bull was tethered next to the Ferry Road home.
Cosner said she wished Stansberry had come to talk to her first.
Stansberry said he has had problems with the two dogs for about two years. They have killed five deer in his backyard, he said. He talked to animal control officials but they said there was nothing they could do, he said.
He got bit on the arm when he smacked and hit the dogs during the attack, which happened at about 4:15 a.m. Friday. The dogs ran out the front door of his porch.
"THESE DOGS ARE FRICKIN' DANGEROUS," STANSBERRY SAID. "THEY ATTACKED ME IN MY HOUSE."