The owner of a dog that escaped from her yard and mauled Petra Aguirre, 84, to death was sentenced for five years in prison Monday after pleading guilty to charges of a dangerous dog attack resulting in death.
Perla Rojas, 34, testified during her sentencing hearing Thursday that the fence in yard was in disrepair as she accepted responsibility for the fatal attack.
"I had never seen anything like it," Animal Care Services supervisor Audra Houghton testified.
She said that the dog has since been euthanized.
During the hearing, Chris Aguirre, the victim's son, described his mother's condition when he went to the hospital following the attack.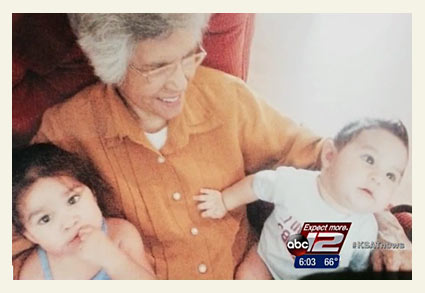 "She hadn't been cleaned up. She still had grass in her hair, dirt," he said.
"The dog had ripped the ears off," Aguirre testified. "There was a big gash in her skull."
He said, "It was one of the worst days of my life."
Speaking through an interpreter, Rojas asked the Aguirre family for forgiveness.
"I feel bad for the lady, for what she had to go through," she said to the family seated in the courtroom audience.
Rojas was facing a maximum sentence of 10 years in prison.
http://www.ksat.com/news/woman-sentenced-to-5-years-in-dog-mauling-death
http://blog.dogsbite.org/2014/04/2014-dog-bite-fatality-san-antonio-fatal-dies-after-pit-bull-attack.html
http://blog.dogsbite.org/2008/01/lillians-law-texas-state-dangerous-dog.html