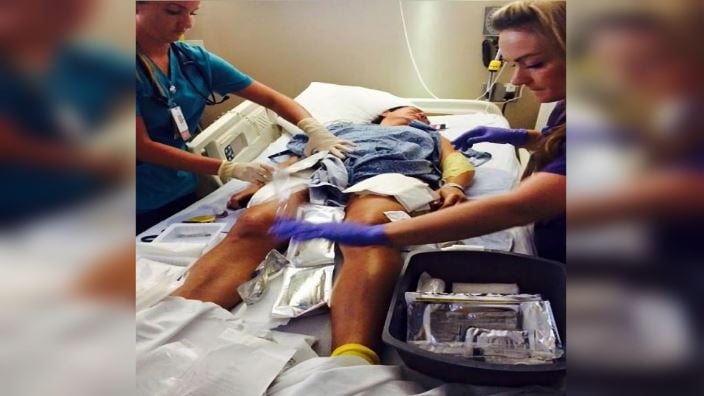 VIDEO
More than two weeks after a gruesome dog attack, a Grover Beach woman still can't feel sections of her arms and legs. As of Wednesday afternoon, she's suing the dog's owner for damages.
"It didn't cross my mind that this dog could kill me," Gina MacPherson said. "I could see my entire bone that day and my elbow was ripped off. All he had to do was turn his head and he would have had my neck."
Images included in this story are the least gruesome we are able to publish. A neighbor took photos of MacPherson's injuries after a dog attacked her inside a San Luis Obispo home she was cleaning on Isabella Way.
On September 28 after having worked for her client for eight months, the housekeeper says she was vacuuming the dining room when the
FAMILY'S TWO-YEAR-OLD AMERICAN BULLDOG-MASTIFF MIX
named Sugar somehow got into the house and jumped on her.
"I was a little frightened and that's when he went down and grabbed my shirt and started ripping my shirt off and he ripped my shorts. Then he knocked me down and I thought if I go down then I know this is over. I just looked at the sky and thought: This is it. There's no way I'm getting out of here," MacPherson said.
Her attorney James Murphy says the attack lasted roughly 15 minutes, "and likely would have resulted in her death had the neighbor lady not been so courageous."
Wednesday afternoon, he filed a lawsuit against the dog's owner to take care of MacPherson's medical costs. She was in surgery for five hours while doctors reconstructed her arms and inner thighs.
"The dog would chomp and then swallow," Murphy said, describing the dog's actions as "eating".
The woman who came to the rescue was also injured.
"The neighbor was familiar with the dog and had gone over with a shovel and began hitting the dog," San Luis Obispo Police Lt. Jeff Smith said.
Police and Animal Services arrived shortly after the neighbor got the dog to release MacPherson and pushed him outside.
"There are some past contacts with the dog, including a past bite; however, those events have happened on the owner's property and in the yard," said Dr. Eric Anderson, Animal Services manager.
He says who is at fault for this bite is still under investigation.
"It's probably a little bit more nuanced than just leaving the door open. At this point, because the dog was confined within its yard and within its house ... it's a little bit more open ended as to whether or not there's direct responsibility on the part of the animal owner," Dr. Anderson said.
Meantime, the owner had the dog put down, but MacPherson says Sugar's face still haunts her.
"Those eyes…that's all I see when I go to sleep now. I mean, it's just this face of the dog. I don't know how I'm going to get through that part," MacPherson said.
San Luis Obispo County Animal Services deputies are expected to finish their criminal investigation next week.
The dog's owner and owner's attorney did not return calls by press time.