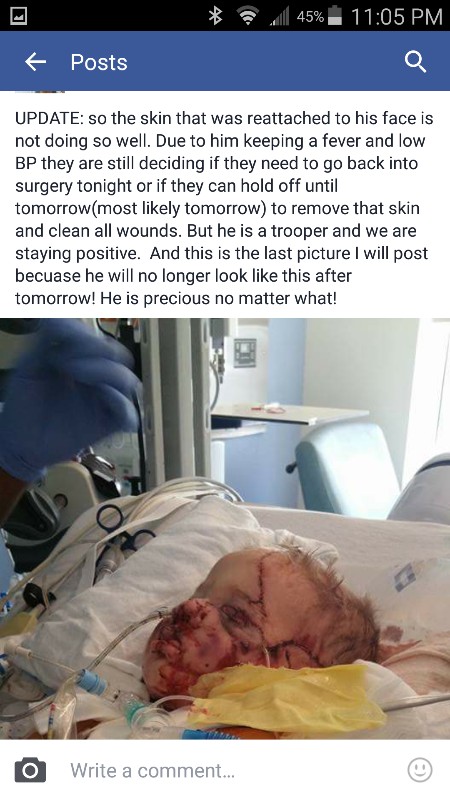 CHAPEL HILL, N.C. (WNCN) – The mother of a 21-month-old boy attacked by a
ROTTWEILER
Friday morning is asking for prayers for the boy's recovery.
The mother, identified as Brittany, of Statesville, said she was in Raleigh visiting friends for Thanksgiving when her son Ryder was attacked.
There were two Rottweilers in the home but Brittany said only one is believed to have done the damage.
"There is no ill will," Brittany said of the dog's owners. The dog said to have attacked Ryder lived at the home on Euston Street. The second belonged to the mother of Brittany's friend.
Both dog owners are at UNC Hospital where the toddler is expected to under go extensive surgeries.
"We're looking at months of surgeries," Brittany said.
"Lots of reconstructive surgery."
Brittany said Ryder played with the dogs throughout the day Thursday and had never shown any aggression towards the boy.
"We were sitting at the kitchen table eating breakfast and he was off playing," Brittany said.
Ryder slipped out through a large doggydoor, Brittany said.
"The time it happened was minute," she said.
Brittany saw the boy after the attack and said the dogs were not showing him attention at that point.
"It's a horrible feeling to find your child like that and you're helpless," she said.
Ryder is in stable condition but is having his breathing assisted as the attacked affected his airway, according to Brittany.
"He's very little. He's not even two yet so he has a lot ahead of him," she said.
Brittany has been welcomed to the Ronald McDonald House in Chapel Hill as she will miss work to be with her son.
"Right now, the only thing we want is for Ryder to be healthy, safe, and get through this," she said.
Both Rottweilers at the home at the time of the attack will be put down.