https://www.gofundme.com/TrentonStrong
A 3-year-old boy is hospitalized tonight after a vicious attack by a
PIT BULL.
He's recovering at Dayton Children's Hospital after the dog suddenly turned on him Thursday night and bit his face.
Reporter Natasha Williams talked to the boy's grandfather, who's been by the boy's side since the attack and he shared some video of little Trent at the hospital. The video shows the deep bite wounds covering most of his face.
"As soon as he got past the dog it grabbed him by the face, shook him violently to the ground, tore his lip off.... part of his nose," Trent's grandfather Michael Carrico said.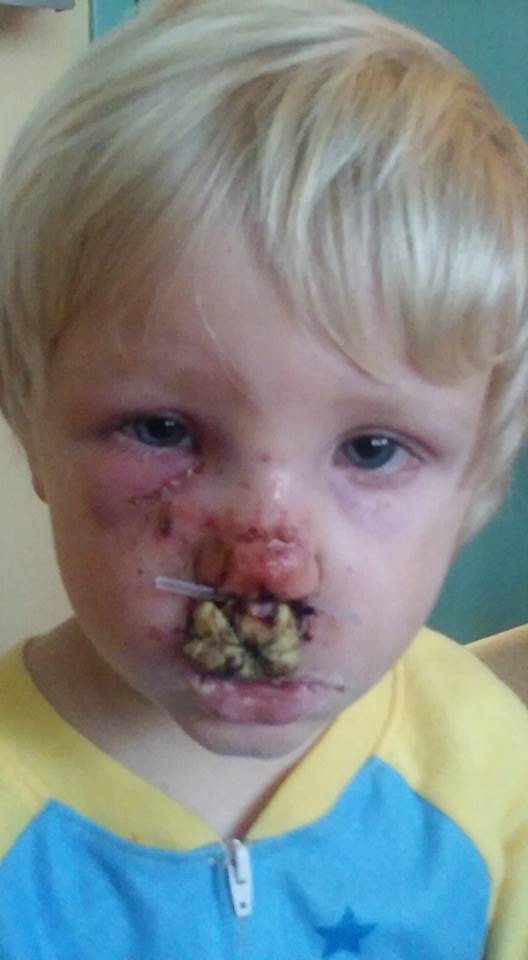 He says they were visiting a friend and within minutes his grandson was being rushed to the hospital.
"Unprovoked, just out of nowhere grabbed the kid and tried to kill him," Michael said.
Michael and his wife, Michelle, have been at the hospital around the clock since it happened. His family has been here before.
In 2007, his son was bitten by a pit bull and hospitalized.
He says now it's all he can think about. He says these attacks are happening too often.
"These damn pit bulls, and I know everybody likes them, I know it's just a breed of dog, but around children.....he was around the dog since he was 6 weeks old and it's around 2 years old now and out of nowhere it attacked his face for nothing."
I am devastated. I look at my grandson like that, he's a trooper. He is strong, he's smart but his little face, it's so bad," Michelle Carrico said. Trent is in sereious condition and he will be at Children's Hospital for the next couple days and will likely have years of surgeries ahead. There's no word on any charges against the dog's owner.
http://www.abc22now.com/news/top-stories/stories/Toddler-Recovering-from-Vicious-Pit-Bull-Attack-249284.shtml