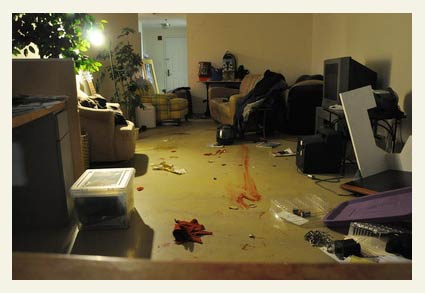 Three people are hospitalized after TWO PIT BULLS went on a bloody rampage in an apartment in Hoboken. Police had to shoot and kill one of the dogs to get it off a victim.
The attacks were brutal and vicious in nature. The apartment was ransacked and bloody,
while the furniture was torn apart. It was evident that the two pit bulls were on a savage biting rampage.
Three people in the apartment were attacked, one woman got the worst of it.
"I could hear her like fading away saying 'help, help'. She was on the ground, the dog was
on top of her, just mauling her. By the time they got to her, it had to be five to ten minutes," neighbor Paul Michael said.
Paul Michael says it resembled a scene from the movie "Jaws."
"It didn't look like she was going to make it. She was bad. Her entire leg was torn up," Paul Michael said.
Fear spread on the first floor as one dog got loose and was on the prowl -- roaming the hallway.
"There was blood everywhere -- in the hallway, in front of my door..all in the hall from the second mauling victim," said Paul.
When the second dog was put down, Paul rescued a smaller dog cowering in the apartment and pulled the dog to safety.
Word about the dog attacks quickly spread through the upscale, North Independence Apartments at One Independence Court, a luxury high rise on the waterfront.
"It was very scary. I am on the tenth floor and there was...I don't know five of six ambulances coming. There was a bunch of people outside," resident Justice Stewart said.
The dogs went after the police, forcing them to make a life and death decision to stop the maulings. In the end both dogs had to be put down.
Officials say the three victims were all taken to Jersey City Medical Center. One of the women suffered serious injuries.
One Independence Court is a luxury apartment building on the Hoboken waterfront, where some apartments rent for more than $6,000 a month.