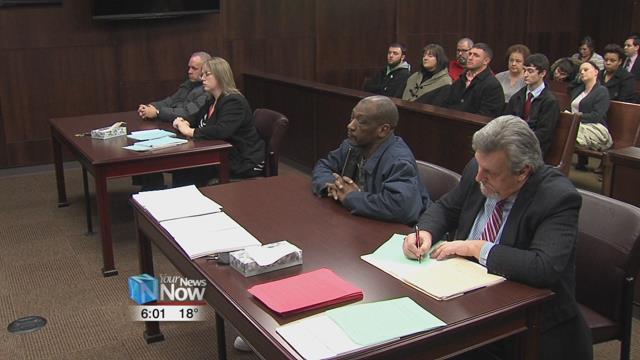 Douglas Jackson was found guilty on 7 charges involving a dog attack in October. The two pit bulls attacked off-duty Lima police officer Mark Link, leaving him emotionally and physically scarred. "Unprovoked and irresponsible attack from the defendant's two pit bull dogs. My wife and children have suffered, and the city of Lima community has suffered," read a Crime Victim Services advocate in the victim impact statement in the courtroom.
On October 19th Officer Link left his home and was walking to his car when a neighbor's TWO PIT BULLS charged him. The last bite took off nearly two-thirds of his ear, leading to 5 surgeries and a handful of complications. "It's been hell," said Link.
Link's neighbor, Douglas Jackson, was responsible for the dogs. He was charged with 7 counts, including harboring more than one pit bull per residence and walking without a leash or muzzle. "If people out there have those types of dogs they need to follow by the rules, you know," said Link, "Right now I'm at a quarter of a million dollars in medical that my insurance is paying for that he didn't have insurance for, where's that going to come from?"
Link has been off work for 3 months, relying on his family for daily tasks. He says he feels like a prisoner in his own home. "I'd like to see him do jail time, I feel that I'm doing jail time, I can't do anything in my house, I can't work outside, I can't work inside," said Link, "I feel like I'm in jail in my own house, you know, I'm looking over my shoulder every time I go outside, why not him pay for the same thing."
Jackson could face a maximum of 180 days in jail and $1,000 in fines for each count. He will be sentenced on February 22nd.