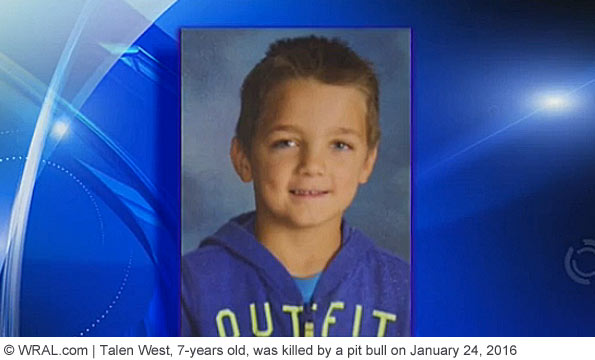 THE SIMPLE TRUTH: THIS CHILD WAS KILLED BY
PIT BREEDERS !!!!!
JANUARY 27 - LUMBERTON — Three dogs that killed a 7-year-old and injured his 8-year-old brother have tested negative for rabies, according to Robeson County Health Director Bill Smith.
One of the dogs, a male pit bull, was found dead after the attack, which killed Talan West and left Jaylan West with leg wounds. The other two dogs, which were female and mixed breed, were euthanized.
The attack occurred at about 11:20 a.m. Sunday at a home on the 2400 block of Odum Road in Lumberton, down the road from where the brothers lived.
Talan West, a first-grader at Piney Grove Elementary School, was found unresponsive with "severe puncture wounds about the body," according to the Sheriff's Office. Both children were taken to Southeastern Regional Medical Center, where Talan West died. Jaylan West was released from the hospital after being treated for leg injuries.
Official autopsy results are not yet available for the pit bull, but Smith said
it appeared the dog had SEVERE HEARTWORMS and became overexcited during the attack
. Robeson County Sheriff Kenneth Sealey said the dog did not have any obvious injuries after the incident.
THE FEMALE DOGS EACH HAD YOUNG PUPPIES
, which were picked up by a rescue group, Smith said.
It remains unclear if anyone will be charged in the incident.
_________________________________________________________
(WNCN) — The North Carolina mother of a boy who died in a
pit bull attack
on Sunday says she's devastated by the incident.
Talan West, age 7, and his 8-year-old brother Jaylan were among
four children chased and attacked by a group of dogs
around 11:30 a.m. Sunday near their home on Odum Road in Lumberton.
Talan was taken to the hospital, but died. The pit bull tore Jaylan's lower leg and he now has stitches.
"I'm hurt, I keep feel like I'm trying to figure out what I could have done different," mom Jamie West said while she struggled through tears on Monday.
The attack happened as Talan West and three of his siblings were playing in a field behind their home when they say
three dogs came running after them.
.
"When we tried to run, we cut through the field and went to the house," said Jaylan.
Jaylan says he jumped on top of a nearby car, but his younger brother Talan could not get away.
"One dog was on that leg, one dog was on that leg -- the "BIG ONE" just all over his face biting him up," Jaylan recalled of the attack on his brother.
"
The property owner declined to speak on camera but says he believes the kids somehow aggravated the dogs.
One of the dogs, a pit bull, eventually tackled Talan. "It broke his neck but it took pretty much the entire back of his neck off and that's when he died," said mom Jamie West, who continued crying.
The attack Sunday is Robeson County's fifth death involving a pit bull in the last five years.
William Smith with the Robeson County Health Department said people must remember that dogs are unpredictable. Smith said if confronted by a dog, do you best not to get pulled down.
"If you get pulled down, the dog is too massive, you're not going to get back up so you've got to do whatever it takes," Smith said.
Jaylan survived the attack although he now has nine stitches in his calf muscle, which was torn in the attack.
"It doesn't feel fair at all, it don't since I left the hospital last night, I didn't even get a chance to hold my baby," said mom Jamie West.
Despite the tragedy, Talan is remembered as smart and full of love.
"He always smiled, but he's in a better place now," said another brother, Steven West.
Officials say the dog involved died at the scene due to over excitement from the attack.
The dog owner has not been charged yet.
Talan West's parents were also told by DSS that they cannot have any unsupervised visits with their children while authorities investigate.
http://wncn.com/2016/01/25/nc-mom-speaks-out-after-son-dies-from-pit-bull-attack/
_________________________________________________________________
LUMBERTON, N.C.
— One child was killed and his brother was injured after a Sunday dog attack in Robeson County.
Family members told WRAL News that 7-year-old Talen West and 8-year-old Jaylen West were playing in the woods near a home at 2484 Odum Road in Lumberton late Sunday morning when they encountered
A NEIGHBOR'S PIT BULL
.
The dog attacked both children.
Emergency crews were called at about 11:20 a.m. and they found Talen West unresponsive upon arrival. The brothers were taken to Southeastern Medical Center, where Talen West died.
Authorities said he had severe puncture wounds on his body.
Jaylen West was treated for leg injuries and released.
Distraught family members said that the dog had no known history of violent tendencies when he turned on them.
"Everybody is just sad and under a lot of stress right now," said the boy's cousin Devin West.
Devin West said that the older brother tried to fight the dog off of his younger sibling, but was unsuccessful.
"His little brother had a machete or hatchet or something and got the dog off of him, but it was too late," he said "He got him by his neck and broke his neck."
Robeson County sheriff's deputies are investigating to determine what may have provoked the dog and whether charges will be filed.
"It's a tough investigation, especially when you lose a child," said Sheriff Kenneth Sealey.
http://www.wmbfnews.com/story/31043487/2-children-attacked-by-dog-in-lumberton-7-year-old-killed#.VqVnzKeyE2Q.facebook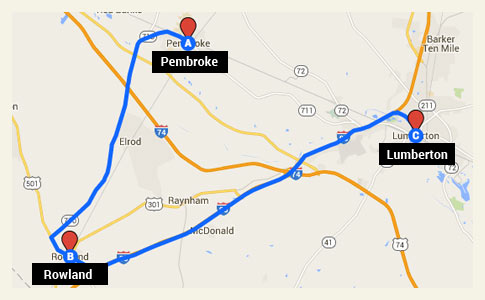 Robeson County fatal pit bull attacks, 2012 to 2016, less than a 15-mile radius.
http://blog.dogsbite.org/2016/01/2016-dog-bite-fatality-pit-bull-kills-child-lumberton.html
2016
- U.S. DOG BITE RELATED FATALITIES - 3 (CHILDREN) 0 (ADULTS)

PIT BULL - 2
LINDA YUBA COUNTY CA
LUMBERTON ROBESON CO NC
PIT BULL MIX - 1
INDEPENDENCE GRAYSON CO VA (pit bull/rottweiler mix?)
1-3 - TYLER TRAMMELL-HUSTON - 9 - LINDA YUBA COUNTY CA - THE BOY WAS IN FOSTER CARE AND THE SYSTEM ALLOWED HIM TO VISIT WITH HIS 24-YEAR-OLD HALF SISTER WHO LIVED IN A TRAVEL TRAILER WITH 3 PIT BULLS. IT APPEARS SHE LEFT HIM TO GO TO WORK AND WHEN SHE CAME BACK HE WAS MAULED TO DEATH.

1-8/9 - PAYTON LYRIK SAWYERS - 15 MONTHS - INDEPENDENCE GRAYSON CO VA - ATTACKED BY A PIT BULL/ROTTWEILER MIX?? ON THE NIGHT OF JANUARY 6 AT A HOME OF 2 PEOPLE SAID TO BE HER BABYSITTERS - SHE WAS RUSHED TO A HOSPITAL IN NC WITH SEVERE HEAD INJURIES AND WAS PLACED ON LIFE SUPPORT- SHE DIED ON JAN 8 OR 9, 2016.
1-24 - TALEN NATHAN WEST - 7 - LUMBERTON ROBESON CO NC - PIT BULL - TWO 7 AND 8-YEAR-OLD BROTHERS WERE PLAYING IN A WOODED AREA NEAR THEIR HOME WHEN A NEIGHBOR'S PIT BULL THAT THEY WERE FAMILIAR WITH ATTACKED THEM - 8-YEAR-OLD JAYLEN WAS BITTEN ON HIS LEGS BUT IT GOT TALEN BY THE NECK AND BROKE IT - HE WAS NOT RESPONSIVE WHEN FIRST RESPONDERS ARRIVED.