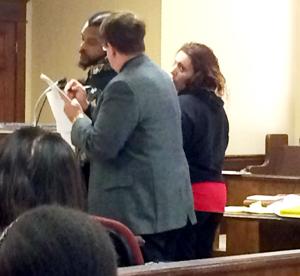 The owners of
TWO PIT BULL DOGS
that attacked and killed another dog on Jan. 2 and injured the dog's owner entered guilty pleas Monday in General Sessions Court to misdemeanor offenses and were placed on unsupervised probation for 11 months and 29 days.
As part of a plea agreement involving Travion Jackson and Candace Cavaliere, the two pit bull dogs in the custody of Greene County Animal Control will be euthanized.


Jackson and Cavaliere, both 34, are also prohibited from owning any dogs during the period of their probation, and must find a new home for a pit bull puppy they own within 30 days.
Jackson and Cavaliere, both of 122 Cumberland Drive, were also assessed fines totaling about $3,000 by Judge Kenneth Bailey Jr.


The owners of the Yorkshire terrier dog that was killed, Craig and Leslie Ogle, were in court Monday.


"I think justice has been served today. We just wanted to get the animals off the streets so they couldn't murder again," Craig Ogle said.


Jackson and Cavaliere entered guilty pleas to dogs running at large/bodily injury, and having no proof of vaccination for rabies. Both offenses are Class A misdemeanors.


A Greeneville police report said that Craig Ogle was trying to protect his pet dog from the unprovoked attack by the pit bulls in the 1700 block of Old Shiloh Road.
Ogle, who is chairman of the Greeneville City Board of Education, attempted to keep the attacking pit bulls off the terrier and suffered bites to the hand that required hospital treatment.


The Ogles live nearby on Old Shiloh Circle. Leslie Ogle told officers that her husband, 53, was walking his dog on a leash when the two pit bulls attacked.


Jackson and Cavaliere told police the dogs got out of an outdoor pen.
Jackson and Cavaliere could not provide any proof of up-to-date rabies vaccinations for the dogs. Summonses were issued to each on Jan. 2 and they first appeared in early January in General Sessions Court. The plea agreement was finalized on Monday.


Cecil Mills Jr., first assistant district attorney general, said the plea agreement "was satisfactory to the victims."


Jackson and Cavaliere have to pay a total of $1,591.35 to county Animal Control and $856.50 for Ogle's medical bills relating to the pit bull attack, along with $500 in restitution for the pet that died.


The two pit bulls, kept by county Animal Control since the incident, will be euthanized.


"They certainly proved to be a danger to other animals," Mills said.
Greeneville lawyer Frank Santore Jr. represents Jackson and Cavaliere.


"They feel very badly about this," Santore said outside the courtroom. "The dogs never exhibited, at least from what they tell me, any vicious traits before and it just happened. They feel very sorry about what happened to the Ogles."


The two pit bulls involved in the attack were kept in an outside kennel.


"They thought it had been tied down and they chewed at the ties or whatever," Santore said.
Santore has owned pit bulls in the past.


"I think a pit bull is like any other dog. It can be taught to be bad," he said. "Just as a precaution, I wouldn't want my pre-school kids around pit bulls or any other large breed, for that matter."


Proper training is crucial for any dog breed, Santore said.


"As far as anyone wanting to put a breed-specific ordinance in effect, I really wouldn't want to characterize any breed," he said. Jackson and Cavaliere wanted their dogs back, but agreed to the conditions of the plea arrangement.


"This is a no-win situation," Santore said. "Both parties have lost (their pets)."


The case was prosecuted as an A-level misdemeanor.


"State law requires that it be unsupervised probation in this type of case," Bailey said.