WFSB 3 Connecticut
A family in Southington said they are overcome with grief after their 6-month-old Yorkie was mauled to death by another dog. The Hayes family said it happened right in their back yard on Monday.
"A part of our family was taken from us Monday so quickly," said Kathrine Hayes of Southington. "It's going to take some time to get through it."
Katherine Hayes said she, her husband and four children are heartbroken from Simon the Yorkie's death.
"He would cuddle. He'd like attention," Hayes said. "He would follow you around everywhere, always sitting in your lap. He was just a great dog. He really was."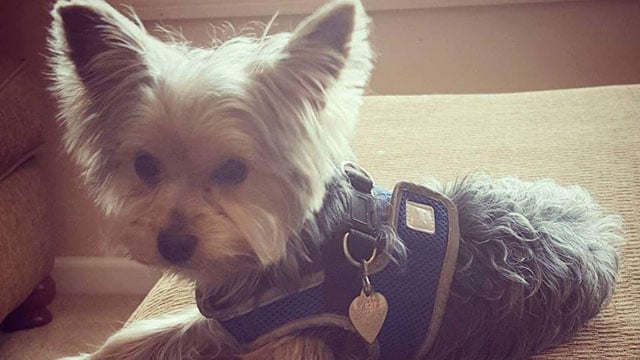 She said the attack happened at their home on Deer Run Monday afternoon. Simon was in their backyard when the unknown dog came out of nowhere.
"It was literally within seconds, but Simon was just going to the bathroom and all of a sudden just a BIG, BLACK DOG had crept up behind and just got a hold of him," Hayes said.
As a result, Hayes said she asked her neighbors to keep an eye out.
She said her husband described the dog as a BLACK BOXER MIX. It was not wearing a collar or tags.
"At this point, we want that dog to be found," Hayes said. "I need to protect my family and everybody on this street."
Animal control canvassed the area for a few hours on Monday, according to Hayes.
In a press release, police said several checks were made trying to identify the dog, however the dog and its owners have not yet been identified.
Anyone with information should contact the dog pound at 860-628-8053.
http://www.wfsb.com/story/31590856/yorkie-mauled-to-death-by-another-dog-in-southington