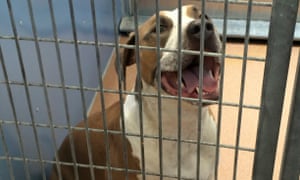 UPDATE: http://abcnews.go.com/US/wireStory/autopsy-newborn-killed-dog-died-bites-head-38666867
The parents of the 3-day-old boy told authorities they were watching television in bed with the child and their
"MIXED BREED AMERICAN STAFFORDSHIRE TERRIER"
in their Flanders Drive residence about 8 p.m. Thursday when the mother coughed, startling the animal and causing it to bite the infant, according to San Diego police.
The couple took the gravely wounded baby to a hospital, where he was pronounced dead, Sgt. Tu Nguyen said.
Detectives were investigating the fatality, though it "appears to be just a tragic accident," the sergeant said.
The county Department of Animal Services took custody of the 2-year-old dog, a neutered male named Polo. The canine will undergo a 10-day quarantine to make sure he is not rabid, after which he will be euthanized unless his owners decide to reclaim him, DAS spokesman Dan DeSousa said.
The dog had no known prior history of dangerous aggressiveness, DeSousa said.
http://fox5sandiego.com/2016/04/22/3-day-old-baby-mauled-to-death-by-family-dog/
http://www.nbcsandiego.com/news/local/San-Diego-Mauling-Dog-Mira-Mesa-376758441.html#ixzz46ale7ZW1
http://www.abc10.com/news/local/pet-dog-fatally-mauls-3-year-old-baby-in-san-diego/150066742
2016
- U.S. DOG BITE RELATED FATALITIES - 9 ( 5 CHILDREN - 4 ADULTS )
PIT BULL - 5
LINDA YUBA COUNTY CA
LUMBERTON ROBESON CO NC
PERQUIMANS CO NC
CHARLOTTE NC
SAN DIEGO CA

PIT BULL MIX - 3
INDEPENDENCE GRAYSON CO VA (pit bull/rottweiler mix?)
THURSTON CO WA
LEESBURG FL
MIX BREED SHEPHERD - 1
YOUNGSTOWN OH
1-3 - TYLER TRAMMELL-HUSTON - 9 - LINDA YUBA COUNTY CA - THE BOY WAS IN FOSTER CARE AND THE SYSTEM ALLOWED HIM TO VISIT WITH HIS 24-YEAR-OLD HALF SISTER WHO LIVED IN A TRAVEL TRAILER WITH 3 PIT BULLS. IT APPEARS SHE LEFT HIM TO GO TO WORK AND WHEN SHE CAME BACK HE WAS MAULED TO DEATH.

1-8/9 - PAYTON LYRIK SAWYERS - 15 MONTHS - INDEPENDENCE GRAYSON CO VA - ATTACKED BY A PIT BULL/ROTTWEILER MIX?? ON THE NIGHT OF JANUARY 6 AT A HOME OF 2 PEOPLE SAID TO BE HER BABYSITTERS - SHE WAS RUSHED TO A HOSPITAL IN NC WITH SEVERE HEAD INJURIES AND WAS PLACED ON LIFE SUPPORT- SHE DIED ON JAN 8 OR 9, 2016.

1-24 - TALEN NATHAN WEST - 7 - LUMBERTON ROBESON CO NC - PIT BULL - TWO 7 AND 8-YEAR-OLD BROTHERS WERE PLAYING IN A WOODED AREA NEAR THEIR HOME WHEN A NEIGHBOR'S PIT BULL THAT THEY WERE FAMILIAR WITH ATTACKED THEM - 8-YEAR-OLD JAYLEN WAS BITTEN ON HIS LEGS BUT IT GOT TALEN BY THE NECK AND BROKE IT - HE WAS NOT RESPONSIVE WHEN FIRST RESPONDERS ARRIVED.
2-7 - AIDEN JOHNATH

ON-GRIM MORELLI

- 3-DAY-OLD INFANT BOY

- YOUNGSTOWN OH - THE 21-YEAR-OLD MOTHER WAS SLEEPING THE NIGHT ON THE COUCH AT HER MOTHER'S HOME AND LEFT THE INFANT ON THE FLOOR IN A "MAKESH

IFT CRIB

" REPORTED TO HAVE BEEN A LAUNDRY BASKET - HER MOTHER AND HER BROTHER WERE ALSO AT HOME DURING THIS TIME - THE MOTHER AWOKE TO FIND HER NEWBORN WITH HEAD INJURIES - THERE WERE

5

DOGS IN THE HOME - REPORTS SA

Y

THE DOG THAT DID THIS W

A

S A MIXED BREED SHEPHERD.
2-10 - SUZANNE STORY- 36 - PERQUIMANS COUNTY NC - THE VICTIM'S MOTHER REPORTED THAT SHE HAD ADOPTED THE DOG THAT LOOKED LIKE A BOXER/BU

LLDOG MIX

ABOUT A WEEK AGO FROM AN AD IN A NEWSPAPER THAT SAID IT WAS GOOD AROUND SMALL CHILDREN - SHE WAS CLEANING THE DOG'S CRATE WHEN IT ATTACKED HER - HER SISTER WAS THERE AT THE TIME AND TRIED TO GET IT OFF HER AND WAS INJURED ALSO - SHE WAS AIRLIFTED TO A HOSPITAL BUT DIED AS THE HELI

COPTER WAS LANDING.
3-8 - GLADYS ALEXANDER - 92 - THURSTON CO WASHINGTON - THE WORLD WAR II VET WAS ATTACKED BY 4 PIT BULL MIXES THAT WERE AT HER NEIGHBOR'S HOUSE ACROSS THE STREET - SHE HAD WALKED ACROSS THE STREET TO GIVE THE NEIGHBOR THE NEWSPAPER BUT THE NEIGHBOR HAD GONE OUT FOR A FEW MINUTES AND IT LOOKED LIKE THE DOGS GRABBED HER AND DRAGGED HER INSIDE THE HOUSE - THE NEIGHBOR RETURNED AND FOUND THE DOGS ATTACKING HER AND STOPPED IT BUT NOT BEFORE THE DAMAGE WAS DONE - HER LEG AND ARM WERE AMPUTATED BUT SHE SUCCUMBED TO THE HORRIFIC INJURIES.
3-28 - BESSIE FLOWERS - 86 - CHARLOTTE NC - POLICE SOURCES STATED THAT WHILE VISITING IN HER DAUGHTER'S TOWNHOME THE ELDERLY WOMAN WAS ON THE BACK DECK AND SLIPPED OR TRIPPED AS SHE WAS COMING BACK INSIDE AND FELL - THE DAUGHTER'S 2 AMERICAN PIT BULL TERRIERS WHICH THE VICTIM KNEW WELL BEGAN "PLAYING" WITH HER AND THEN ESCALATED INTO A FULL-BLOWN ATTACK GOING IN FOR THE KILL ON HER NECK AND HEAD - NEIGHBORS SAID THAT THE DOGS HAD SHOWN AGGRESSION IN THE PAST ATTACKING 2 OTHER DOGS - AFTER SEEING HER OWN MOTHER MAULED TO DEATH BY HER PIT BULLS THE DAUGHTER STILL REFUSED TO SIGN THE DOGS OVER TO OFFICIALS SO ANIMAL CONTROL OFFICERS SEIZED THEM.
3-31 - SONDA TYSON - 66 - LEESBURG FL - THE VICTIM WAS MAULED BY HER BRINDLE PIT BULL MIX SHE HAD ACQUIRED AS A PUPPY - SHE WAS FOUND ON HER BACK PORCH BY HER 13-YEAR-OLD GRANDDAUGHTER AND HER DAUGHTER-IN-LAW WITH SIGNIFICANT DAMAGE TO HER ARMS THAT WAS MISSING FLESH WITH BONES VISIBLE - THE DOG WAS STILL NEARBY HER INSIDE THE HOME SO A POLICE OFFICER SHOT IT TWICE FROM ON TOP OF A FIRE TRUCK SO THAT MEDICS COULD GET TO THE VICTIM BUT SHE HAD ALREADY DIED - IT IS BELIEVED SHE BLED TO DEATH.
4-21 - SEBASTIAN CABAN - 3-DAY-OLD INFANT BOY - MIRA MESA SAN DIEGO CA - FIRST REPORT SAYS THE MOTHER AND FATHER OF THE INFANT WERE IN BED BESIDE IT WATCHING TV WITH THEIR NEUTERED 2-YEAR-OLD PIT BULL WHEN THE MOM COUGHED AND TRIGGERED THE PIT TO ATTACK THE BABY AND KILL IT - THE PIT BULL WAS ADOPTED FROM THE SAN DIEGO HUMANE SOCIETY ABOUT 6 MONTHS AGO AND WAS TESTED FOR AGGRESSION - NO WORD ON WHAT THE PIT BULL'S HISTORY WAS - HAD IT EVER ATTACKED ANYONE BEFORE?