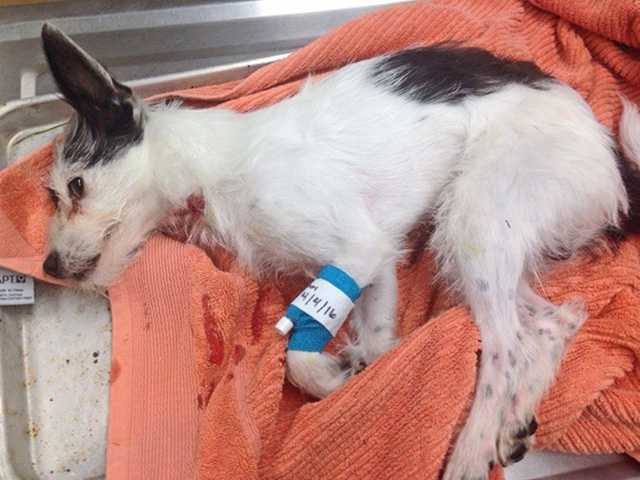 A seriously injured Jack Russell "terrier-mix" was recovering at home with its 14-year-old owner Wednesday as county animal control officers are investigating the owner of the dogs that attacked it in Canyon Country.
And, while the tiny black-and-water terrier was healing two days after the attack — which left deep wounds to its throat — the owner of the attacking PIT BULLS was being reinterviewed by county officials, said Aaron Reyes, director of the Los Angeles County Department of Animal Care and Control.
"According to the (animal control) officer, this is the first incident where the dogs got out," he said. "The officer is returning to the location to issue citations for any violations."
Precisely what those citations are depends on the outcome of the investigation, Reyes said.
The owner of the pit bulls had been issued "prior notices" about the dogs, Reyes said Monday. It was not clear what those notices were for.
Deputies with the Santa Clarita Valley Sheriff's Station were initially dispatched Monday at 10:11 a.m. for reports that a pit bull had killed another dog, Sgt. Brian Allen said Monday.
Responding deputies learned that a roaming pack of unleashed dogs--2 pit bulls and one mini-Pinscher -- ripped a pet terrier out of the arms of a frightened 14-year-old girl, leaving her dog severely injured.
The girl was walking her "terrier mix" in the area of Sundowner Way and Sierra Highway in Canyon Country shortly after 10 a.m. Monday when the attack occurred, according to animal control and law enforcement officers.
The terrier underwent emergency surgery on its neck, said Karen Stepp, Animal Control spokeswoman.
"The dog had placed its teeth on the terrier's neck," she said, noting the terrier was returned to the 14-year-old girl Tuesday.
"IT PICKED THE DOG RIGHT OUT OF HER ARMS," STEPP SAID, ABOUT ONE OF THE PIT BULLS.
Reyes described the recovering dog as: "roughed up badly."
http://www.signalscv.com/section/36/article/150805/