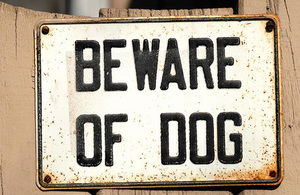 The Kendall County Sheriff's Department released more details on Monday about a dog attack at a home on South Bereman Road in Boulder Hill Saturday night around 6:00.
The attack by a Pit Bull led to the dog being shot and killed by a Kendall County Sheriff's deputy.
According to Deputy Mike Mrozek, the
AMERICAN BULLDOG MIXED BREED DOG
attacked a 47-year-old woman outside of her Boulder Hill home.
A neighbor observed the dog attacking the woman, and the sheriff's department says the neighbor struck the dog several times with a baseball bat to get the dog away from the woman.
When Kendall County Sheriff's deputies arrived, the dog continued to bark at everyone on the scene as the victim of the dog attack was receiving medical attention.
The Sheriff's Office K-9 deputy spoke with the victim and caregiver of the dog who agreed that due to the attack and the potential for harm to others, the dog should be put down.
The K-9 deputy made a further assessment and determined that putting the dog down was the safest course of action. The K-9 deputy then shot and killed the dog.
The woman who was attacked by the dog was transported by Oswego Fire Protection District Paramedics to Rush Copley Hospital in Aurora with
injuries to her hands, arms, abdomen and ankles.
Deputy Mrozek added that there have been no previous reports made to the Kendall County Sheriff's Office regarding the dog.
The dog's owner is the daughter of the injured woman and lives with her. The owner of the animal was not present during the attack.
At this time, Deputy Mrozek said that no charges or citations were expected to be filed.
This is the second time in the last month that a dog has been killed following an attack on another person.
On April 9th, a witness with a Concealed Carry License shot and killed a pit bull mix in the Susan John Park, located on Hampton Road in Boulder Hill.
At the time, the Kendall County Sheriff's Office said that the pit bull mix was being aggressive towards a person and a leashed dog.
The pit bull mix also had a history of aggression and biting.