"And let's not forget the role that Political Correctness plays in this: if it sounds good then it must be true. And doesn't it sound good that it is all about how they are raised?" (comment from a FB post)
According to Amber Morin's FB post, the pet she had the longest was her much loved beagle "Bandit" on the right and something suddenly happened to it in January 2016???? and she had to then rehome the pit back to the family she got it from ????
CORINNA — The adult male pit bull dog that on Saturday attacked and killed 7-year-old Hunter Bragg has been euthanized, the Penobscot County sheriff said at a news conference Monday afternoon in Bangor.
Hunter was a student at Down East Community School in Bangor.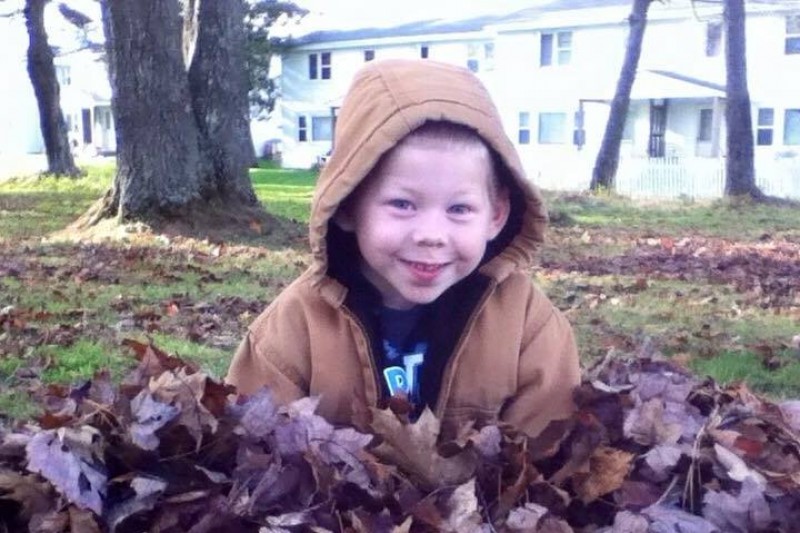 Bemis-Goodall said, "My understanding is that (Merchant) took the dog in for someone else just within the last couple of months. It was not registered, otherwise we would have known about it."


She said the dog was a
PIT BULL
, which is a catch phrase for a number of different types of terriers, and not a specific breed.
Stacey Merchant, Gary Merchant's wife and a relative of Hunter Bragg, posted a photo of the 7-year-old boy on her page Sunday and wrote: "My sweet little Hunter there is nothing we can say right now that will make this alright." She wrote that the guilt that was building up inside her and her husband was "heart wrenching" and "I don't know how I will ever recover from this. You were so young to young to be taken from us."


Patrick Faucher, president of the board of directors for the Maine Animal Control Association, said the organization does not keep statistics on the number of reported dog bites state-wide. "I'm not familiar with too many this year," said Faucher, who could not recall a recent fatality in the state from a dog and said it has "probably been years" since one was reported. Without a complete picture of what unfolded at the Corinna home Saturday, Faucher said it is hard to evaluate the situation.
The attack is not related to a 2014 group of pit bulls in Corinna that attacked and injured another dog on Nokomis Road, she said. But the town's animal control officer, Charles Gould, was called to the Moody's Mills Road property last year for a noise complaint related to the dogs, Bemis-Goodall said.
In March 2015, Gould found four dogs at the property that were not registered, but Bemis-Goodall said that Merchant "did exactly what animal control asked him to do" and registered the animals.
He has seven registered dogs on the property in addition to the unregistered dog involved in the attack, she said. She said she was not sure who the dog belonged to or why they had asked Merchant to care for it.
At the Moody's Mills Road home where the boy was killed, a man briefly stepped outside at about 11:15 a.m. Monday and asked reporters to give the family and their neighbors space.
"We're all dealing with this as we have to," said the man, who declined to give his name. "It's family. We're all grieving."
Morton said in a news release late Saturday night that the attack occurred around 5:15 p.m. Saturday at the home on Moody's Mills Road. When deputies arrived, the 7-year-old boy was already dead, Morton said. No one else was injured in the attack, he said. The boy who was killed was apparently a visitor to the home and did not live there.
Morton said Saturday the situation is complex, and that the boy's identity and the dog's breed were not being released until the sheriff's office collected more information. The dog was impounded, he said.
Complaints about aggressive or loud dogs are not unusual in town, according to Bemis-Goodall, but she said the severity of the recent attack has brought the issue to the forefront.
"No matter what town you live in, people should be shaken up," she said. "A 7-year-old child lost his life. Everyone should be upset over this."
Joshua Eldgridge, who grew up across the road from the ranch home where dogs could be heard barking in a penned area in the back Monday, said he was in Corinna helping his mother on Saturday when the quiet rural road turned into a parade of ambulances and police cruisers. Eldridge said he has seen a pit bull-type dog outside and that the home has a number of dogs.
"They are barking a lot and they looked stressed," he said. "It's just tragic. This stuff doesn't happen. I feel that it's a horrific story. I heard there was possibly another child that witnessed it, that's what's getting at me a little bit — that little girl is possibly destroyed for the rest of her life witnessing it."
In a March 2015 video posted to Merchant's Facebook page, a black dog identified as a pit bull named Shadow can be seen near a dog gate and several barking puppies. Merchant wrote that the dog got sick and then died from a tumor.
Earlier Monday morning, a woman stuck her head out of a battered storm door at the scene of the attack and screamed at a reporter and photographer. Several television stations and other news media had gathered by late morning at the 207 Moody's Mills Road home, where the dooryard and grounds were a clutter of vehicles tires and toys.
Dogs could be heard barking in a penned area behind the house, which is a mile down the gravel road from busy Route 7 connecting Newport and Dexter.
Raymond Freve, interim superintendent of Regional School Unit 19, which includes the towns of Corinna, Dixmont, Etna, Hartland, Newport, Palmyra, Plymouth and St. Albans, told the Press Herald Sunday evening that the victim did not attend classes in his district.
"He was there visiting a student from our district (when the dog attacked him)," Freve said.
The student being visited by the boy who was attacked attends Corinna Elementary School, Freve said. RSU 19 was to have grief counselors available Monday at the school for any student or staff member who might need to talk to someone.
According to the federal Centers for Disease Control and Prevention, about 4.5 million people are bitten by dogs each year in the U.S. About one in five people becomes infected, placing the victim at risk for illness or even death. Children are most at risk for dog bites. Among children, the rate of dog-bite-related injuries is highest among those 5 to 9 years old, the CDC says. More than half of dog bite injuries occur at home and involve dogs that are familiar to family members.
Penobscot County police said Sunday they were in the midst of a complex investigation into the death of a young boy attacked by a dog in Corinna and would not release additional details until Monday.
Sheriff Troy J. Morton said in a news release that the attack occurred around 5:15 p.m. Saturday at a home on Moody's Mills Road. When deputies arrived, the 7-year-old boy was already dead, Morton said. No one else was injured in the attack, he said.


Morton said the boy's identity and the dog's breed are not being released until the sheriff's office has collected more information. The dog has been impounded, he said.


"I can appreciate the interest in this incident; however, it is a complex incident and we believe in providing accurate information," Morton said Sunday evening in an emailed response to questions.


Raymond Freve, interim superintendent of Regional School Unit 19, which includes the towns of Corinna, Dixmont, Etna, Hartland, Newport, Palmyra, Plymouth and St. Albans, said Sunday evening that the victim did not attend classes in his district.


2016
- U.S. DOG BITE RELATED FATALITIES - 13 ( 6 CHILDREN - 7 ADULTS )
PIT BULL - 6
LINDA YUBA COUNTOY CA
SAN DIEGO CA
LUMBERTON ROBESN CO NC
PERQUIMANS CO NC
CHARLOTTE NC
ST. LOUIS COUNTY MO

PIT BULL MIX - 5
INDEPENDENCE GRAYSON CO VA (pit bull/rottweiler mix?)
THURSTON CO WA
LEESBURG FL
MIAMI-DADE FL
CORINNA ME


MIX BREED SHEPHERD - 1
YOUNGSTOWN OH

PACK OF 6 DOGS - 1
DALLAS TX


1) 1-3 - TYLER TRAMMELL-HUSTON - 9 - LINDA YUBA COUNTY CA - THE BOY WAS IN FOSTER CARE AND THE SYSTEM ALLOWED HIM TO VISIT WITH HIS 24-YEAR-OLD HALF SISTER WHO LIVED IN A TRAVEL TRAILER WITH 3 PIT BULLS. IT APPEARS SHE LEFT HIM TO GO TO WORK AND WHEN SHE CAME BACK HE WAS MAULED TO DEATH.

2) 1-8/9 - PAYTON LYRIK SAWYERS - 15 MONTHS - INDEPENDENCE GRAYSON CO VA - ATTACKED BY A PIT BULL/ROTTWEILER MIX?? ON THE NIGHT OF JANUARY 6 AT A HOME OF 2 PEOPLE SAID TO BE HER BABYSITTERS - SHE WAS RUSHED TO A HOSPITAL IN NC WITH SEVERE HEAD INJURIES AND WAS PLACED ON LIFE SUPPORT- SHE DIED ON JAN 8 OR 9, 2016.

3) 1-24 - TALEN NATHAN WEST - 7 - LUMBERTON ROBESON CO NC - PIT BULL - TWO 7 AND 8-YEAR-OLD BROTHERS WERE PLAYING IN A WOODED AREA NEAR THEIR HOME WHEN A NEIGHBOR'S PIT BULL THAT THEY WERE FAMILIAR WITH ATTACKED THEM - 8-YEAR-OLD JAYLEN WAS BITTEN ON HIS LEGS BUT IT GOT TALEN BY THE NECK AND BROKE IT - HE WAS NOT RESPONSIVE WHEN FIRST RESPONDERS ARRIVED.
4) 2-7 - AIDEN JOHNATH

ON-GRIM MORELLI

- 3-DAY-OLD INFANT BOY

- YOUNGSTOWN OH - THE 21-YEAR-OLD MOTHER WAS SLEEPING THE NIGHT ON THE COUCH AT HER MOTHER'S HOME AND LEFT THE INFANT ON THE FLOOR IN A "MAKESH

IFT CRIB

" REPORTED TO HAVE BEEN A LAUNDRY BASKET - HER MOTHER AND HER BROTHER WERE ALSO AT HOME DURING THIS TIME - THE MOTHER AWOKE TO FIND HER NEWBORN WITH HEAD INJURIES - THERE WERE

5

DOGS IN THE HOME - REPORTS SA

Y

THE DOG THAT DID THIS W

A

S A MIXED BREED SHEPHERD.
5) 2-10 - SUZANNE STORY- 36 - PERQUIMANS COUNTY NC - THE VICTIM'S MOTHER REPORTED THAT SHE HAD ADOPTED THE DOG THAT LOOKED LIKE A BOXER/BU

LLDOG MIX

ABOUT A WEEK AGO FROM AN AD IN A NEWSPAPER THAT SAID IT WAS GOOD AROUND SMALL CHILDREN - SHE WAS CLEANING THE DOG'S CRATE WHEN IT ATTACKED HER - HER SISTER WAS THERE AT THE TIME AND TRIED TO GET IT OFF HER AND WAS INJURED ALSO - SHE WAS AIRLIFTED TO A HOSPITAL BUT DIED AS THE HELI

COPTER WAS LANDING.
6) 3-8 - GLADYS ALEXANDER - 92 - THURSTON CO WASHINGTON - THE WORLD WAR II VET WAS ATTACKED BY 4 PIT BULL MIXES THAT WERE AT HER NEIGHBOR'S HOUSE ACROSS THE STREET - SHE HAD WALKED ACROSS THE STREET TO GIVE THE NEIGHBOR THE NEWSPAPER BUT THE NEIGHBOR HAD GONE OUT FOR A FEW MINUTES AND IT LOOKED LIKE THE DOGS GRABBED HER AND DRAGGED HER INSIDE THE HOUSE - THE NEIGHBOR RETURNED AND FOUND THE DOGS ATTACKING HER AND STOPPED IT BUT NOT BEFORE THE DAMAGE WAS DONE - HER LEG AND ARM WERE AMPUTATED BUT SHE SUCCUMBED TO THE HORRIFIC INJURIES.
7) 3-28 - BESSIE FLOWERS - 86 - CHARLOTTE NC - POLICE SOURCES STATED THAT WHILE VISITING IN HER DAUGHTER'S TOWNHOME THE ELDERLY WOMAN WAS ON THE BACK DECK AND SLIPPED OR TRIPPED AS SHE WAS COMING BACK INSIDE AND FELL - THE DAUGHTER'S 2 AMERICAN PIT BULL TERRIERS WHICH THE VICTIM KNEW WELL BEGAN "PLAYING" WITH HER AND THEN ESCALATED INTO A FULL-BLOWN ATTACK GOING IN FOR THE KILL ON HER NECK AND HEAD - NEIGHBORS SAID THAT THE DOGS HAD SHOWN AGGRESSION IN THE PAST ATTACKING 2 OTHER DOGS - AFTER SEEING HER OWN MOTHER MAULED TO DEATH BY HER PIT BULLS THE DAUGHTER STILL REFUSED TO SIGN THE DOGS OVER TO OFFICIALS SO ANIMAL CONTROL OFFICERS SEIZED THEM.
8) 3-31 - SONDA TYSON - 66 - LEESBURG FL - THE VICTIM WAS MAULED BY HER BRINDLE PIT BULL MIX SHE HAD ACQUIRED AS A PUPPY - SHE WAS FOUND ON HER BACK PORCH BY HER 13-YEAR-OLD GRANDDAUGHTER AND HER DAUGHTER-IN-LAW WITH SIGNIFICANT DAMAGE TO HER ARMS THAT WAS MISSING FLESH WITH BONES VISIBLE - THE DOG WAS STILL NEARBY HER INSIDE THE HOME SO A POLICE OFFICER SHOT IT TWICE FROM ON TOP OF A FIRE TRUCK SO THAT MEDICS COULD GET TO THE VICTIM BUT SHE HAD ALREADY DIED - IT IS BELIEVED SHE BLED TO DEATH.
9) 4-21 - SEBASTIAN CABAN - 3-DAY-OLD INFANT BOY - MIRA MESA SAN DIEGO CA - FIRST REPORT SAYS THE MOTHER AND FATHER OF THE INFANT WERE IN BED BESIDE IT WATCHING TV WITH THEIR NEUTERED 2-YEAR-OLD PIT BULL WHEN THE MOM COUGHED AND TRIGGERED THE PIT TO ATTACK THE BABY AND KILL IT - THE PIT BULL WAS ADOPTED FROM THE SAN DIEGO HUMANE SOCIETY ABOUT 6 MONTHS AGO AND WAS TESTED FOR AGGRESSION - NO WORD ON WHAT THE PIT BULL'S HISTORY WAS - HAD IT EVER ATTACKED ANYONE BEFORE?
10) 4-23 - MANUEL MEJIA - HOMESTEAD AREA MIAMI DADE COUNTY FL- IT IS REPORTED THAT HE WAS A LIVE- IN WORKER AT THE DRAGON FRUIT FARM AND WAS WALKING WITH HIS GIRLFRIEND WHEN HE WAS ATTACKED BY HIS EMPLOYERS UP TO 7 BELGIAN MALINOIS/BULLDOG MIXES - HE DIED FROM HIS MASSIVE INJURIES - THE INCIDENT IS BEING INVESTIGATED AS A HOMICIDE
11) 5-9 ADONIS REDDICK - ST. LOUIS COUNTY MO - ON MONDAY MORNING RELATIVES WENT TO CHECK ON THE MAN WHO HAD NOT BEEN SEEN OR HEARD FROM SINCE SATURDAY AND THEY FOUND HIM DEAD- ONE OF HIS TWO PIT BULLS WAS SHOT BECAUSE IT WAS SO AGGRESSIVE - AUTHORITIES NOW BELIEVE THIS WAS THE PIT BULL THAT KILLED ITS OWNER - THE VICTIM HAD MASSIVE INJURIES TO HIS NECK.
12) 5-9 ANTOINETTE BROWN - 52 - SHE WAS ATTACKED BY A PACK OF DOGS EARLY ON MAY 2 AND WAS SO SEVERELY INJURED THAT SHE WAS PLACED IN A MEDICALLY INDUCED COMA - SHE WAS BITTEN MORE THAN 100 TIMES AND WAS DEGLOVED WITH EXPOSED MUSCLE AND TENDONS ON MUCH OF HER BODY - SHE WAS REMOVED FROM LIFE SUPPORT MONDAY MAY 9 - 6 DOGS HAVE BEEN FOUND WITH NO INFORMATION AS TO THE BREED OF ANY OF THEM.
13) 6-4 - HUNTER BRAGG - 7 - CORINNA MAINE - MAULED TO DEATH BY A PIT BULL BELONGING TO A RELATIVE HE WAS VISITING - THE PREVIOUS OWNER OF THE DOG SAID ON HER FACEBOOK PAGE THAT SHE HAD RECENTLY "REHOMED" THE DOG BECAUSE OF "OTHER ANIMAL AGGRESSION" -
(PENDING: 5-9 LOLA ENDRES - 61 - BROWNSBURG IN - HER SON FOUND HER SHORTLY AFTER MIDNIGHT MONDAY MORNING DEAD IN A POOL OF BLOOD - IT APPEARED THAT HER 2 ENGLISH BULLDOGS HAD ATTACKED HER - SHE HAD A HEART CONDITION - AUTOPSY TO COME.....CORONER RULED THAT SHE DIED FROM HER HEART CONDITION AND THE BITES OCCURRED POST MORDEM??)