Doctors stopped life support for Winfrey, who was in a medically induced coma, Monday morning, according to Assistant Police Chief Anthony Campbell.
The attack on Winfrey took place last Monday evening at a home on Ella Grasso Boulevard owned by a 37-year-old Yale psychiatric intern.
Winfrey — who was 53 years old, grew up at the Church Street South housing complex, and attended Lee High School — was accompanying the man in his car. They were smoking crack, according to police.
They arrived home. The man opened the door to his house. His two dogs set upon Winfrey, ripping apart her leg, her face, and her arms. Neighborhood kids rushed over and climbed a fence to throw large rocks and a trash can to try to get the dogs away. The homeowner tried to fend off the dogs, but they bit him, too. For days the vicious attack would haunt emergency workers and police officers who saw it.
By the time an ambulance crew arrived, the main attacking dog retreated. Winfrey stopped breathing twice on the way to Yale-New Haven Hospital. Doctors operated on her for days, amputating a leg. She had lost her eyes and skin all over her body. She spent the week in a coma until the decision was made to end life support.
Doctors described the injuries as even worse than those of a Stamford woman who was attacked by a chimpanzee in 2009.
Police charged the man with misdemeanor offenses. He hired one of the city's top criminal defense attorneys, Willie Dow. But it appears Dow won't need to defend him against any more serious criminal charges.
Assistant Chief Campbell said that after reviewing the case with the state's attorney's office, police don't see a basis for further charges.
"It's not like the man used the dogs as weapons," Campbell said. "It was a tragic accident."
Police initially described the dogs as pit bulls. It turns out they are
AMERICAN BULLDOG MIXES
, according to city Animal Control Officer Joseph Maganillo. The dogs were licensed and were up to date on their shots, he said. The owner had bought them in Florida and then moved to New Haven with them.
Manganilllo has been keeping the two dogs in quarantine at the animal shelter on Fournier Street. He said Monday evening that the dogs' owner has signed over custody of them to the city. The plan is to euthanize (kill) them on July 6, following a two-week quarantine period.
The city has to wait for that quarantine period to end to make sure the dogs didn't have rabies. Government policy is to keep a dog that bites a person in quarantine that long to see if it had rabies; dogs die within two weeks if they are infected, Manganillo explained.
What set off the dogs?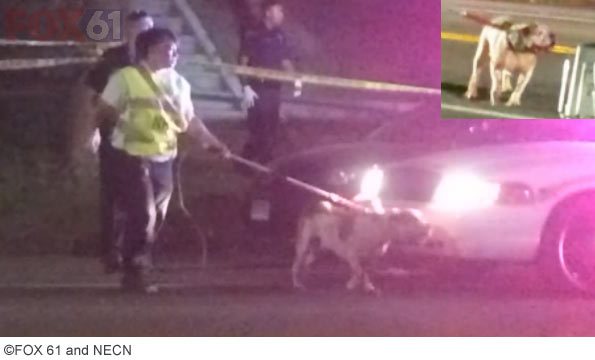 At 7:45 p.m., New Haven officers responded to a home at 1519 Ella Grasso Boulevard on a report of a dog attack. According to police, a woman identified only as "Jocelyn", and the dog's owner, Hamilton Hicks, of New Haven, were attacked.
Hicks and Jocelyn were reportedly attacked as soon as they walked on to the property
, where the pit bulls immediately began to bite the woman. When Hicks tried to pull the dogs off of her, he was repeatedly bitten himself.
Police said a neighbor heard the commotion and tried to help by grabbing a broom. The neighbor told police that neighborhood kids were also throwing rocks at the dogs to try to get them to stop biting the woman.
"I seen two dogs just biting on people," said Trayzon Sherman who ran to help. He said he started throwing rocks, a trash can and yelled at the dogs.
Peter Pervis said, "Chunks of skin were missing from her and everything."
Hicks sustained multiple dog bite injuries to his body. He is being treated at Yale-New Haven Hospital for what police described as non-life-threatening injuries.
The Office of Emergency Management Deputy Director Rick Fontana says 911 call came in as one dog attacking. It's protocol for the dispatcher to not send any fire personnel in that instance.
Police, animal control, and an ambulance responded.
Fontana says they plan to increase all responses to animal bites in the future.
The dogs have been taken to an animal shelter, and placed in quarantine.
http://wtnh.com/2016/06/22/woman-in-critical-condition-after-2-pit-bulls-attack-in-new-haven/
http://www.animals24-7.org/2016/06/22/worse-than-chimp-attack-pit-bull-mauling-near-pacelle-family-home/
2016
- U.S. DOG BITE RELATED FATALITIES - 16 ( 6 CHILDREN - 10 ADULTS )
PIT BULL - 7
LINDA YUBA COUNTOY CA
SAN DIEGO CA
STOCKTON CA
LUMBERTON ROBESN CO NC
PERQUIMANS CO NC
CHARLOTTE NC
ST. LOUIS COUNTY MO


PIT BULL MIX - 5
INDEPENDENCE GRAYSON CO VA (pit bull/rottweiler mix?)
THURSTON CO WA
LEESBURG FL
MIAMI-DADE FL
CORINNA ME

AMERICAN BULLDOG MIXES - 1
NEW HAVEN CT
MIX BREED SHEPHERD - 1
YOUNGSTOWN OH

PACK OF 6 DOGS - 1
DALLAS TX (?# of dogs - Pit Bull and or Rottweiler and their mixes)
PACK OF DOGS - 1
TRAVIS CO TX (? dogs - Husky/Australian Cattle Dog Mix and Lab/Great Pyrenees Mix)
1) 1-3 - TYLER TRAMMELL-HUSTON - 9 - LINDA YUBA COUNTY CA - THE BOY WAS IN FOSTER CARE AND THE SYSTEM ALLOWED HIM TO VISIT WITH HIS 24-YEAR-OLD HALF SISTER WHO LIVED IN A TRAVEL TRAILER WITH 3 PIT BULLS. IT APPEARS SHE LEFT HIM TO GO TO WORK AND WHEN SHE CAME BACK HE WAS MAULED TO DEATH.

2) 1-8/9 - PAYTON LYRIK SAWYERS - 15 MONTHS - INDEPENDENCE GRAYSON CO VA - ATTACKED BY A PIT BULL/ROTTWEILER MIX?? ON THE NIGHT OF JANUARY 6 AT A HOME OF 2 PEOPLE SAID TO BE HER BABYSITTERS - SHE WAS RUSHED TO A HOSPITAL IN NC WITH SEVERE HEAD INJURIES AND WAS PLACED ON LIFE SUPPORT- SHE DIED ON JAN 8 OR 9, 2016.

3) 1-24 - TALEN NATHAN WEST - 7 - LUMBERTON ROBESON CO NC - PIT BULL - TWO 7 AND 8-YEAR-OLD BROTHERS WERE PLAYING IN A WOODED AREA NEAR THEIR HOME WHEN A NEIGHBOR'S PIT BULL THAT THEY WERE FAMILIAR WITH ATTACKED THEM - 8-YEAR-OLD JAYLEN WAS BITTEN ON HIS LEGS BUT IT GOT TALEN BY THE NECK AND BROKE IT - HE WAS NOT RESPONSIVE WHEN FIRST RESPONDERS ARRIVED.
4) 2-7 - AIDEN JOHNATH

ON-GRIM MORELLI

- 3-DAY-OLD INFANT BOY

- YOUNGSTOWN OH - THE 21-YEAR-OLD MOTHER WAS SLEEPING THE NIGHT ON THE COUCH AT HER MOTHER'S HOME AND LEFT THE INFANT ON THE FLOOR IN A "MAKESH

IFT CRIB

" REPORTED TO HAVE BEEN A LAUNDRY BASKET - HER MOTHER AND HER BROTHER WERE ALSO AT HOME DURING THIS TIME - THE MOTHER AWOKE TO FIND HER NEWBORN WITH HEAD INJURIES - THERE WERE

5

DOGS IN THE HOME - REPORTS SA

Y

THE DOG THAT DID THIS W

A

S A MIXED BREED SHEPHERD.
5) 2-10 - SUZANNE STORY- 36 - PERQUIMANS COUNTY NC - THE VICTIM'S MOTHER REPORTED THAT SHE HAD ADOPTED THE DOG THAT LOOKED LIKE A BOXER/BU

LLDOG MIX

ABOUT A WEEK AGO FROM AN AD IN A NEWSPAPER THAT SAID IT WAS GOOD AROUND SMALL CHILDREN - SHE WAS CLEANING THE DOG'S CRATE WHEN IT ATTACKED HER - HER SISTER WAS THERE AT THE TIME AND TRIED TO GET IT OFF HER AND WAS INJURED ALSO - SHE WAS AIRLIFTED TO A HOSPITAL BUT DIED AS THE HELI

COPTER WAS LANDING.
6) 3-8 - GLADYS ALEXANDER - 92 - THURSTON CO WASHINGTON - THE WORLD WAR II VET WAS ATTACKED BY 4 PIT BULL MIXES THAT WERE AT HER NEIGHBOR'S HOUSE ACROSS THE STREET - SHE HAD WALKED ACROSS THE STREET TO GIVE THE NEIGHBOR THE NEWSPAPER BUT THE NEIGHBOR HAD GONE OUT FOR A FEW MINUTES AND IT LOOKED LIKE THE DOGS GRABBED HER AND DRAGGED HER INSIDE THE HOUSE - THE NEIGHBOR RETURNED AND FOUND THE DOGS ATTACKING HER AND STOPPED IT BUT NOT BEFORE THE DAMAGE WAS DONE - HER LEG AND ARM WERE AMPUTATED BUT SHE SUCCUMBED TO THE HORRIFIC INJURIES.
7) 3-28 - BESSIE FLOWERS - 86 - CHARLOTTE NC - POLICE SOURCES STATED THAT WHILE VISITING IN HER DAUGHTER'S TOWNHOME THE ELDERLY WOMAN WAS ON THE BACK DECK AND SLIPPED OR TRIPPED AS SHE WAS COMING BACK INSIDE AND FELL - THE DAUGHTER'S 2 AMERICAN PIT BULL TERRIERS WHICH THE VICTIM KNEW WELL BEGAN "PLAYING" WITH HER AND THEN ESCALATED INTO A FULL-BLOWN ATTACK GOING IN FOR THE KILL ON HER NECK AND HEAD - NEIGHBORS SAID THAT THE DOGS HAD SHOWN AGGRESSION IN THE PAST ATTACKING 2 OTHER DOGS - AFTER SEEING HER OWN MOTHER MAULED TO DEATH BY HER PIT BULLS THE DAUGHTER STILL REFUSED TO SIGN THE DOGS OVER TO OFFICIALS SO ANIMAL CONTROL OFFICERS SEIZED THEM.
8) 3-31 - SONDA TYSON - 66 - LEESBURG FL - THE VICTIM WAS MAULED BY HER BRINDLE PIT BULL MIX SHE HAD ACQUIRED AS A PUPPY - SHE WAS FOUND ON HER BACK PORCH BY HER 13-YEAR-OLD GRANDDAUGHTER AND HER DAUGHTER-IN-LAW WITH SIGNIFICANT DAMAGE TO HER ARMS THAT WAS MISSING FLESH WITH BONES VISIBLE - THE DOG WAS STILL NEARBY HER INSIDE THE HOME SO A POLICE OFFICER SHOT IT TWICE FROM ON TOP OF A FIRE TRUCK SO THAT MEDICS COULD GET TO THE VICTIM BUT SHE HAD ALREADY DIED - IT IS BELIEVED SHE BLED TO DEATH.
9) 4-21 - SEBASTIAN CABAN - 3-DAY-OLD INFANT BOY - MIRA MESA SAN DIEGO CA - FIRST REPORT SAYS THE MOTHER AND FATHER OF THE INFANT WERE IN BED BESIDE IT WATCHING TV WITH THEIR NEUTERED 2-YEAR-OLD PIT BULL WHEN THE MOM COUGHED AND TRIGGERED THE PIT TO ATTACK THE BABY AND KILL IT - THE PIT BULL WAS ADOPTED FROM THE SAN DIEGO HUMANE SOCIETY ABOUT 6 MONTHS AGO AND WAS TESTED FOR AGGRESSION - NO WORD ON WHAT THE PIT BULL'S HISTORY WAS - HAD IT EVER ATTACKED ANYONE BEFORE?
10) 4-23 - MANUEL MEJIA - HOMESTEAD AREA MIAMI DADE COUNTY FL- IT IS REPORTED THAT HE WAS A LIVE- IN WORKER AT THE DRAGON FRUIT FARM AND WAS WALKING WITH HIS GIRLFRIEND WHEN HE WAS ATTACKED BY HIS EMPLOYERS UP TO 7 BELGIAN MALINOIS/BULLDOG MIXES - HE DIED FROM HIS MASSIVE INJURIES - THE INCIDENT IS BEING INVESTIGATED AS A HOMICIDE
11) 5-9 ADONIS REDDICK - ST. LOUIS COUNTY MO - ON MONDAY MORNING RELATIVES WENT TO CHECK ON THE MAN WHO HAD NOT BEEN SEEN OR HEARD FROM SINCE SATURDAY AND THEY FOUND HIM DEAD- ONE OF HIS TWO PIT BULLS WAS SHOT BECAUSE IT WAS SO AGGRESSIVE - AUTHORITIES NOW BELIEVE THIS WAS THE PIT BULL THAT KILLED ITS OWNER - THE VICTIM HAD MASSIVE INJURIES TO HIS NECK.
12) 5-9 ANTOINETTE BROWN - 52 - SHE WAS ATTACKED BY A PACK OF DOGS EARLY ON MAY 2 AND WAS SO SEVERELY INJURED THAT SHE WAS PLACED IN A MEDICALLY INDUCED COMA - SHE WAS BITTEN MORE THAN 100 TIMES AND WAS DEGLOVED WITH EXPOSED MUSCLE AND TENDONS ON MUCH OF HER BODY - SHE WAS REMOVED FROM LIFE SUPPORT MONDAY MAY 9 - 6 DOGS HAVE BEEN FOUND WITH NO INFORMATION AS TO THE BREED OF ANY OF THEM.
13) 6-4 - HUNTER BRAGG - 7 - CORINNA MAINE - MAULED TO DEATH BY A PIT BULL BELONGING TO A RELATIVE HE WAS VISITING - THE PREVIOUS OWNER OF THE DOG SAID ON HER FACEBOOK PAGE THAT SHE HAD RECENTLY "REHOMED" THE DOG BECAUSE OF "OTHER ANIMAL AGGRESSION" -
14) 6-4 - EARL WAYNE STEPHENS JR - 43 - STOCKTON CA - STEPHENS WENT TO VISIT A FRIEND WHO OWNED A PIT BULL WITH PUPPIES - HE WENT TO HIS CAR TO GET SOMETHING AND WAS ATTACKED BY THE ADULT PIT AND THE PUPPIES JOINED IN - IN THE VIDEO IT SOUNDS LIKE STEPHENS KNEW THESE PITS AND THEY KNEW HIM!
15)
6-15 ERIN MCCLESKEY - 36 - TRAVIS COUNTY TX - SHE HAD GONE TO THE PROPERTY TO SERVE CIVIL PAPERS FOR EXECUTIVE PROCESS SERVICE AND WAS ATTACKED BY SEVERAL DOGS AS SHE ENTERED THE FRONT GATE - SIX DOGS WERE IMPOUNDED AND 14 ADDITIONAL PUPPIES WERE FOUND - THE ATTACKING DOGS WERE POSSIBLY HUSKY/AUSTRALIAN CATTLE DOG MIX AND/OR LAB/GREAT PYRENEES MIX - SUBJECT TO CHANGE PENDING FURTHER INFORMATION.....
16) 6-27 - JOCELYN WINFREY - 53 - NEW HAVEN CT - THE WOMAN CAME TO DR. HAMILTON HICKS HOUSE APPARENTLY WITH HIM IN HIS CAR AND DROVE UP A HILL INTO THEIR YARD BY GOING THROUGH A GATE OF A HIGH WOOD FENCE- THE DOGS SAID TO BE PIT BULLS OR AMERICAN BULLDOG MIXES ??, ATTACKED HER IMMEDIATELY AND NEVER STOPPED. HICKS WAS ALSO INJURED TRYING TO CONTROL THEM AND NEIGHBORS HEARD THE SCREAMING AND ATTEMPTED TO THROW ROCKS OVER THE HIGH FENCE TO NO AVAIL. THE ATTACK HAPPENED ON JUNE 20 AND REPORTS SAY SHE LOST HER EYES, AN ARM AND SUFFERED MANY OTHER INJURIES AND WAS IN A MEDICALLY INDUCED COMA UNTIL SHE DIED 1 WEEK LATER.