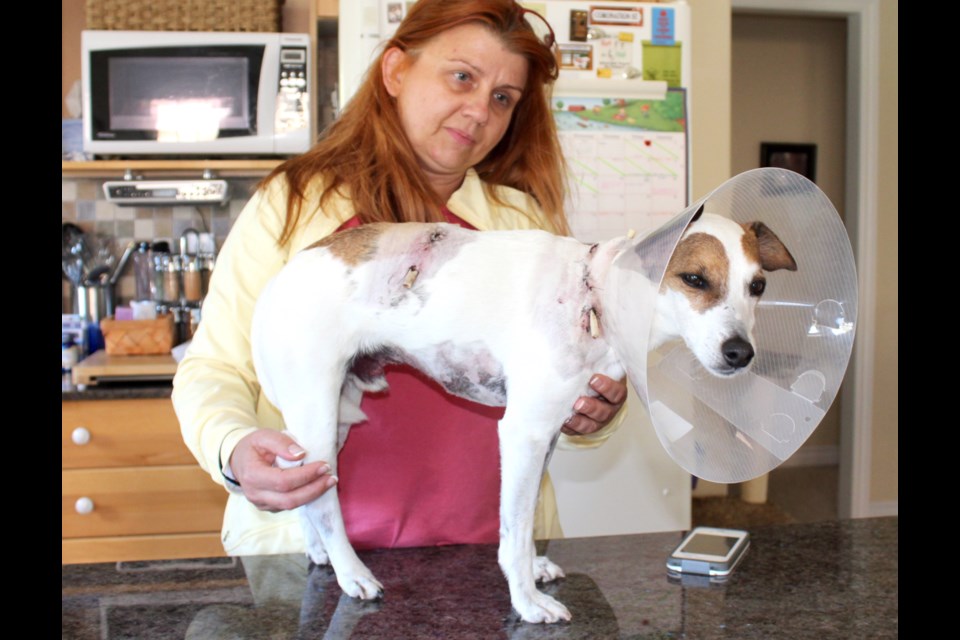 Corrie, a nine-year-old jack russell terrier, is recovering from surgery at home today, after he was viciously attacked by
TWO LARGE DOGS
in Barrie.
"We were incredibly lucky," says Corrie's owner Cindy Spagnoletti. "The lungs were fine, the heart was fine, the spinal cord wasn't severed.
The happy, energetic dog was running around the house on Wednesday, eating and drinking, playing and loving a little extra attention. But Corrie is covered with nasty scars where deep gashes, tears and ripped skin were repaired. He's wearing eight drains in his skin and he's taking two different antibiotics to combat and minimize an expected infection and an anti-inflammatory drug to ease the pain.
There are dozens of stitches along his side, across his abdomen and around his neck.
While the veterinarian didn't make any promises that the Corrie would survive extensive surgery to put his intestines back into his abdomen and close several significant wounds, the 25-pound pup - who was rescued from the Barrie SPCA when he was about two years old - has surprised everyone.
"He's doing amazingly well. It's shocking," said Cindy.
She and her husband John were walking Corrie and their other small dog along a wooded trail just off Nicklaus Drive and Hogan Court in the north part of Barrie (near Hanmer Road and St. Vincent Street) on Monday at about 5 p.m.
Corrie was off-leash at the time and ran ahead on the trail, around a bend and out of sight for a split second.
"I didn't see the other dogs coming," Cindy explained, adding that she heard growling and ran to see what was happening.
When she caught up, a large dog had already grabbed and ripped Corrie's abdomen open and a second identical-looking animal had grabbed him by the neck.
The next few moments are a blur for the devastated pet owners, as they fought to save their dog.
"The memory is dark," Cindy said. "I was just pounding on one of the dogs and I remember screaming, trying to get Corrie free and then John started pounding on the other dog."
"They were huge, and they wouldn't let go. It was horrifying and it felt like everything was going in slow motion."
A man and then a woman arrived at the scene of the attack and Cindy remembers hearing the man apologize, but she doesn't know where they went or if they owned the aggressive dogs.
"I don't know how, but Corrie got loose and I picked him up and just started running," Cindy said. "Then I couldn't run anymore and John took him to run home and get in the car."
They rushed the bleeding, badly injured dog to the Ferris Lane Animal Hospital where he was stabilized before being transported to the Huronia Emergency Vet Clinic for life-saving surgery.
Thrilled with Corrie's progress since Monday, the Spagnolettis are still surprised that the owners of the
attack dogs
have disappeared and not taken responsibility for what happened.
"If it was me, I would come forward because I would feel bad if that happened . . . but obviously not them," she said. "I would be mortified if my dog did this."
Although Cindy and John walk in the area with their dogs almost every day, they didn't recognize the dogs that attacked Corrie.
"You get to know your neighbourhood dogs," Cindy said, "but we have never seen these two before, or the people."
She describes them as bigger than a Staffordshire terrier, possibly BOXERS OR BULL MASTIFFS. BOTH DOGS HAD THE SAME BRINDLE PATTERN LOOK - POSSIBLY BLACK AND GREY, "LIKE A TIGER STRIPE."
Barrie's manager of bylaw services says it is unusual for a dog owner to disappear after an attack, especially when another animal is badly injured.
"This is really rare," said Tammy Banting. "Usually the owner of the aggressive dog will hang around, or the owner of the injured dog knows who it is. We have even had cases where the owner of the aggressive dog has taken the injured dog to the vet."
"For someone to just disappear and not come forward after an attack like this is certainly very unusual."
Banting says this incident is one of the most serious dog attacks she has seen in Barrie, because of the significant injuries to Corrie.
By-law officers have canvassed the neighbourhood and reviewed registration records for dogs living in the area, but so far "nothing has turned up," Banting said.
Finding the attackers could be further complicated by the fact that area borders on Springwater Township - making it more difficult for Barrie by-law officers to canvass a broad area.
"We really can't believe that they haven't come forward, but there is still time to do the right thing," Cindy said.
"We are just happy he's alive."
Anyone with information should call the City of Barrie by-law office at 705-739-4241.