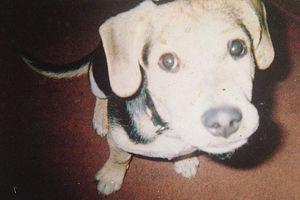 Pluto, Beagle/German Shepherd Mix mauled to death by a loose Pit Bull
A fatal attack on a family's dog by a loose PIT BULL has connections to a man with a history related to pit bulls in Lake County.
Donald Cisneros said his wife, Barbara Cisneros, was having an ordinary afternoon when she heard the family's dog, part German shepherd and part beagle, cry and howl in their backyard. A pit bull, Cisneros said, sneaked into the backyard and attacked their dog, which was tied to the back door. By the time the pit bull was chased away, their dog had already sustained serious injuries.
"There were extensive puncture wounds. There was a bite to his head; bites to front and back paws. Our dog couldn't even stand up," Donald Cisneros said.
The dog died early the next morning. Donald Cisneros said the veterinarian told him that if their dog had survived, he would have been paralyzed for life.
According to Leadville Police Chief Robert Glenny, the pit bull belonged to
Ruben Pacheco, who has had several run-ins with the law concerning his keeping of dogs in the past.
Pacheco was charged with violating Pet Animal Care Facilities Act in November 2002, when it was reported he had 21 pit bulls chained to trees on his property in Lake County. His neighbors at the time also speculated he was training the pit bulls to fight due to what they reported as missing toes, missing ears and scars on the dogs at the time.
Pacheco's pit bulls did not stay out of the news for long. On December 19, 2002, one of Pacheco's pit bulls attacked and killed a 20-pound male Shih Tzu.
In March 2005, the Police Department in Douglas, Wyoming, impounded 11 pit bulls from Pacheco after reports of the dogs fighting with one another. Pacheco pleaded guilty to 11 counts of animal cruelty.
In December 2005, Pacheco was arrested on five counts of burglary and destruction of property after allegedly breaking into the Douglas animal shelter and stealing back five of those pit bulls.
Glenny said the Leadville Police Department is not currently investigating any angles related to dogfighting in the current case.
Charges are being filed, Glenny said.