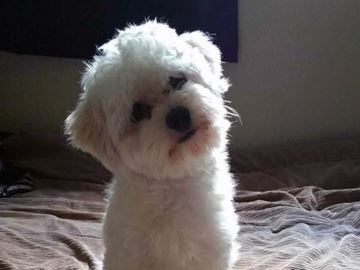 !!!!! SOUNDS LIKE A PIT TO ME !!!!!
Michele St. Pierre lost her best friend Rufus last week to a tragic dog attack.
St. Pierre and Rufus, a 1.5-year-old Havanese dog who weighed under 10 pounds, were on a walk after 9 p.m. on July 26.
Near the Maple Leaf facility on Colborne Street, where it meets Veterans Memorial Parkway, St. Pierre and Rufus were crossing the street.
Unbeknownst to them, a black car behind them with two people and a dog inside had stopped at the same intersection due to a red light.
St. Pierre and her fiancé Dave Poole later learned from the people behind the black car that they saw a dog's head hanging out the passenger window. They even thought it was cute, until they saw the dog push its way out of the car and run at Rufus.
In an interview with the couple a week after the attack, St. Pierre said neither she or Rufus saw the dog coming.
To this day, St. Pierre can't say for certain what breed the dog was because it happened so quickly, but she does recall it being large and brown.
Hoping they can help other dog owners avoid incidents like the vicious attack on Rufus, Poole wrote a heartfelt account about what happened to help raise public awareness. Hundreds of people have since shared the account through social media.
"She watched her best friend get mauled to death, heard his cries, watched him get shook to death as if he were nothing more than a dog toy," Poole wrote.
St. Pierre panicked and grabbed at the attacking dog, but it wasn't wearing a collar she could grasp. The dog bit one of her fingers.
Four people nearby came to help her and Rufus. They pulled the dog off of him and held it back.
"Those people are heroes," Poole wrote. He applauded them for putting themselves at risk, helping St. Pierre through the trauma, calling him and hugging him when they met.
St. Pierre held Rufus on the sidewalk and could hear his breathing slow down. If he didn't die with her on the sidewalk, she believes he died in the car on the way to a veterinary hospital.
The shocking and horrifying assault on Rufus was only made worse for Poole and St. Pierre by the behaviour of the man and woman apparently in charge of the dog. The couple said the woman got out of the car, but didn't try to stop her dog. St. Pierre said the driver continued on, leaving the woman and dog behind, while the woman offered no compassion for Rufus.
The people who were helping St. Pierre and Rufus questioned the woman, who gave them her name and then reportedly said, "Are we done here?"
St. Pierre said the woman offered no compassion for Rufus or her.
Poole said he believes there should be laws to enforce keeping dogs secure in a vehicle. The Ontario Society for the Prevention of Cruelty to Animals (OSPCA) strongly recommends keeping dogs in the backseat of a vehicle to avoid injury by going through a windshield or being hit by an airbag. Although there don't seem to be any specific laws addressing the issue, allowing a dog to be loose in the back of a truck or to distract a driver in the front seat can lead to Ontario Highway Traffic Act charges.
"No one needs to go through a nightmare like this, and it was a nightmare," Poole said.
The OSPCA recommends using one of the many pet harnesses available at pet stores
Brantford police officers and Brant SPCA officers were called to investigate the attack. The police officers decided not to pursue criminal charges, while the SPCA continues to investigate.
Ian Harrower of the Brant SPCA said the investigation has yet to to come to any conclusions, but he has found no similar violent behaviour in the dog's history.
"A lot of people don't think their dogs can't be violent, but there are triggers," he said. "No matter how well you think you know them, it can happen."
Poole said they were told the dog was quarantined and checked for infectious diseases such as rabies.
Harrower confirmed a bite report was submitted to the Brant County Health Unit, which results in a quarantine of the animal for 10 days.