A three-year-old boy who died after being savaged by a dog has been named by police as Dexter Neal.
Witnesses described a dog being dragged from a home in Essex - moments before a woman emerged with a child covered in blood.
One neighbour said the distraught woman was on her knees in floods of tears - as paramedics tried to save Dexter.
Others described sickening screams as they dashed to the house in Halstead to try to help the dying boy.
The tragedy happened at a house in Parker Way at 5.40pm on Thursday. Dexter was airlifted to hospital but died from his injuries.
A 29-year-old woman has been arrested for allegedly allowing a dog to be "dangerously out of control". She remains in custody.
The animal - identified as an
AMERICAN BULLDOG
, which is not a banned breed in the UK - has been seized by police and placed in kennels.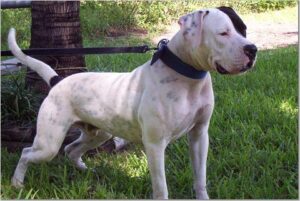 Internet Picture
According to an entry on Wikipedia, the American bulldog is described as "confident, social, and active ... at ease with their families."
The entry adds: "This breed tolerates children and can do very well with them, provided they are socialised early and understand their limits."
Two police officers were seen guarding the front of the house, which was cordoned off with blue and white tape.
A small blood-spattered toy car could be seen in the shed of the home and forensic officers were examining it this afternoon.
Neighbours described seeing a white dog being dragged from the property with "its face ... covered in blood".
Scott Howell, 19, told journalists: "I heard this terrible screaming and thought it was kids playing in the garden, but then I thought this is going on a bit too long.
"I went to my parents' bedroom window facing the house and that is when I saw the man dragging the dog out. Its face was covered in blood.
"I heard somebody saying one, two, three, four, one, two, three, four, sounding like chest compressions," the EssexLive website reported.
He added that a woman at the scene was "devastated" and that she was "on her knees crying and covered in blood".
Some unconfirmed reports suggested that the boy had been visiting friends at the house and lived with his family nearby.
Phyllis Younger, who has lived in Parker Way for 58 years, said she heard screaming at around 5.45pm.
The 82-year-old told the Press Association the screaming "did not go on for long" and she was sure they were from a child.
"Now I know what the scream was, it is absolutely awful," she said, adding: "It was like someone was in pain, definitely - agonising screams.
"It is terrible."
She said she thinks the screams came from outside, adding: "I don't think I would have heard it as clearly if it had been in the house."
Neighbour Craig Bacon told Sky News that he thought the dog at the property was a "small white one".
"I saw it on Sunday and it was walking along the street - it seemed fine," he said.
Meanwhile, posting on Facebook, Jennifer Ralling said she heard the screams and ran to the scene with a man named Mark.
She added: "I'm devastated. I've known the family for years through the nursery. I remember when he was born.
"I thought we'd be able to help as we're both first aid trained but it was just so awful."
An East of England Ambulance Service spokesman said: "A young child was treated for life-threatening injuries before being airlifted to Addenbrookes Hospital (in Cambridge).
"Sadly despite the best efforts of everyone involved, the child died and our thoughts are with the family involved at this time."
James Cleverly, MP for Braintree, whose constituency includes Halstead, said: "It's a small town with a very strong sense of community.
"This will be a massive shock. It will be a body blow to the town."