A large
PIT BULL
that ripped the skin off a woman's hand is going back to its young family after a judge decided "exceptional" circumstances meant it should not be destroyed.
Former Hastings prison guard Matthew Fa'alele has fought for nine months for the return of his 55-kilogram
AMERICAN PIT BULL TERRIER CROSS, LENNOX
, which was impounded last November.
Lennox was locked up by Hastings District Council after he attacked Cherie Youngman, a teacher at Fa'alele's children's school, in October. Youngman had an appointment to visit the family and was reaching in to open the gate to their front yard when Lennox snapped at her, "de-gloving" a significant amount of skin in an injury that required surgery. She has still not regained full mobility of the hand.
Fa'alele pleaded guilty to owning a dog that had caused serious injury. Under the Dog Control Act, a conviction on that charge means the dog must be destroyed unless a judge is convinced there are "exceptional" circumstances.
At a hearing in Hastings District Court on Monday, Fa'alele's lawyer, Matthew Phelps, argued his client was a responsible owner, that Lennox had never shown aggressive behaviour around his primary school-aged children, and was within its own fenced property at the time of the attack.
He called evidence from an experienced dog trainer, who said Lennox's behaviour was consistent with the animal acting to protect Fa'alele's children. If the dog had been intent on deliberately hurting Youngman, he would have "crushed her hand" in his teeth rather than just ripping her skin.
But a vet called to give evidence for the council described Lennox as "a big, strong powerful dog" that she would not consider approaching.
Dog trainer Mike Blatch, a friend of Fa'alele's, told the court he first assessed Lennox as a puppy and had monitored his behaviour since he had been in the pound. He believed he had a safe temperament, and that the attack on Youngman was a "one-off" and an attempt to protect the children.
But vet Helen Taylor, who also assessed Lennox, said she would not want to get into an enclosed space with him and he was not the type of dog she would allow into her clinic.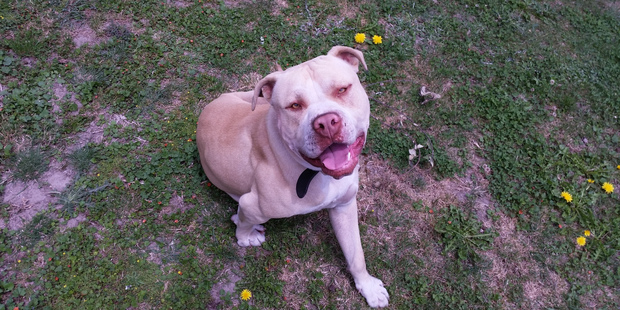 Judge Tony Adeane accepted that, for the reasons put forward by Phelps, there were exceptional grounds not to have Lennox destroyed. The dog will, however, be neutered before being returned home, and will be registered as dangerous by the council.
The judge ordered Fa'alele to come up for sentence if called upon within 12 months, saying that would be strong motivation to ensure Lennox did not harm anyone else.
He also ordered Fa'alele to pay $300 for owning an unregistered dog, and to make a $1000 emotional harm payment to Youngman.
Outside court, Fa'alele said he and his children had been visiting Lennox in the pound six days a week and he was overjoyed the dog would be coming home.
"He's not a menacing dog. What ever I have to do [under the judge's ruling] I will, as long as he's breathing.
"He's a loving dog. That [attack on Youngman] was totally out of character."
Youngman could not be reached for comment.
DOGS THAT WEREN'T AS LUCKY AS LENNOX
* Dozer, a dogue de bordeaux, bit a woman visiting his owner, John Tebbutt, in Blenheim in February. Marlborough District Council requested Dozer's destruction and Judge David Ruth made the order in May.
* Irish wolfhounds Sun Bear, TuTu and Sorcha, owned by Dunedin man Thomas O'Neill, attacked a woman delivering newspapers in December last year. The dogs were surrendered by O'Neill and destroyed before he appeared in court.
* Bear, a pitbull-neapolitan mastiff cross, owned by Palmerston North woman Caralyn Pene, attacked a man in January. Pene surrendered Bear, and the dog which was destroyed before her court appearance.
* Rascal, a Rhodesian ridgeback, was one of three dogs to attack two women near Napier in October. The owners of the other dogs surrendered them immediately for destruction. Rascal's owner, Kayla Bremner, wanted him back. But in February Judge Bridget Mackintosh ordered his destruction.