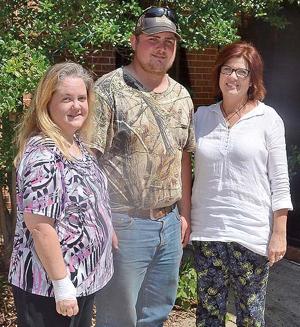 "SOUNDS LIKE PITS TO ME!!!"
Around 7:30 p.m. on Aug. 18, as daylight faded, Sharilyn Owens decided to take a walk with her dog, Harvey, in the Cedar Hills development off of N.C. 115 in North Wilkesboro.


It was something she did regularly with Harvey, a six-year-old Labrador retriever/chow mix she and her husband, Randy Gambill, got as a rescue dog.


Walking several yards behind Owens and Harvey was neighbor Jan Kerr, who was taking her small dog, Chloe, a shih tzu, out for some exercise.


As Owens went past another neighbor's yard,
TWO MEDIUM-SIZED DOGS
ran out of a yard and "immediately attacked Harvey."
Owens said she screamed and attempted to use a can of Mace she carried for protection. The can wouldn't fire, so Owens kicked the attacking dogs and hit them with a stick.


In desperation, she put her body on top of Harvey to shield him from the other dogs, which then grabbed and severely bit her arms. The two dogs then dragged Owens and her dog down a small embankment.


It was at that moment that Amy Huie of the Rock Creek community and her son, Dalton, a student at Wilkes Community College, came by in their car and saw what was happening. Huie's mother lives in the Cedar Hills development.


Huie said she and her son came down a hill and saw Kerr, who was hysterical standing in the middle of the road. Huie and her son jumped out of their vehicle and saw the dog attacking Owens, who was screaming, "Help me. Help me."


"My immediate reaction was that they were going to kill her," Huie said.


Owens "was in a ball" around Harvey, trying to shield him from being mauled any further, Huie said. "There was a dog on either side of her and they were chewing her up."


Huie ran up the embankment to get her cell phone so she could call 911. Dalton Huie said he "immediately went down into that hole and tried to get the dogs off of her and her dog."


Dalton said he put his hands on one dog's mouth and pulled its jaws open, and sustained a bite in the process. After being pulled off of Owens and Harvey, the two dogs ran back up the embankment and attacked Kerr's small dog while she was on her cell phone reporting the incident to the Wilkes County Communications Center he said.


Amy and Dalton Huie began hitting the dogs to make them turn loose of Kerr's small dog. One of the dogs grabbed Amy Huie by the hand, tearing it open.


Dalton was able to keep the two dogs away from the situation at this point, it was noted. He said they attempted to approach again, but he was able to jump in front of them and prevent it.


Wilkes Emergency Medical Services came to the scene, as did officers with the North Wilkesboro Police Department. The two attacking dogs were seized by Wilkes animal control officers
and later euthanized
, Owens said.
Amy Huie and Owens went to Wilkes Regional Medical Center by private vehicle to be treated for their injuries. This included multiple puncture wounds and a large tear in Huie's hand that required a number of stitches.


Kerr's small dog was taken to an emergency veterinarian's office in Boone, where it died.


Owens' dog was taken to the same vet's office, where it underwent several surgeries. Harvey has struggled, but is finally making progress, she said.


Owens said she is eternally grateful that Amy and Dalton Huie stopped and came to her aid.

"I think they are angels," she said. "These folks put themselves in danger to help a stranger."


"I've relived this event in my mind since it happened," Amy Huie said. "I feel like we did what anyone else would have done."


Huie noted that on this particular day she had taken the second, less used, entrance into the development and just happened to come across Owens. "I never go that direction," she said. "What if we had come in the other way?"


Owens said she believes that bit of happenstance was divine intervention.


"People like Amy and Dalton making themselves available in such a dangerous situation… is essential to a healthy community, and I vow to pass it on," she said.