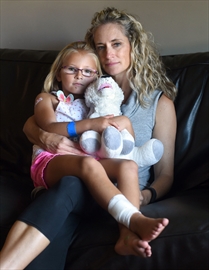 Michelle Hearn was cycling with her five-year-old daughter, Lauren, on the Bob McMullen trail in Preston on Sept. 9 when they crossed paths with a man standing in tall grass with
his three dogs.
Slightly unnerved at the size of the three dogs,
Hearn and her daughter decided to pedal by without making eye contact.
One of the dogs, wearing a leash but not under the control of its owner, suddenly attacked. "Just as (Lauren) got directly in front of the dog, he just growled and pounced," Hearn told the Times. The dog grabbed the little girl by the ankle, breaking the skin in several spots, and pulled her from her bike.
The owner didn't stick around long enough to see if she was OK or take responsibility for the unprovoked attack.
"My five year old's lying on the trail, screaming and bleeding," explained Hearn, "and he takes off."
With no knowledge of whether the dog had been vaccinated, Hearn had little choice but to assume the animal hadn't had its rabies shots.
She rushed Lauren to Hamilton's McMaster Hospital to undergo a "horrendous procedure of rabies shots and vaccines" over the course of nearly two weeks.
Medical officials opted not to stitch up the bite wounds in anticipation of the numerous needles the girl would have to continue to endure.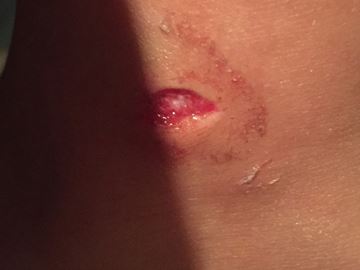 It was only after conversations with local animal control services she confirmed her worst fears.
Not only was the dog not vaccinated for rabies, she explained, it had already been deemed "potentially dangerous" after attacking another dog several weeks ago.
"So that dog shouldn't have even been out," she said.
Just a few days later, Hearn and her daughter spotted the same man and dogs at his home on Nelson Street in Preston, located near a section of the trail.
She passed the information on to police, animal services and the Region of Waterloo Public Health – which investigates dog bite reports – in hopes something would be done.
Day by day went by with little result, noted Hearn.
Frustrated by the fact the dog has not been seized from its owner and by receiving conflicting information from authorities, Hearn turned to the media and social media for help.
"Whose job is this?" she asked. "A child is attacked by a vicious dog and nobody is doing a damn thing about it."
According to Cambridge and District Humane Society executive director Bonnie Deekon, the dog had been designated as "potentially dangerous", an order that requires the dog to wear a muzzle and remain on a leash.
Following the attack on the Cambridge girl Sept. 9, animal services upgraded the label to "dangerous", a designation given to any dog that bites a human.
Deekon said her officers have made repeated visits to the man's home, but he refuses to respond.
"He's refusing come to the door when our officers go there," said Deekon.
The humane society is enacting municipal dog ownership liability laws to attempt to seize the dog, however, officers are forced to wait for City of Cambridge's legal department to obtain a court order first.
The law sees dogs as property and seizure without court approval would be akin to stealing, explained Deekon, admittedly frustrated.
"The Charter of Rights and Freedoms protects all citizens from search and seizure," she said.
Deekon said the humane society, animal control and public health are doing everything they can, but said the process just takes time.
For Hearn, however, that time may only create more opportunities for the dog to hurt someone else.
While the investigation and legal proceedings are underway, Hearn was advised to keep her family off the popular Preston trail, something she found to be small-scale response to a big safety risk.
She decided to sound the alarm herself.
"If it can help somebody else, or just let people know that this dog is out there and it is dangerous and they are not doing anything about it."
Meanwhile, Hearn is doing her best to support Lauren, who was traumatized by the dog attack and is now fearful of dogs.