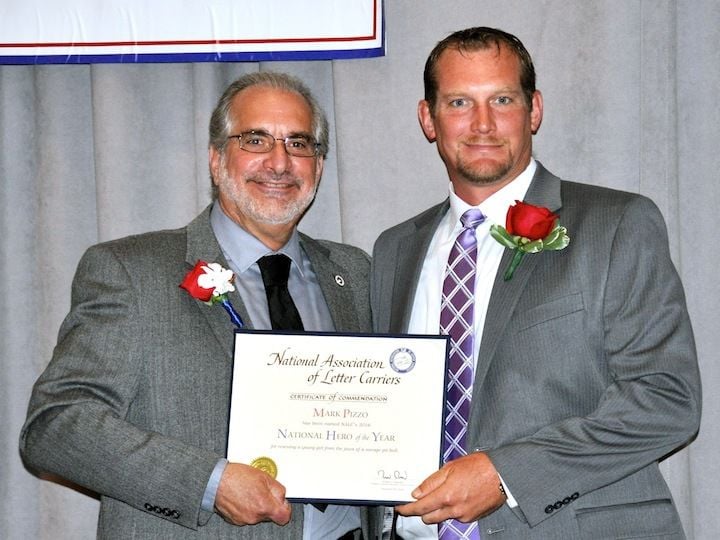 Oftentimes the people who most deserve recognition for their courage are the least likely to consider themselves a hero.
That's why mailman Mark Pizzo of Snellville was emotional on Wednesday when he took to the stage at a luncheon in Washington, D.C., to accept the 2016 Hero of the Year award and offer remarks.
The National Association of Letter Carriers, a labor union for United States Service Postal employees, honored the mailman of 11 years for saving a child from a vicious
PIT BULL
attack while working his route last year.
Last summer Pizzo and his family moved from Pennsylvania to Snellville Ga. He had hoped to transfer in his position to a nearby route, but the closest opening was in Rock Hill, S.C. So each Monday Pizzo traveled to South Carolina, where he stayed with a co-worker during the week. He returned to Georgia to see his family every weekend.
On Nov. 30, Pizzo was delivering mail in a cul-de-sac on the last part of his route in Rock Hill. He was used to seeing children playing in the area, but that day a pit bull was outside. Pizzo noticed the dog jump at a girl named Kayden White, but he realized they weren't playing when it knocked Kayden down.
"Then he heard a blood-curdling scream that he said he will never forget as long as he lives," Fredric Rolando, the organization's president, said at the ceremony. "The carrier raced toward the 7-year-old girl whose bloody head was gripped in the jaws of the dog as it dragged her under a trampoline."
Pizzo tried to grabbed the dog by its muzzle, but it would not let go of Kayden. He punched the canine several times before the pit bull released her.
Pizzo placed the little girl on top of the trampoline and briefly distracted the dog. But the pit bull jumped on to the trampoline and went after Kayden again. A neighbor who tried to
help
was also bitten. That's when the carrier grabbed Kayden and ran for safety.
Shortly after, Kayden's brother showed up and police arrived. Kayden was taken to the hospital, where she received seven staples in her head.
Pizzo's actions pushed him in the spotlight in the media and landed him an appearance on daytime TV's "The Steve Harvey Show." But it was a meeting with another man back in Rock Hill that left mailman Pizzo speechless.
"The best thing that was said to me even after all this was done … two days after (the girl) was home, a man came off a front porch of another home on my route and said, 'Are you the guy that saved the little girl?'" Pizzo said.
When Pizzo said yes, the man grabbed the carrier's hand, hugged him and said thank you for saving my granddaughter.
"All of this is great, but that means more to me than anything," Pizzo said. "I guess I am a hero, but I don't need a pat on the back; just let me do my job.
"Your mailman in your community serves you. They're there if you need them and to do their job to best of their ability, so please appreciate them."
Rolando said Pizzo was among other letter carriers who were acknowledged for their selfless acts and major accomplishments. He said Kayden's loved ones felt fortunate that Pizzo didn't think twice about removing the girl from harm's way.
"Mark said the spotlight is not for me; I like to do my job and fly under the radar. Mark, with all due apologies, that horse has left the barn," Rolando said during the luncheon as the audience laughed. "You thought quickly, you acted bravely, and because of you a family is truly grateful."
Now Pizzo is enjoying the opportunity to spend more time with his family. He is starting a new route in Athens on Friday.