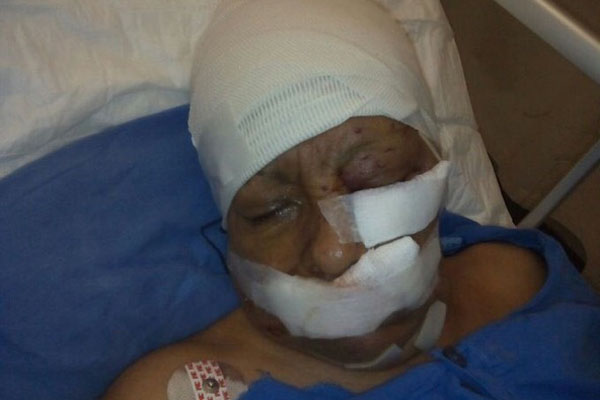 Woman survives miraculously after being attacked by three pit bull dogs
ATLIXCO, Pue. Despite multiple injuries to his face and body, caused by the attack of three dogs Pitbull Teresa Hernandez Carranza, a resident of a subdivision located north of the city, it is reported as stable in the hospital of the Institute of Security and Social Services State Workers (ISSSTE) in the city of Puebla.
According to the investigation of the case, under number 4131/2016 / ZC, the 43-year-old left home shortly before 7 am when the so-called Plaza La Merced, in the housing unit Fovisste and few steps from his home, came face to face with a couple who walked three Pitbull dogs off leash.
A few meters away and for no apparent reason, dogs rammed the female. "At first they managed to knock it down, and when he sought unsuccessfully to remove them. So then the bites occurred in the face and head and then in various parts of the body. Despite the attempt of the owners, the animals did not depart immediately.

According to the statement of the injured, the most serious injury suffered is precisely on the head which caused the separation of several areas of the scalp. "The mouth was quite hurt the extent of being required stitches to save her lower lip," they exposed their families.
Witnesses detail the woman saved my life after one of the owners of the dogs managed to chase them away and immediately moved the injured to a local clinic, but doctors, for various wounds, recommended take it to the state's capital.
In the investigations sits the probable responsibility of the assault. "The authorities are seeking to animal owners to meet the authorities and incidentally settle the generated economic account for medical care."
_____________________________________________________________
ATLIXCO, Pue. A pesar de las múltiples heridas en su cara y cuerpo, ocasionadas por el ataque de tres perros Pitbull a Teresa Hernández Carranza, vecina de un fraccionamiento ubicado al norte de esta ciudad, es reportada como estable en el hospital del Instituto de Seguridad y Servicios Sociales de los Trabajadores del Estado (ISSSTE) en la ciudad de Puebla.
De acuerdo con la investigación del caso, bajo el número 4131/2016/ZC, la mujer de 43 años de edad salió de su casa poco antes de las 7 de la mañana cuando en la denominada Plaza La Merced, en la unidad habitacional Fovissste y a pocos pasos de su vivienda, topó de frente con una pareja quienes paseaban a tres perros Pitbull sin correa.
A unos metros de distancia y sin motivo aparente, los perros embistieron a la femina. "En un primer momento lograron derribarla, y es cuando busco alejarlos sin exito. Asi entonces las mordidas ocurrieron en la cara y la cabeza y ensequida en varias partes del cuerpo. A pesar del intento de los duenos, los animales no se alejaron de inmediato".
.
Según la declaración de la agraviada, la herida más grave padecida es precisamente en la cabeza la cual generó la separación de varias áreas del cuero cabelludo. "La boca quedó bastante lastimada al grado de ser necesarios puntos de sutura para salvar el labio inferior", expusieron sus familiares.
Testigos detallan la mujer salvó la vida luego de que uno de los dueños de los perros logró ahuyentarlos y de inmediato la lesionada se trasladó a una clínica local, pero los doctores, por la diversas heridas, recomendaron llevarla a la capital poblana.
En las pesquisas está asentada la probable responsabilidad del delito de lesiones. "Las autoridades buscan a los dueños de los animales para responder a las autoridades y de paso saldar la cuenta económica generada por la atención médica".