(KOIN) — CJ Gerke is doing the best a 3-year-old can after getting bitten by a loose dog last Friday afternoon in the driveway of his parents' home in La Center.
His mom, Stepfanie Gerke, told KOIN 6 News she and a friend were heading out on the porch to watch her son play.
"CJ had gone down the stairs before we did and he walked around the side of her car," she said. "When he did that, it was like instant. We heard this bark and then (heard) him scream."
The boy was covered in blood. It was "like his whole face was in the dog's mouth," she said.
Nearby was a large, older, male black
LABRADOR MIX
.
"The dog was acting like he didn't do anything wrong, like he owned the yard," she said.
The family called 911 and police responded very quickly. Stepfanie said an officer had the dog cornered in a neighbor's yard, but the dog got away before Animal Control arrived.
CJ was rushed to a Portland hospital. Stepfanie said she "lost count after 60 stitches. He literally had to have his septum sewn back on."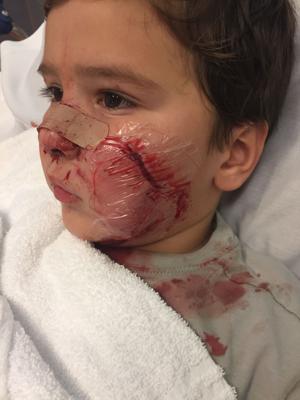 She said they've seen the dog loose in their neighborhood before.
"This is a well taken care of dog. Whoever owns this dog loves this dog. He's sleek, he's beautiful, he wears tags," she said.
The dog had an orange hunting collar, a thick tail and a little greying around the muzzle.
La Center police are investigating and following up tips and leads as they try to identify the dog and its owner.
"Just the thought that it can hurt somebody else is just appalling to me," Stepfanie said. "I just want the dog apprehended to get the dog off the streets so I know that we're safe."