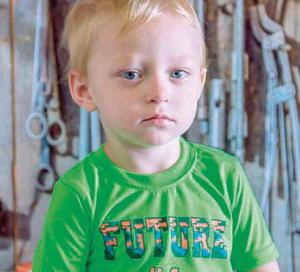 A 2-year-old boy attacked Sunday by his FAMILY'S PIT BULL DOG remains in critical condition at Brenner Children's Hospital in Winston-Salem, said Chief Deputy David Carson of the Wilkes Sheriff's Office.
"The little boy's condition has improved slightly," added Carson.
Norman Hawkins of Purlear has
severe facial, neck, spine and head injuries
from the attack.
Family members said he underwent over nine hours of emergency surgery Sunday and more surgery later this week at Brenner, including to repair his trachea.
The boy's mother, Kesha Hawkins, and his grandmother, Teresa McManus, have remained with him at the hospital, said family members.
Wolfe posted on the gofundme site, "They have no source of income with them, being at Brenners" with Norman. "It is untelling how long he will be hospitalized. Please pray for his recovery, and for our family. If you can, please donate to help this family," wrote Wolfe.
"They desperately need all the help and prayers they can get…. Gift cards for them to get food while down there would be a great idea." He also wrote that he will meet anyone wanting to donate in person.
Norman was on the porch of the family's home on Reedy Branch Road in Purlear with his mother and grandmother when the family's female pit bull for no apparent reason started biting the child and dragged him into the yard, said family members.
Family members were able to get Norman away from the dog and the boy's grandfather euthanized the dog with a gun. The incident occurred shortly after noon Sunday.
Someone in the family dialed 911 and Norman was taken by private vehicle to the Champion Fire Station.
Champion first responders provided first aid at the fire station until Wilkes Emergency Medical Services arrived and transported Norman to Wilkes Regional Medical
Center for additional medical treatment until he was flown by Baptist AirCare helicopter to Brenner.
The sheriff's office investigated the incident and determined that "at this point it doesn't appear that there was any criminal wrongdoing," said Carson.