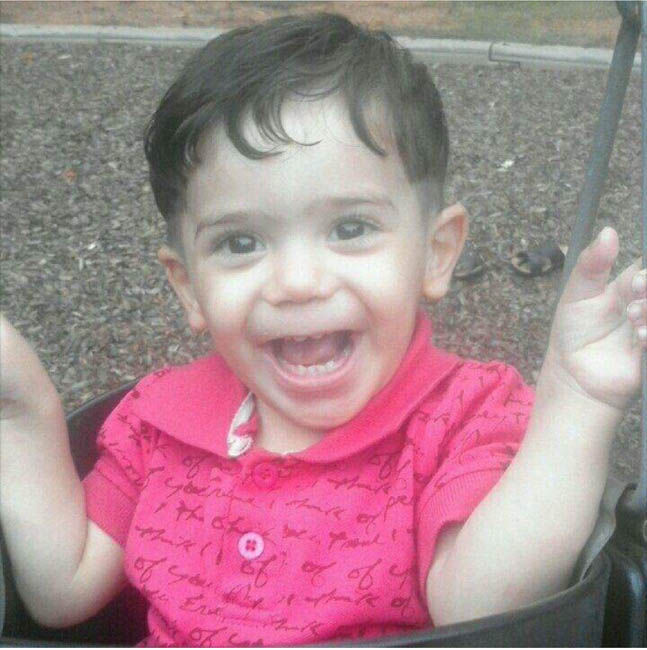 After his son's mauling, Ibrahim Hjazi
says everything makes him afraid now.
Hjazi, 37, rushed to the hospital from work Tuesday after learning two dogs had attacked his 19-month-old son, Montasur, in their backyard.
Montasur faces more surgeries and rehabilitation to recover from his many wounds: his right ear torn off, punctures to his chest, a long gash on his face, broken bones in his cheek, an eye nearly cut in two.
The damage to Montasur's eye is so bad the eyelid might not open and close properly. It's too soon to say if his vision has been impacted. The toddler's ear has been sewn onto his chest to help it heal before it is reattached, the family said Friday through an interpreter.
Hjazi came to Greensboro with his wife, Amani Albardan, 30, and their five sons to escape Syria's civil war. Bombings injured both Hjazi and his eldest son, now 12. The family stayed four years in a Jordan refugee camp before they had the opportunity to come to America.
"I'm afraid now," Hjazi said. "Afraid for my kids, my wife, my safety."
The family has been trying to find their way in Greensboro since settling here in mid-August.
The children range in age from 19 months to 12 years. One boy attends Bessemer Elementary and two go to the Newcomers School. The family does not have a car and relies on the bus or friends to get around town.
Tuesday began like any other day. Hjazi left their house on Valley View Street at 5 a.m. to go to work at Grandover Resort. As he did, he said he saw his neighbor's male and female pit bull on the street with no leash and no one nearby, but assumed the owner was close.
He had seen the owner walking the dogs through the neighborhood before on a leash, Hjazi said.
He would get a call more than five hours later, telling him pit bulls attacked his youngest son and to come to the hospital.
Albardan was home with her three youngest sons when one opened the door to get his shoes on so he could go to school, she said. When he opened the door, one pit bull came to the door, so Albardan took the children and ran to the back door, but the other pit bull was there. The first pit bull came around to join it.
Montasur fell and one of the dogs attacked, Albardan said. She was so afraid the dogs were going to get her other two children she began screaming and screaming to get the attention of the neighbors.
Unable to speak English, Albardan was only able to say, "dog, my baby, dog, my son," when a neighbor came to help, she said.
They tried but could not get the dog off the toddler. Albardan said both dogs attacked her youngest, but the larger pit bull was the primary aggressor.
Albardan said she was, "out of her mind," during the attack. "It felt like a dream. It never felt like this could happen to me. Even now, I can't believe it."
She said she's relieved that both dogs are dead. A responding police officer killed the male pit bull. The female dog ran off, but was later caught and euthanized. Both tested negative for rabies.
Montasur was taken to Moses Cone Hospital, then Brenner Children's Hospital in Winston-Salem, where he will remain for at least a month, possibly longer, recovering from his injuries.
Hjazi said he was so upset when he heard the news he started running in the street, looking for someone to take him to the hospital. A co-worker learned what happened, then helped him get to Moses Cone. He said he was crying he was so terrified. When he arrived at Brenner's, he passed out before he even got to see Montasur.
Hjazi has a heart condition made worse by stress.
The second-youngest son, who's 3, doesn't believe Montasur is alive, said Albardan. He's told her he thinks the dog killed the toddler. She's afraid to let him see Montasur in the condition he's in now.
The family will not be going back to the house where the attack occurred. College Park Baptist Church was helping the family before the attack, and the night before had secured a new apartment near others who speak their language. Hjazi said he's glad, but he's focused on his son.
"My biggest concern is for my son to survive and to live in a safe place," he said.
Hjazi said he is very grateful for everything the church and the community have done for his family.
He's also pleased officials cited the owner of the dogs. Roderick Hale Adams Jr. of 1212 Valley View St. faces two citations of allowing a dog to run at large and two of public nuisance. He also faces a charge of attack by a dangerous dog, a misdemeanor.
"I left Syria for protection," she said, while wiping away tears. "I'm shocked, because I thought nothing would happen here. But I know everything's in God's hands."
http://www.journalnow.com/news/local/syrian-family-discusses-mauling-son-s-long-road-to-recovery/article_b3b7c014-4170-538a-b170-05d4a24bb87a.html
_
_____________________________________________________________
UPDATE:
http://myfox8.com/2017/02/17/new-details-emerge-about-dog-attack-that-injured-toddler-in-greensboro/
UPDATE:
https://www.gofundme.com/refugee-child-mauled-by-dogs
UPDATE: Charges have been filed against the owner of the pit bulls
A refugee family lived through multiple bomb attacks, fled Syria to a camp in Jordan, and recently resettled in NC. The father and the oldest son were injured in the bombings.
They have 5 children ranging from 18 months-11 years old.
This morning, the baby was mauled by a neighbor's dogs. He is currently in surgery for facial wounds at a nearby city's children's hospital and listed as stable but critical condition with serious damage to his ear, face, arm, and leg. Police had to shoot one dog to get it off the baby.
This family has been through so many horrors and their needs just exponentially escalated. There will be more surgery, doctors visits, transportation to appointments, medical bills, etc...
Aside from the fee charged by GoFundMe, 100% of donations will go to them.
My name is Laura Tastad, I'm in Greensboro, NC, and I've started this campaign to help a specific family who has experienced unbelievable tragedies. I am helping sponsor this family. The beneficiary is the family but since they do not speak English or have a bank account, Michael Usey (a pastor at the church who sponsors this refugee family) is the recipient and will withdraw funds to give directly to them as he is in personal contact and is currently at the hospital with them.
http://www.collegeparkchurch.com
________________________________________________________
VIDEO with 911 call:
http://www.wxii12.com/article/toddler-critically-injured-after-being-attacked-by-2-dogs/8791291
A Greensboro toddler is now in serious condition after he was attacked by two dogs, both
PIT BULLS
, in his backyard Tuesday morning.
Police say the 19-month-old baby boy is expected to recover from his injuries.
Around 9:10 a.m. Greensboro Police arrived at a home on Valley View Street and found two dogs lying beside the toddler. One of the dogs was shot by a Greensboro Police Officer for the child's safety. The other dog escaped until animal control officers tracked him down in a shed behind the house.
The dog was then transported to the Guilford County Animal Shelter where it was later put down.
GPD says the dogs belonged to the next door neighbor. Neighbors and police tried to get the dogs off the toddler, but were unsuccessful.
Neighbors Ronald Knight and Latisha Bullard witnessed the attack from their back porch.
"I was telling the dog to move away and he just looked at me like 'I ain't going nowhere,'" said Knight. "We were throwing onions at the dog and the dog wouldn't leave the baby alone."
Knight and Bullard said they tried yelling and throwing things at the dogs -- but they say it didn't stop them from attacking the baby.
"We were trying everything we could to stop the dog from biting the baby," said Knight. "But it just seems like we couldn't do anything until the police got here."
When police got to the scene, they found the baby badly injured and the dogs were still lying beside him.
Officers approached slowly until the dogs backed away -- that's when one of the dogs was shot.
Lt. James Golden with the Greensboro Police Dept. says the dogs weren't fenced in and investigators are working to see if they were properly restrained or not.
"We are investigating to see if any charges would be appropriate," said Golden. "Not knowing the details of how the dogs and the child came in contact with each other, we don't know if any illegal activity occurred."
GPD says the dog's owner is being cooperative with them during the investigation process.
The victim, who police say is a boy between 1-2 years old, was taken to Brenner Children's Hospital where he's in serious condition but his injuries are not life-threatening.
The family's landlord, Irene Agapion, says the father of the toddler is receiving hospital treatment as well.
Agapion says
the father suffers from a heart condition and collapsed while tending to his injured son.
The victim's family is Arabic and don't speak English
-- so police brought in a translator to assist with the investigation.
Detectives with the Greensboro Police Department are investigating both inside and outside the house.