UPDATE:
http://www.dailymail.co.uk/news/article-4184938/Girl-suffers-injuries-Staffordshire-Bull-Terrier-attack.html
UPDATE:
https://www.thecourier.co.uk/fp/news/local/fife/363175/i-want-to-tear-down-leven-to-find-the-owner-fathers-fury-after-dog-attacks-daughter/
THE FAMILY of a two-year-old girl who had her face mauled in a horror dog attack last night told of their hell.
Nevaeh-Mai Fuller was left traumatised and soaked in blood after the Staffie-type dog bit her and pinned her down in a car park.
Last night her dad Martin Fuller revealed the girl only escaped further injury after her mother Chloe Milne, 26, chased the mutt away from the attack in a car park in Leven, Fife.
The dog and the owner are still to be located.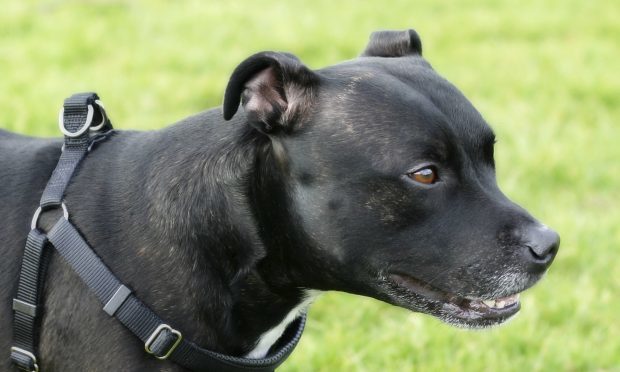 The dog looked similar to this one.
Martin, from Glenrothes, Fife, said: "If the dog hadn't been scared off god knows what could have happened to my little girl. She could have been mauled. It could have been a lot worse.
"When she saw herself in the mirror after it happened she covered her face and started crying.
"She's been quite withdrawn since the attack. She loves animals and now all she's going to remember from this is turning her head and being attacked by a dog. It makes me so angry.
"When I saw the pictures of her injuries I didn't know what to say. I just felt sheer devastation and huge levels of anger.
"She's my little girl, I'm not going to let it drop."
He added: "My daughter's safe now so my priority is to find the owner and get that dog off the street.
"I'm hoping there's at least one person who recognises the dog's description and steps forward.
"It could be tomorrow, it could be next week, that dog will attack again.
"It's not safe.
"My daughter will come out the winner at the end of this though.
"We will move on and when she's a bit older we will tell her what happened.
"But I don't want her feeling scared any time she wants to go to the shop, or the park and sees a dog.
"She is going to need an operation on the laceration to her eye.
"It's too deep and swollen for doctors to be sure just now what the operation will involve but they've already done some X-rays to make sure the eye socket isn't fractured or broken."
Mum Chloe, 26, from Kirkcaldy, added: "She's doing as well as she can be."
https://www.thescottishsun.co.uk/news/528787/toddler-dog-attack-leven-family/
________________________________________________________
Police are appealing for help after a toddler was seriously injured after being attacked by a dog. the incident, which took place yesterday in Leven, involved a black STAFFORDSHIRE PITBULL TERRIER.
The two-year-old tot is understood to have suffered injuries to her eyes and mouth and is still in hospital undergoing treatment. A Police Scotland spokesman said: "Police in Fife are investigating following a report of a dog attack in Kirkside Court, Leven. "The incident happened around 5pm on Wednesday, February 1, when a black Staffordshire Pitbull Terrier-type dog attacked a two-year-old girl.
"The child sustained serious facial injuries and was taken to the Victoria Hospital, Kirkcaldy, for treatment, where she is detained.
"Enquiries are still ongoing to trace the dog and its owner. "Officers would encourage anyone who can assist their investigation to get in touch via 101 or anonymously through Crimestoppers on 0800 555 111."
http://www.fifetoday.co.uk/news/crime/toddler-viciously-attacked-by-dog-1-4356250