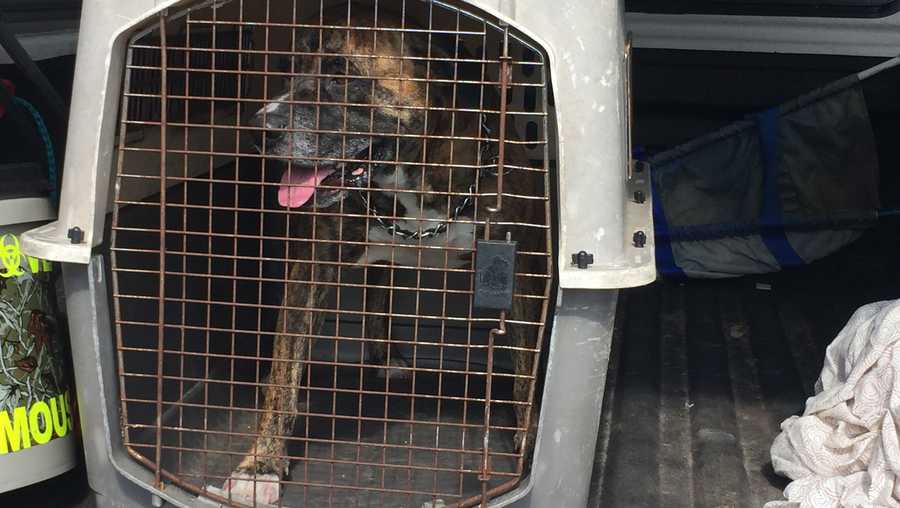 Humane Society officials on the Treasure Coast will determine the fate of a pitbull-mix who attacked a 8-month old child a year from today and a mother and her nine year old son in Port St. Lucie over the weekend.
Master Sergeant Frank Sabol said the mother and her 9-year-old son are recovering after the mother's boyfriend's dog named "Tigger" attacked them.
"The boy had lacerations to his face. The dog actually had pinned him down and was biting his face. When the mother came over and pulled him off, then the dog turned on her," said Sabol.
Sabol said the mother's ear was partially ripped off.
He said the dog's owner, who told investigators he got the
animal about a month ago, managed to pull the dog away.
Police say they contacted the previous owner and the owner says the dog had attacked an 8-month-old a year ago. The injuries were not life-threatening.
Sabol said the
PIT BULL/BULLMASTIFF MIX
has been placed with the Humane Society and will be quarentine for 10 days.
Officials will later determine his fate.
________________________________________________
PORT ST. LUCIE, Fla. -- A woman and her 9-year-old son were attacked by a dog on Sunday, according to Port St. Lucie Police.
St. Lucie County Fire Rescue says crews responded to a report of a dog attack around 1:10 p.m. in the 100 block of NW Byron Street.
Officials say the boy was bitten on the face. He was airlifted to St. Mary's Medical Center as a pediatric trauma patient.
The woman was bitten on her body and was transported by ground to Lawnwood Regional Medical Center in Fort Pierce.
Police say the dog is a
PIT BULL MIX
.
The dog was voluntarily turned over to animal control and will be given to the Humane Society for a 10-day quarantine. Police say it will most likely be euthanized.
http://www.wptv.com/news/region-st-lucie-county/port-st-lucie/woman-and-boy-attacked-by-dog-in-port-st-lucie-police-say