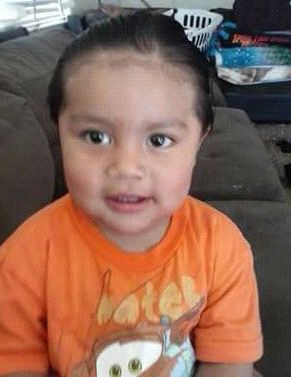 FORT HALL — A 2-year-old boy was severely injured on Sunday after he was attacked by a pack of dogs in Fort Hall.
The incident occurred on D Avenue after the toddler, Gunner Quagigant, had just returned from a shopping trip with his grandparents. The grandparents thought the 2-year-old was in the house with them, but he was in the yard playing with his toys.
When family members heard dogs barking outside, Darrel Archuleta, Gunner's grandfather, went to investigate and saw a pack of dogs dragging the child to a house across the street.
Archuleta immediately ran at the dogs and fought with them until he could free his grandson. Archuleta's 5-year-old blue heeler, Jake, also fought with the dogs to free Gunner.
Both Archuleta and Jake suffered minor dog bite wounds during the scuffle.
"I credit Jake with saving (Gunner's) life," Archuleta said. "He was fighting those other dogs tooth and nail."
Fort Hall emergency personnel responded to the incident and Gunner was transported via ambulance to Portneuf Medical Center in Pocatello before being airlifted via emergency helicopter to Primary Children's Hospital in Salt Lake City.
Shortly after the incident, hospital officials listed Gunner in critical condition.
Archuleta said Gunner suffered severe injuries in the attack, including
an ear that was ripped in half, a puncture wound to his neck that just barely missed his carotid artery and severely damaged ligaments in his led. The boy also sustained more than 35 flesh wounds in the attack.
Gunner went into surgery early Monday morning. Afterwards, the boy was able to breathe on his own and Archuleta said his prognosis is looking good so far. However, the toddler will have to stay in the hospital for at least the next six weeks to recover.
Archuleta said the pack of dogs belong to a Fort Hall resident and that they have been a problem in the area for the past few years.
"Those dogs have been a nuisance," he said. "Last week, they killed another dog and then ate him."
According to a press release from the Shoshone-Bannock Tribes, the owner of the dogs, who has not been publicly identified by authorities, is currently out of the area.
However, dogs involved in the attack on Gunner have been trapped and destroyed, according to Fort Hall Police Department Chief Pat Teton. Their remains will be sent to a lab to test for disease.
The Tribal Fish and Game is currently collecting the remaining dogs involved in Sunday's incident to remove them from the area.
"We are putting out live traps to capture all the dogs involved and have successfully caught several already, but we want to caution the local residents to confine their dogs who are not a part of the incident," said Fish and Game Director Bret Haskett in a press release.
Authorities said all dogs not on a leash or unrestrained in the immediate Fort Hall town area may be captured and removed. The trapping is expected to continue for up to a week.
On Monday, the Fort Hall Business Council asked the public to maintain and restrain their dogs for the next two weeks.
In the long run, Archuleta hopes that this incident spurs the creation of an ordinance in Fort Hall that punishes dog owners who don't take proper care of their animals.
"We don't have a dog ordinance in Fort Hall," he said. "It's all about the children we have to protect."
The Fort Hall Police Department, the Federal Bureau of Investigation and Tribal Fish and Game are continuing their investigation. All findings will be forwarded to the Tribal and Federal Prosecutor's Office for possible criminal charges.
http://idahostatejournal.com/news/local/year-old-boy-in-critical-condition-after-being-attacked-by/article_93b6a357-3187-584b-8c5e-1fc02c7f1264.html