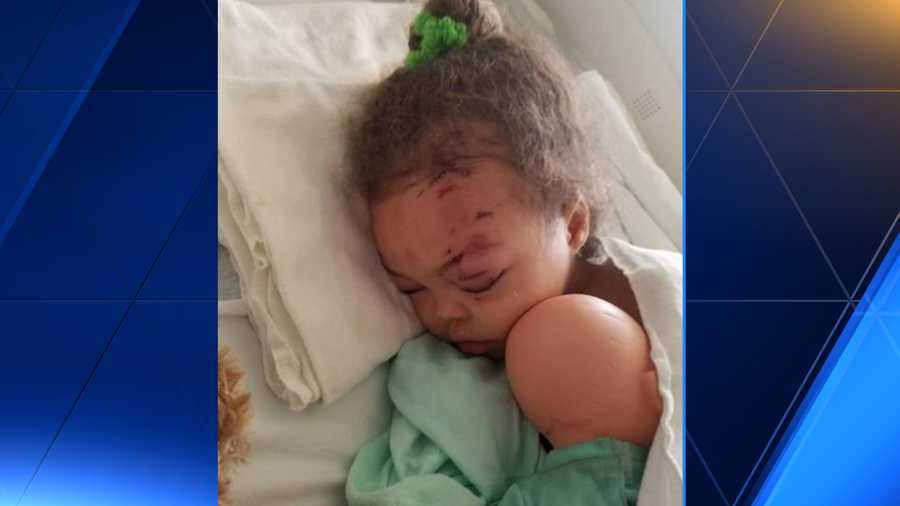 A 2-year-old girl named Leah James is recovering in the hospital after a dog attack over the weekend.
Her 5-year-old half brother, Karter James, also received stitches after he jumped in to help.
The
PIT BULL MIX
involved in this attack is being quarantined for a mandatory 10 days at Animal Care and Control and could be put down; but Karter's family wants more. They want the owners of the dog to be kicked out of their apartment complex.
"I've seen the dog before," said Ibrielle Hart, Karter's mother, "and they usually walk the other way."
Hart's son was playing with his half sister, Leah, and three other kids Saturday around 12 p.m. when the dog apparently ran out of an open door, down two flights of stairs and immediately attacked Leah.
Hart's stepfather, Bobby Lettingham, had to eventually pry the dog off the kids. When WPBF's Sanika Dange asked him where the dog's owner was while the confrontation was playing out, Lettingham said, "Way down there at the mailbox, a whole block."
Lettingham said he had to grab the dog and drag it back up the stairs where he saw the front door to its apartment was wide open.
By that time, it was too late. Both Karter and Leah James were badly injured.
"He was holding a towel to his face," said Hart about Karter, "and his sister was just sitting on the stretcher looking at me and blood everywhere."
The dog's owners pinned a note to Hart's door asking to cover medical costs. They didn't answer the door when WPBF 25 News tried to knock.
Leah is expected to make a full recovery but in the meantime, is taking comfort from her family, especially her very brave older brother.