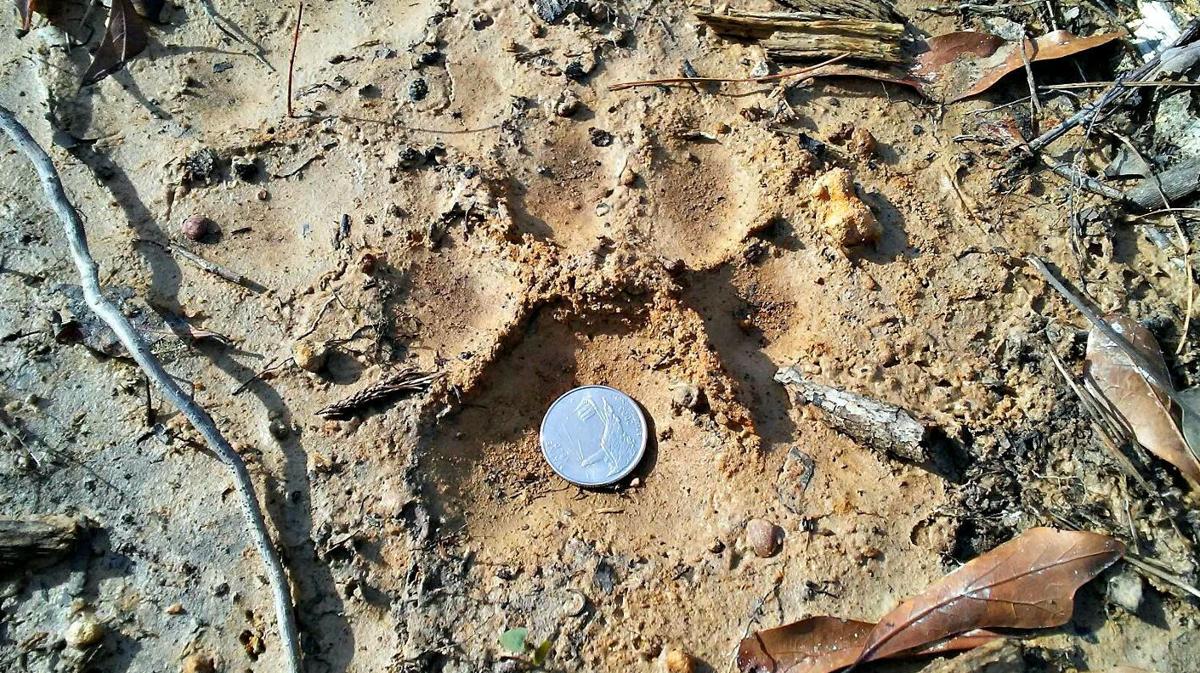 If true, it would be the first confirmation of a mountain lion in Alabama in decades.
Leah Rogers said last week that her 200-pound, 4-year-old English mastiff named Zander lost an ear and eventually had to be euthanized due to infection after being mauled by what she believes was a mountain lion.
Rogers, who lives on Barnett Chapel Road, between Hartselle and Somerville, said the attack occurred about three weeks ago. Days later, she found her 14-year-old, blind horse, Buckshot, dead in a pasture. She said the horse's belly and nostrils had been slashed, and he was bleeding from the eyes.
Rogers spent about $3,000 on three surgeries in an attempt to save the dog, but he suffered kidney failure due to infection and had to be euthanized last week, she said.
Rogers did not witness the attack, instead finding the dog when she returned home from her job as a teacher. She said she and friends walked the property after the attacks and found several large tracks that appeared to match those of a mountain lion.
She said she is attempting to raise public awareness about the potential of a large carnivore in the area after multiple wildlife officials dismissed her claim as improbable.
"One of the wildlife officials said maybe it's a racoon, and I was like a racoon is going to kill a horse?" she said.
Two local wildlife officials, who had not previously spoken to Rogers, said the possibility of a mountain lion attack was possible but improbable.
"We get a lot of calls about that, but we have never had any documented pictures, sightings, road kill or anything, so
it was probably a coyote or something like that if I had to guess
," said Wendell Fulks, a game warden in Limestone County. "There are a lot of cameras out in the woods, and we've never had one on a game camera that has been reported to me."
According to Fulks,
interbreeding of feral dogs and coyotes has resulted in large hybrids, which some residents have confused with wolves.
There also are no confirmed wolves in Alabama, he said.
After inspecting photos provided to The Decatur Daily by Rogers, Spenser Bradley, a wildlife expert with the Alabama Cooperative Extension System, said the tracks did not appear to be from a mountain lion.
"Mountain lions are going to have three lobes on the pad," he said, speculating that the tracks may have come from....A LARGE DOG.
"
He acknowledged that it was "a little strange" that the tracks had no claw marks. Unlike dogs and coyotes, large cats such as mountain lions are able to retract their claws and distinctively leave no claw marks with their tracks.
"Maybe the claws were cut short or rain washed them away. Regardless, the pad is a good sign that it was not a mountain lion," he said.
Bradley also said the injuries to the animals did not appear severe enough to have been caused by a mountain lion.
"An adult male mountain lion can be up to 180 pounds, which would be a formidable foe for an average pet dog, even a large one like a mastiff," he said.
Regardless of the incident in Morgan County, Bradley said confirmation of mountain lions in Alabama is likely in the future. Mountain lions, also called cougars and pumas, have been expanding their territory with multiple sightings of both males and females in Tennessee, he said.
"In the future, we are going to have confirmed mountain lions in Alabama. That's just something that's going to happen," he said.
The animals were pushed out of Alabama by human activity decades ago.
In September, the Tennessee Wildlife Resource Agency confirmed a sighting in Wayne County, after a resident submitted a photo captured by a motion-activated game camera.
Bradley said there have been similar submissions in Alabama, but they turned out to be an array of other animals, including bobcats, house cats and, in one case, a dog.
Despite a lack of photographic evidence, some area residents insist they have seen mountain lions in Alabama.
Limestone County Commissioner Jason Black said he saw one drinking from a pond about two years ago on Cox Road, behind Mount Carmel Church of Christ in Limestone County. He described the animal as brindle colored with a tail almost as long as its body.
"When I stopped, it covered a pasture that was probably 10 acres before you could blink," he said.
Rogers remains unconvinced by wildlife officials and insists residents should be warned of the possibility of a large predator in the area.
http://www.decaturdaily.com/news/limestone_county/local-woman-blames-mountain-lion-for-attack-on-horse-dog/article_3d293245-2558-5b9e-9cfe-d63f299850b0.html
http://www.thearabtribune.com/news/harmes-cougar-attacked/article_d46858a7-f844-5d5c-a09c-bc4f2646c48f.html
http://www.al.com/sports/index.ssf/2011/01/panthers_in_alabama_not_so_fas.html