https://www.gofundme.com/cody-the-collies-urgent-care
(WVEC) – A dog that everyone had hoped would recover after being attacked by two other dogs on Thursday has passed away.
In a note sent to 13News, the dog's owner, Terry Haddock wrote: "It is with a heavy heart that I need to tell you that my sweet Cody passed this morning due to internal injuries. Cody fought hard to live but his wounds and the trauma was more than he could overcome."
The attack happened in Haddock's fenced-in back yard, on Lathan Road near South Military Highway and Curlew Drive.
Haddock had come home from work early to get things ready for her dad's 81
st
birthday, when she heard barking in the back yard.
"Two large dogs had a hold of my little sheltie dog, our little baby just tearing him to shreds," explained Haddock.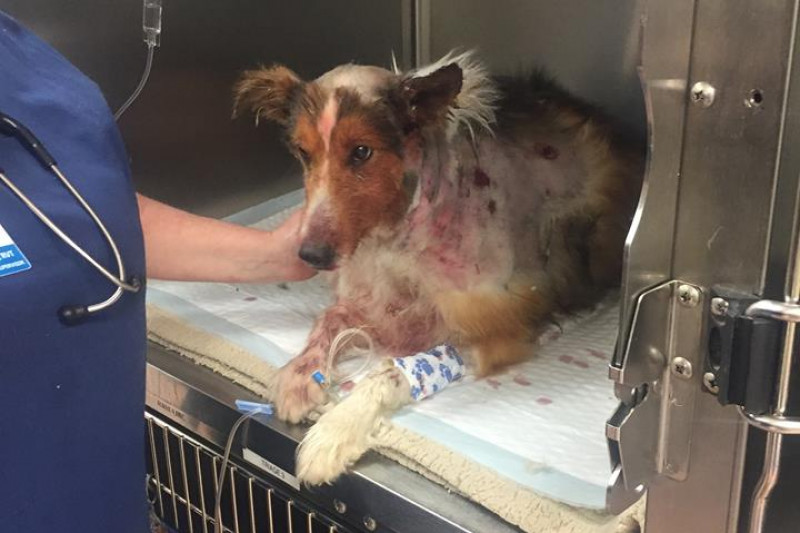 Her dog Cody had a doggy door and usually hangs outside on warm days. The two dogs jumped over her chain-linked fence and started attacking the eight-year-old dog.
Haddock said the dogs "Would not let go, just dragging him like a rag doll."
Haddock quickly jumped into action, grabbing a broom and screaming at the top of her lungs.
"They looked at me and thought about it for a minute and that is what concerned me," Haddock said. "I thought they might even leap towards me."
Eventually the two dogs jumped back over the fence leaving Cody bloody and injured.
Haddock immediately called 911. Animal control arrived and rushed Cody to an emergency vet.
"My dog is in urgent care fighting for its life. He is very sick," she wrote after the attack.
Cody initially survived. He had drains on his side and was on plenty of medicines, but as the medical bills kept piling up. Terry started a GoFundme page to help with Cody's treatment.
If you would like to donate to help the Haddock family pay for medical bills,
click here.
The two dogs that attacked Cody are believed to be
PIT BULLS
and were wearing black leather collars. Haddock has been looking for the dogs around her neighborhood, but has not seen them.
"Please pray that these vicious dogs are found before they can hurt anyone else," Haddock wrote in her note to 13News.
If you have any idea who the dogs may belong to, contact Norfolk Animal Control at 757-441-5505.
Haddock also wanted to thank the staff at the Blue Pearl Emergency Veteranary Clinic for their caring treatment of Cody.
http://www.13newsnow.com/news/update-dog-that-suffered-attack-by-two-other-dogs-passes-away/421627948