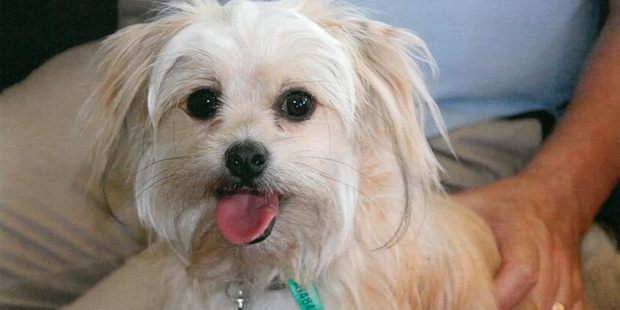 An elderly woman has had to have her dog put down after he was severely injured by another dog while she was walking him in Anderson Park last month.
Scallywag was a "beautiful" crossbreed dog, made up of shi tzu, bichon frise and chihuahua, who had played in the Napier park every day for three years, says his owner, who did not want to be named.
She said she was walking Scallywag in the park at about midday on Friday, March 31 when she noticed a man with a dog "straining at the leash" loitering near her.
"I'm pretty sure he let the dog go because it came running over and nearly knocked me over to get to Scallywag. I think he was using my dog as bait."
A neighbour said she heard loud shouting coming from the park at the time of the attack and saw a man on his hands and knees screaming "Let go! Let go!" to a dog. The neighbour, who did not want to be named either, said she saw only the back of the man as he was running away, but said he had dark hair pulled up into a ponytail and was wearing cream-coloured clothing.
"By the time I crossed the road he had got his dog off the other dog, put his collar on and ran away, leaving this poor woman alone.
"She had blood all over her hands and the dog's lower jaw was just hanging in ribbons. I took a tissue and held what little was left of his jaw up. I've never seen anything like it. It was hideous."
Taradale Vet Hospital veterinarian Dr Linda Welch dealt with Scallywag when he was first admitted to the clinic on March 31 and confirmed he had sustained "severe" injuries in the attack, including a fractured jaw and severe soft tissue damage around the face.
After two operations spanning one week it was clear Scallywag's condition would not allow him to eat and the decision was made by his owner to put him down, Dr Welch said.
A Napier City Council spokesperson said Animal Control was on the scene "within minutes" of the attack and searched the park and surrounding area for the young man responsible or his dog.
"We believe it was a
PIT BULL OR CROSSBREED
and although there were others in the park that morning, nobody we asked had seen the man or his animal.
"Since then, we've been back to the park at about the same time, on other mornings, in case this is a regular dog walking route for this dog owner but again there has been no sign."
The council acknowledged Scallywag's owner had been through a "deeply traumatic experience" and added the Animal Control team was in touch with her and had also spent time visiting her.
"She's expressed interest in adopting a dog from us and we've got one in mind that might be suitable and are talking to her about this too."
Since the attack, a Givealittle page has been set up to help Scallywag's owner pay for the $3000 vet bill.
She said she misses him.
"He was very beautiful. I miss him dearly. We used to go to Anderson Park every day to go for a walk. That's where he met all his mates."
According to the Napier City Council's 2015/2016 Annual Dog Control Report the number of dogs classified as "menacing" has risen from 124 to 198.
The report also said the number of dog attacks on animals or poultry had dropped from 77 to 69, and the number of dog attacks on people had fallen from 43 to 29.
The council is running a campaign, Take The Lead, that offers free neutering, microchipping and registration to classified breeds.
"NCC Animal Control makes every effort to manage dangerous dogs but there are always unknowns - such as owners of classified breeds flouting the act and not desexing, registering or muzzling their animals as they should," the spokesperson said.
Dr Welch said although it was not uncommon to deal with dog-attack cases, vets only occasionally had to put dogs down because of their injuries.
"They need to be pretty bad to be euthanised and that was the best decision for Scallywag."
Those wishing to help with Scallywag's vet bill can donate at www.givealittle.co.nz/cause/tohelppaythevetsfeesforscallywag.